2012 MLB Free Agents: Texas Rangers Smart to Court Ryan Madson
January 8, 2012
Len Redkoles/Getty Images
Somewhere in the office of Texas Rangers GM Jon Daniels is a plaque into which is etched the old baseball adage, "You can never have too much pitching."
Or, at least I'd imagine he does with the way he's been hoarding arms of late and especially with his pursuit of former Philadelphia Phillies closer Ryan Madson.
According to Jon Heyman of CBS Sports, the Rangers have done their due diligence on Madson, at the very least, and may be looking to further bolster the back end of their bullpen: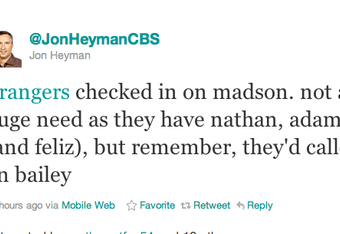 Not that Texas really needs any more help in relief, not with the likes of Joe Nathan, Koji Uehara, Mike Adams, Mark Lowe, Yoshinori Tateyama and Scott Feldman already locking down the final three or four innings every game.
That group figures to grow even deeper once the Rangers strike a deal with Japanese phenom Yu Darvish. With Darvish on board, manager Ron Washington will have six starting pitchers at his disposal—Derek Holland, Matt Harrison, Alexi Ogando, Colby Lewis, former closer Neftali Feliz and Darvish—exposing at least one of those arms to either the bullpen or the trading block.
In any case, the Rangers appears to have more than enough quality pitching to lead all of baseball in earned-run average by a Texas mile.
So why, pray tell, would Daniels even so much as text Scott Boras, Madson's agent, about the big right-hander, especially when their bullpen is already overwhelmingly right-handed?
Why not? Texas isn't exactly hurting for cash, or rather won't be once the team's new TV deal kicks in after the 2014 season.
What's more, the hot stove has gone so cold of late that Madson, who notched 32 saves in 34 chances in 2011, could likely be had for far less than the four years and $44 million that he'd seemingly agreed to with the Phillies before the team moved on to Jonathan Papelbon.
On the other hand, Daniels' inquiries into Madson's status, coupled with his ultimately fruitless pursuit of Oakland A's bullpen ace Andrew Bailey, may reflect a measure of uncertainty within the organization concerning late-game pitching.
Feliz's move into the rotation is, in part, a reflection of his struggles in key situations, especially in the postseason, while Nathan, Feliz's de facto replacement, was somewhat shaky for the Minnesota Twins last season in his return from Tommy John surgery. Hence, Daniels could see Madson as a sort of safety net, at the very least, if not a more surefire option to finish games.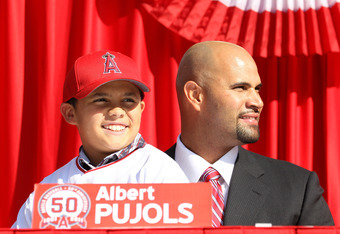 Stephen Dunn/Getty Images
In any case, there's certainly no harm in asking about Madson. The Rangers will need all the arms they can muster, what with the heat that dominates the Dallas-Fort Worth Metroplex during the season and the Angels' suddenly lethal lineup, with Albert Pujols in the middle, with which they'll have to contend to claim yet another American League West title.
So long as the gap remains narrow and the AL as competitive as it is, it behooves the Rangers to do anything and everything they can to keep themselves on top and on track for their third consecutive World Series appearance.