NBA: The "Next Coach to Be Fired" Power Rankings
January 7, 2012
The dismissal of Sacramento's Paul Westphal on Thursday marked the first coach firing of the early NBA season. Precedent tells us that he won't be the last casualty we see this year. Here's a rundown of our three most likely candidates to get a pink slip next.
1. Mike D'Antoni, New York Knicks
There's bigger problems brewing in the Big Apple than just Mike D's coaching shortcomings, but they are no doubt playing a part in the Knickerbockers' early-season struggles. This team still doesn't play any defence—despite committing $60 million this summer to Tyson Chandler for essentially ONLY that—and the offensive wizardry that was once D'Antoni's calling card has evolved into Carmelo Anthony catching the ball on the wing 50 times a game, holding it or jab stepping for a few moments before taking a couple of dribbles and firing up a 12-footer.
The Knicks currently sit at 3-4, with their record marred by a couple of ugly home losses to the Raptors and the Bobcats earlier this week. They were handed a cream puff of an early schedule from the NBA—the Warriors, Kings, Raptors, Wizards, Pistons, Sixers and Bobcats twice all within the first 10 games of the season—but have faltered since an emotional Christmas Day win over the Celtics. They rank near the bottom of the league in rebounding (28th), assists (23rd) and points allowed (27th).
Having a healthy Amare Stoudemire back in the fold should help D'Antoni moving forward, but it also creates the challenge of trying to get both him and Anthony going offensively at the same time. Both are ball stoppers who are most effective when they are isolated on offense, and the question remains whether they will both be able to earn their $20 million paychecks in the same system.
D'Antoni needs to figure it out soon (as well as shoring up that horrendous D), because the collective patience of the Knick fans has almost completely evaporated after years of watching this team sputter near the bottom of the standings. Another bad loss in the upcoming week (Saturday night in Detroit, anyone?) and I think D'Antoni is updating his Workopolis profile.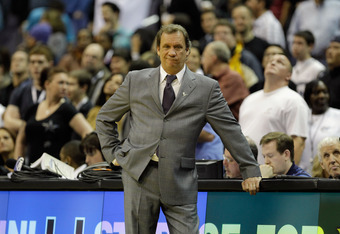 Rob Carr/Getty Images
2. Flip Saunders, Washington Wizards
Unlike the Knicks, preseason expectations for the Wizards were set very low. In fact, most people predicted them to stink. John Wall is a star in waiting by all accounts, but he is still very much in the learning process and doesn't have a whole lot of talent working next to him on the Wizards' roster. An 0-7 start to the season is still disappointing for Washington, but it shouldn't be that surprising to people.
However, there's good losses and bad losses when discussing a young and inexperienced team like the Wizards, and through the first two weeks of the season, most of their defeats would fall into the latter category. The Wizards can't score (they average fewer points per game than any team not named the Pistons or Nets), they can't defend (26th in the league in points allowed) and the competition factor has been non-existent (they rank dead last in the NBA in point differential).
As bad as those numbers are, the Wizards' biggest concern may be the stench that is emerging from the locker room. Noted bonehead Andray Blatche waited all of one game before going to the media to complain about his role. Following a particularly brutal loss to the Magic this week, John Wall, Jordan Crawford and Rashard Lewis came forward and accused the team of being selfish, unfocused and incapable of trusting one another, among other things.
They've even already held a players-only meeting in which Maurice Evans described the team in the following way: "The sense of entitlement that's here sometimes, I've never seen before." I'm guessing that quote won't make the Wizards 2012 media guide.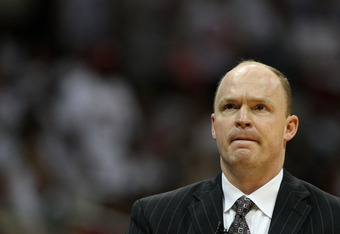 Mike Zarrilli/Getty Images
The Wizards' biggest fear should be that this year gets so out of control that their young talent ends up actually regressing, and that looks like a definite possibility after only seven contests. Wall is struggling mightily, and the chances of a fist fight breaking out in a Wizards huddle seems as likely as them putting together a solid 48-minute game. They are quickly approaching the point where something, anything really, has to be done.
Aside from paying someone to kidnap Andray Blatche, replacing Saunders will likely be the first tactic that the Wizards deploy.
3. Scott Skiles, Milwaukee Bucks
In case you were unaware, here's the book on Scott Skiles:
You hire him when you think your franchise is under-performing and you need a sense of discipline and defensive accountability infused into your team. It takes roughly one full season of Skiles screaming himself silly at your players before they finally start to get it. Once this happens, you'll get a couple of good seasons from the team where they'll slightly overachieve, make the playoffs, but never truly be a contender. Somewhere during that fourth season, your entire roster will get together and say, "You know, I'm getting kind of tired of being yelled at like an eight-year-old for the last three consecutive years. Being held accountable sucks." Following this, the team will completely tune him out, the losses will start to pile up and shortly after that, Skiles will be fired.
It happened in Phoenix and it happened in Chicago. Skiles' tenure in Milwaukee has gone exactly according to script up until now, and we're quickly approaching the final act. With road games against the Clippers and Suns on deck before returning home to face the Spurs, the Bucks sitting at 2-7 by next Tuesday night is a very good possibility. Their following 10 games features only two nights where they face a team that didn't make the playoffs last season.
What I'm trying to say is that it's going to get worse for the Bucks before it begins to get better. Scott Skiles might not survive the slide. But don't worry, it won't be too long before we see him pop up on another team's sideline and we can start this entire story over again.
Enjoy the article? Check out the FullySports Blog.