Tim Tebow: Marvel Comics Latest Contributor to Denver QB Pop Culture Craze
January 4, 2012
The Tim Tebow pop culture train has made stops at rap songs, a craze called "Tebowing" and a skit dedicated to the quarterback on the television show, Saturday Night Live.
But now, the Tebow craze has finally gone too far with the news that Marvel Comics is developing a comic series dedicated to the Denver quarterback. 
Sportsgrid.com got word of the new comic book series that is being developed from the same company that has brought other superheros, such as Iron Man, Spider Man, The Hulk and The X-Men.
According to Bill Rosemann of Marvel, Tebow was an obvious choice to make into a superhero, saying:
"Like the Marvel heroes who pull off last-minute victories, Tim Tebow has fans around the world on the edge of their seats and believing that in our own lives when time is running out and all looks lost, we can dig deep inside and use our various strengths to triumph over insurmountable odds," says Bill Rosemann of Marvel.
Is Tebow a glimmer of hope when all of the odds are stacked against you in your life only for you to find a way to prevail against evil? 
Yes. 
But, can Tebow out-run a speeding linebacker or leap over a charging defensive lineman to complete a pass?
No.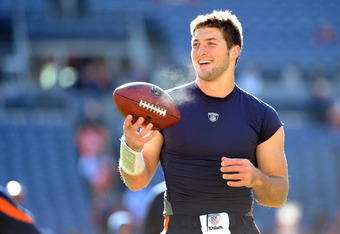 Garrett Ellwood/Getty Images
Listen, I am all for Tebow and the great message he brings to children and the city of Denver. He is that one dim light in a dark cloud of bad sports stories that saturates the sporting world. However, for all of the public marketing that Tebow gets, its only going to build to a massive wave of backlash against the squeaky-clean quarterback. 
Regardless, it seems as if Marvel is looking to cash in on the Tebow-phenomena. Its not surprising as there are a number of companies that have benefited from the quarterback. 
From the LA Times, ESPN's producer Jamie Horowitz speaks about how Tebow has affected their ratings saying:
When people say they have Tebow fatigue, I tell them the ratings say you don't. First Take on ESPN2 has gotten its best ratings ever over the last six weeks, a streak that coincides with Tebow's rise.
Tebow is like King Midas right now with everything he touches turning to gold. 
However, all that glitters is sure to fade someday. With the new comic book series being dedicated to the mediocre Denver quarterback, it may signal the beginning of the end to Tebow-Mania.