2012 NFL Draft Projections: Morris Claiborne and CBs Who Will Go in First Round
January 4, 2012
Joe Murphy/Getty Images
Drafting a shut-down cornerback can turn a passing defense from mediocre, to one of the best in the league. For example, when the Arizona Cardinals drafted Patrick Peterson from LSU, he took their passing defense from 23rd in 2010 to 17th in 2011. 
It's why these three cornerbacks will get drafted in the first round this year and will have an immediate impact from Day 1. 
LSU Tigers: Morris Claiborne
Claiborne has been a rock on the LSU defense this year, with career-high numbers in tackles (41) and interceptions (six). The stats are great, but Claiborne's knack for being in the right place at the right time to make a huge game-changing play makes him the top cornerback in the draft. 
His interception late against Alabama, set up the game-tying field goal that led LSU to force overtime. If it wasn't for Claiborne's clutch play, LSU wouldn't of had a chance to tie this game up, and wouldn't have defeated Alabama on the road. 
Where Will He Go
Claiborne should be taken very early in the draft. He should be taken at No. 3 by the Minnesota Vikings. 
The Vikings need help on a passing defense that ranked 26th last year. Allowing 251 yards per game is bad, but ranking last in the NFL by allowing 34 touchdown passes is the reason why the Vikings have to draft Claiborne. 
Alabama Crimson Tide: Dre Kirkpatrick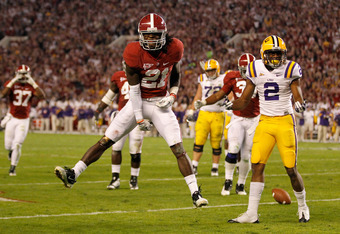 Streeter Lecka/Getty Images
Kirkpatrick has seen his numbers dip this year from his excellent sophomore year; however, that doesn't take away from the skill set that Kirkpatrick can bring to a team. 
In his sophomore year, Kirkpatrick brought a punishing style to the cornerback position with 53 tackles (39 of them solo) and three interceptions. 
However, this year, Kirkpatrick has seen quarterbacks respect his talents by not throwing to him. 
Where Will He Go
Kirkpatrick's will slip in the first round because of his disappointing junior season. However, his slip will not drop him to where he falls out of the first round, but down to No. 14 to the Dallas Cowboys. 
The Cowboys were embarrassed in their last game of the season when the New York Giants ripped them for 346 passing yards and three touchdowns. Dallas needs as much help at cornerback as they can get to help their passing defense that ranked 23rd last year. 
Nebraska Cornhuskers: Alfonzo Dennard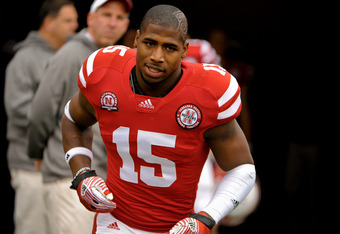 Eric Francis/Getty Images
Dennard had a solid senior season anchoring the Cornhuskers' secondary that ranked fifth in the Big Ten in passing touchdowns allowed with 14, and second in allowed receptions with 181. 
His two signature games this year was against Michigan State's B.J. Cunningham by shutting him out to no receptions, and against Iowa's Marvin McNutt, holding him to only four catches for 29 yards. 
Where Will He Go
Dennard will fall to a great spot later in the draft to one of the playoff teams. At No. 22 the Detroit Lions will benefit from taking Dennard to be that lockdown cornerback they so desperately needed this year. 
Last year, the Lions ranked 22nd touchdowns allowed to receivers, giving up 26, which equates to 1.6 touchdowns per game. 
If they would take Dennard, they would lessen that average, which would allow their offense to win them more ball games next year. 
These three cornerbacks will be taken in the first round, and they will help whichever team they are drafted to improve its lackluster defense.