Deion Sanders: Prime Time and Pilar Should Stay Together for the House
January 4, 2012
Bryan Bedder/Getty Images
Sure, anyone could make sacrifices during their failed marriage and stay together for the kids. But when you live in a mansion like the Sanders do, well, you might just stay together for the house. (I kid, I kid. Well, sort of.) From ABC News:
The Sanderses live in a lavish, 40,000-square-foot Texas mansion that sits on a 112-acre ranch. The residence reportedly has two pools, 10 bedrooms and 13 bathrooms.
The house is worth $21 million dollars, is half the size of the White House, has a basketball court and private bowling alley inside and a 12-acre lake and a full football field outside. So you can understand why the couple would be willing to live under the same roof while the divorce proceedings take place.
I mean, each gets half of the enormous house and their own pool—surely they can make that work.
The divorce thus far has been messy, with Pilar saying she wants to stay together for the kids and claiming she first heard about anything divorce-related after TMZ published the following Facebook post from Deion:
To My Friends and Family,

Pilar and I have decided to end our marriage and move on to the next phase of our individual lives with mutual respect. We are friends and our top priority has and will continue to be the well-being of our children. We arrived at this decision prayerfully and carefully in order to be able to pursue what is in both of our best personal interests. Neither Pilar or I will be discussing this any further and thank you in advance for respecting the privacy of our family. Truth. 
Deion's 19-year-old daughter Deiondra, meanwhile, has put Pilar on blast via Twitter.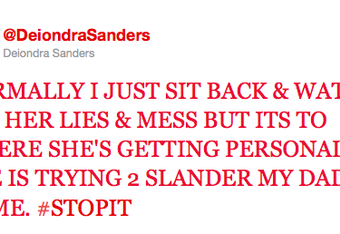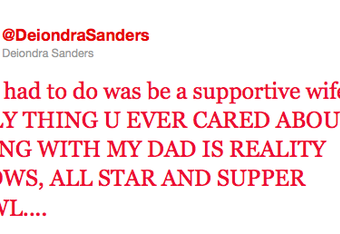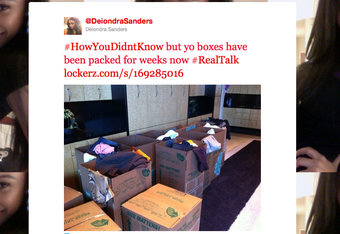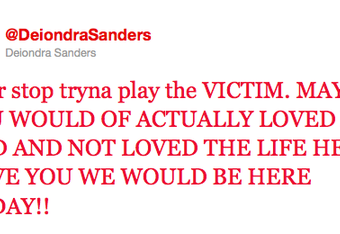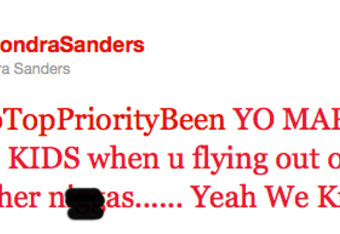 And Deion just wants us all to pray for Pilar, which comes off a little condescending, doesn't it?
Somehow, all of this makes the reality show the couple had on Oxygen, Deion and Pilar's Prime Time Love, suddenly seem a more apt title. Because really, when you are in Prime Time Love, the emphasis is always going to be on the Prime Time, and less on the love.
Hit me up on the Twitter—all the cool kids are doing it.