LeBron James Engaged: Proposal Shows the Public the King's Softer Side
January 3, 2012
Since LeBron James left the Cleveland Cavaliers for the Miami Heat in July 2010's "The Decision" special, the media and fans have been hating the NBA's King with derision and jokes all around.
However, James' proposal to his longtime girlfriend Savannah Brinson at his 27th birthday party should shed some positive light on the King's goodness and humanity.
James popped the question by going down to one knee and doing it in front of intimate friends and Heat teammates, not the national media. The King gave his Queen an extremely pretty and affectionate heart-shaped diamond ring. 
Brinson has been with James since high school and is the mother of his two sons, seven-year-old LeBron Jr. and four-year-old Bryce. James has been a devoted father and has stuck by Brinson even after he hit NBA and world superstardom. She seems to be wholesome and doesn't go around having sleazy photo shoots.
NBA and sports fans alike have hated James because he decided to not win an NBA championship with the Cavaliers and appeared to collude with Dwyane Wade and Chris Bosh to join the Heat all along.
LeBron choosing the Heat was his own decision and not for Cleveland, Chicago, New York or New Jersey to make.
Fans also point out how "The Decision" was slapping the faces of the Cavaliers organization and its fans, but the millions made from that program was donated to the Boys & Girls Club of America.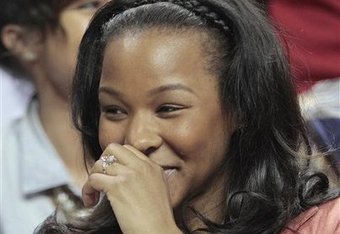 LBJ tried to be the NBA's villain last year, but that didn't work for him, as he is a jokester and light-hearted guy.
The country turned against LeBron James, hoping he would fail and seemed ecstatic when James and the Heat lost to the Dallas Mavericks in the NBA Finals.
Many people seem to forget that James came from extremely humble beginnings with his mom in the Akron projects. He played high school ball at St. Vincent-St. Mary's, where he wanted to win a national championship with his childhood friends.
LeBron was shown in the documentary More Than a Game that he was a humble boy who was thrust into the national spotlight by Sports Illustrated and ESPN. He was kind-hearted, hard-working and a loyal friend who would always stick by his family and friends.
"The Decision" seems to have erased the good and positive nature that James possesses.
Being engaged to his Queen Brinson will be positive for James' public image. Savannah and LeBron are clearly in love and appear to be good parents to LeBron Jr. and Bryce.
Yes, even LeBron James is capable of loving others, as we all are as human beings. He is not some kind of monster—that image what was created by media and fans alike.
James is the same loyal kid he was in high school. When he won his MVP awards, Savannah and his boys were right there with him.
As Kobe Bryant and Tony Parker repeatedly cheated on their wives and are divorced,  the NBA needs a wholesome romance to shed good light on its athletes. Who better than LeBron and Savannah?
Maybe LeBron James does not have an NBA championship, but he is truly a winner in the game of life by giving his beloved Queen a beautiful ring that signifies his commitment to winning her heart as a good husband.
Bob Bajek is a Featured Columnist. He is also a freelance reporter, and can be followed on Patch.com and Twitter.