Winter Classic 2012: What This Game Says About Both Teams Stanley Cup Hopes
January 2, 2012
Bruce Bennett/Getty Images
The Winter Classic has sprung the last four Stanley Cup Champions. Not only have the last four winners come from the last four Winter Classic participants, but six of the last eight teams to play for the Stanley Cup have played in the Winter Classic. 
So, with the New York Rangers and the Philadelphia Flyers playing in this year's Winter Classic, what are the chances that one of these teams represent the Eastern Conference in the Stanley Cup Finals this year? 
For Philadelphia To Make The Stanley Cup Finals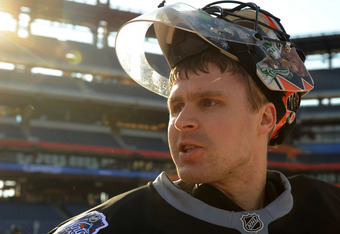 Christopher Pasatieri/Getty Images
For the Flyers to make their second finals in the last three years, they will have to get more consistent goaltending from Ilya Bryzgalov. They signed Bryzgalov to a huge free-agent contract of nine years for $51 million. 
He has played okay in the first 26 games as a Flyer. He did have a huge seven-game winning streak from November 23rd through December 13th. However, he has fallen on hard times recently, losing his last four games. 
The Flyers can not see the man they signed to be their missing piece to a championship puzzle fail down the stretch like he is doing now. 
Bryzgalov isn't starting today for the Flyers, instead it's backup Sergei Bobrovsky. Unless they can get Bryzgalov back on track, relying on Bobrovsky to get them back to the Finals means they will not go far in the Eastern Conference playoffs. 
For New York To Make The Stanley Cup Finals
The Rangers have to get better on the power play.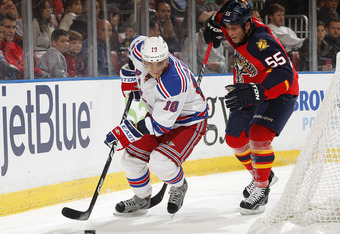 Joel Auerbach/Getty Images
On the season, they are 20th in the NHL, only completing on 15.2 percent of their power-play chances. If they want to make it to their first Stanley Cup Finals since 1994 then they have to be able to take advantage of the power play. 
New York only has one player that has more than 10 power-play points. Two of their division rivals, and two teams that are right on the Rangers heels for the lead in the division and conference, the Flyers and Penguins, have three or more players with 10 or more points. 
The Rangers will have to find a way to cure their power play woes, or else they will see a great regular season end quickly in the playoffs. 
Which Team Has the Better Chance?
Out of the two teams in this year's Winter Classic, the Rangers look like the better option for the Stanley Cup Finals. 
They have the better goaltending with Henrik Lundqvist, and their problem of power-play scoring can be corrected with a big trade at the trade deadline. With Lundqvist as the better goalie and Marian Gaborik having a big year, they will make it to the Stanley Cup Finals to represent the Eastern Conference.