Fiesta Bowl 2012: Andrew Luck and Players Whose Draft Stock Rides on Game
January 2, 2012
Jeff Zelevansky/Getty Images
There is a lot riding on today's 2012 Fiesta Bowl for these three players. Not only do they want to end their college careers at Oklahoma State and Stanford with a victory, but where they are drafted hinges on this game. If they have a huge game, they can expect to see their respective stocks increase.
However, if they get hurt, or have a horrible performance, they can kiss goodbye millions of dollars in future money, because they will take a tumble down a number of NFL teams draft boards.
Stanford Quarterback: Andrew Luck
No one has more riding on this game than Luck. Overall he is looked upon as the top player entering the NFL draft. If Luck can go out and have a typical game of 320 passing yards and two touchdowns, he should keep his position as the best player entering the draft.
However, if he comes out at the Fiesta Bowl and has a game where he throws for under 200 yards with no touchdowns and three interceptions, people will start to question if he is the top overall pick.
Where He Could Fall
If Luck plays awful, or is injured during this game, he could drop all the way to No. 5 Tampa Bay, or No. 6 Washington. 
Luck may be passed over for Baylor quarterback Robert Griffin III. 
RG3 has won the Heisman Trophy over Luck, and had such a huge bowl game performance with: 24 completions on 33 attempts with 295 yards and a touchdown, plus 18 rushing attempts for 55 yards and another touchdown, that he is starting to edge closer to Luck as the best quarterback coming into the draft.
Oklahoma State Wide Receiver: Justin Blackmon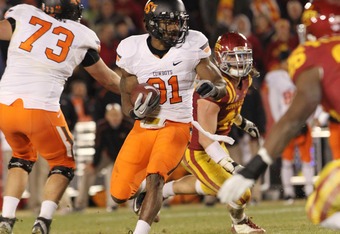 Reese Strickland/Getty Images
Blackmon should be the first wide receiver taken at this year's draft, which could land him as one of the top three picks. 
If he has a game where he goes off for 12 catches for 145 yards and three touchdowns, it could land the talented player as the No. 2 pick to the St. Louis Rams in the draft. 
Where He Could Fall
If Blackmon has a game where he catches under five passes for less than 45 yards and no touchdown could send Blackmon plummeting to out of the Top 10. 
Having a final stat line like that would mean that Blackmon could fall as low as No. 7 Jacksonville, to No. 10 Buffalo or No. 13 Arizona, instead of going as high as No. 4 Cleveland, No. 3 Minnesota or No, 2 St. Louis. 
Oklahoma State Quarterback: Brandon Weeden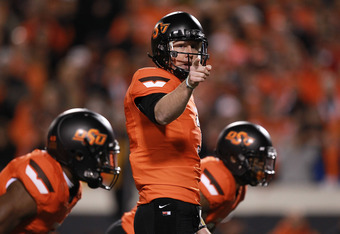 Ronald Martinez/Getty Images
Weeden has a lot going against him because of him being an NFL rookie at the age of 28. At that age, he is older than most quarterbacks who have been in the league for at least four years. 
However, in his two straight years, Weeden has gone off for over 4,000 passing yards, 34 touchdowns and over 340 completions. If Weeden can have a huge game where he throws for over 400 yards with 31 completions and four touchdowns, like he did against Texas Tech, he will rocket up NFL draft boards.
Where He Could Fall
If Weeden finishes the Fiesta Bowl with under 250 passing yards with no touchdowns, it will make him go from a late fifth or sixth round draft pick, to not drafted at all. 
Weeden cannot afford to fail in this game, since his NFL future is riding on this game because of his age, and the offensive system that he played in at Oklahoma State. 
These three players will have a say in how this year's Fiesta Bowl plays out. If they all have three great games, this will be a very high scoring contest and they will see their draft stocks reach their highest levels.
However, if they all fail, the game will be a disappointing low scoring contest, with each player watching their stock fall to a new low.