90+7
The away team have replaced Jackson Muleka with Emrecan Uzunhan. This is the fourth substitution made today by Senol Gunes.
90+5
Souza is on target to give Besiktas Istanbul a 1-2 advantage.
90+5
Tayfur Bingol with an assist there.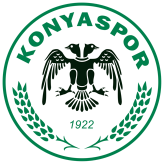 90+4
Free kick for Konyaspor in their own half.
90+4
Abdulkadir Bitigen awards the away team a throw-in.
Game Info
Konya Büyüksehir Belediyesi Stadium, Konya
Abdulkadir Bitigen (Turkiye)