Evelyn Lozada: Antoine Walker's Past Haunts 'Basketball Wives' Star
December 26, 2011
Evelyn Lozada may be in a relationship with football star Chad Ochocinco, but she has some explaining to do in regards to money received from former fiance Antoine Walker. 
The Basketball Wives star has come under fire for a lump of money she reportedly received from Antoine Walker when the two were dating. 
TMZ reports Lozada is now being sued by the trustee involved with Walker's bankruptcy. It seems that the former All-Star basketball player raked in about $110 million during his career, including endorsement deals. 
After blowing it all, the suit alleges that he gave a lump sum of $560,000 to his then-fiancee to hide the assets from creditors. The money is assumed to have been used for Lozada's business venture, a Miami show store called Dulce. 
Both parties are denying these claims and insist there is nothing fraudulent going on. Lozada has stated that the money she used to fund her shop actually came from selling her engagement ring.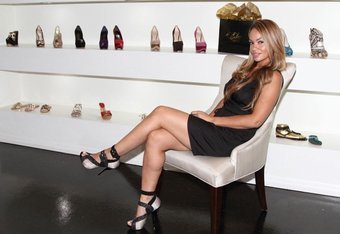 Despite the claims of the two former lovers, the tale is rife with lessons. It's a tad depressing to see a man that was once considered a franchise player for the Boston Celtics, hit such a deplorable low. 
The Daily Mail reports Walker has since appeared in Cook County Court for allegedly not paying child support and tuition bills for his youngest teenage daughter. That case is pending until the ugly matter is settled with his bankruptcy. 
Lozada and Walker were engaged and the reality star moved to Miami in 2007 to be with Walker, but they broke up in 2009. Which was right around the time that Walker hit bottom and filed for bankruptcy. 
The past, no matter how much you believe it's buried, always has a way of coming back to haunt you. Lozada may indeed be clear of any wrongdoing, but this tale will only turn uglier as she attempts to explain the missing half-a-million-dollar sum. 
For Walker, he has to be seen by young athletes as a sign of how bad things can turn if wealth is dealt with such disregard.