St. Louis Rams: Looking at the Future of the Rams in St. Louis
December 26, 2011
Ronald Martinez/Getty Images
The St. Louis Rams' lease is coming to the forefront in the Gateway City and to the forefront of the minds of St. Louis Rams fans throughout the Midwest.  
In February, the St. Louis Convention & Visitors Commission (CVC) must present a preliminary plan to the Rams regarding upgrades to the Edward Jones Dome. 
The Rams have until March 1 to accept that offer. If the Rams reject it, they have until May 1 to counteroffer.
If the CVC were to agree to the Rams' counteroffer, they would have until June 1 to show in detail how they would pay for those enhancements. 
If it were to come to that and still the sides could not agree, it would go to arbitration next June. If there were no deal thereafter, the Rams could leave town following the 2014 season.
With that stated, what exactly has been said from the Rams front office regarding the lease and the Rams' future home?
Actually, quite a bit.
Going back to February of 2010, when the Rams were in the process of eventually being sold to Stan Kroenke, Rams Chief Operating Officer and Vice President Kevin Demoff said the following, from clanram.com: 
"Today is a tremendously exciting day for the organization, because whether or not a sale to a prospective buyer goes through, I think it reaffirms to everybody the commitment this club has to St. Louis and our belief in this marketplace. . . .

"Chip and Lucia have always said they want to find a buyer here, that they remain committed to finding a buyer here, and they're passionate about St. Louis and this market. Whatever happens, I think people realize that they're genuine about their passion for the market, this club is genuine about our efforts to be in the community and advance this team forward. . . .

"There was obviously some skepticism based on some of the rumors swirling around the team. Whatever happens this year, I think that'll be alleviated and people will see this organization for what it truly is: a group that is dedicated to winning on the field, improving the experience at the dome, and connecting to this community, so that people eventually realize that the Rams are St. Louis' football team and will continue to be St. Louis' football team."
Pretty clear words from the COO/VP of the organization.
The clearest statements yet came from an interview with Randy Karraker earlier this year with Demoff.  These comments somehow remained somewhat under the radar, but it shouldn't have.
"Our viewpoint on a stadium is very simple. We want to get a stadium solution that works for the citizens of this region that makes this city competitive for Final Fours, for political conventions, for bowl games. We want a global solution. Not just what the Rams need, but what is needed to move St. Louis forward as a region and as a city. If we're going to have a 65,000 seat stadium downtown, let's make sure it works for all parties involved. If it works for everybody, it should work for us."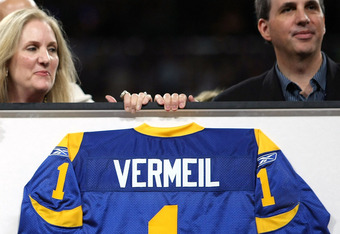 Elsa/Getty Images
Demoff went to on to say:
"I think there are a lot of ways to look at the top twenty-five percent. There have been eighteen stadiums built since the Edward Jones Dome was built, and there have been four that have had more than a $300 million renovation in that period. Obviously there's been a lot of work done. I don't think it does anybody any good to lay out guidelines for exactly what it is that meets the criteria. I think the criteria need to be what makes St. Louis a better place for our citizens, and a better place for everybody long term. As long as we use that as our guiding principle, how we can work together, how we can build something meaningful for everybody involved, then it shouldn't really matter where it ultimately ranks."
 These words are very clear and should be extremely encouraging to St. Louis fans.
In these quotes, Demoff said that finding a solution that worked in a "global" manner for the city, citizens, and the Rams was paramount.  He stated that if that solution works for the other major entities involved, it should work the the Rams, too. 
 He also addressed the much-discussed and often misunderstood 25-percent clause in a very pro-St. Louis manner.
Demoff hinted very strongly that the Rams were not going to hold the St. Louis Convention and Visitors Commission to a strict interpretation of the lease's top 25-percent clause.  Demoff stated that the bigger focus should be, again, on finding a solution that is in the best interest of St.Louis, its citizens and the Rams long-term.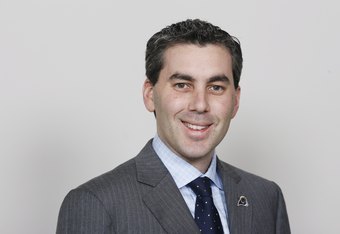 NFL Photos/Getty Images
Earlier this year, Demoff once again spoke strongly to the Rams commitment to St. Louis.  During an interactive chat with St. Louis Rams fans as hosted by stlouisrams.com, Demoff stated that:
"Our entire focus is on building a winner in and for St. Louis. We are focused on putting a better product on the field for our fans, making it affordable for all fans to come to games and reminding St. Louis of the joy that winning football can bring to the region.

The lease issue isn't what we are focused on—we are focused on becoming a great organization and building a team that our fans can be proud of. Our passion for St. Louis is evident in our community service work—over 2,500 hours of staff service time last year and being named Philanthropic Organization of the Year in St. Louis, the first time a sports team has won that award in the 30 years it has been handed out. We are proud of our fans, proud of our commitment to St. Louis and passionate about building a winner right here."
As for St. Louis Rams owner Stan Kroenke, many forget or are unaware that he was the lead investor for a St. Louis group that attempted to secure one of two NFL expansion franchises that ultimately ended up going to Carolina and Jacksonville.  (The team that would have landed in St. Louis, interestingly, would have been named the St. Louis Stallions).  
 After this effort fell through, Kroenke then purchased 40 percent of the Rams, but only on the condition that the Rams move to St. Louis.  
In truth, Kroenke has done more to secure NFL football in St. Louis than any other individual ever has. 
There is no legitimate reason to believe that will change.  
Besides some occasional sensationalist media speculation, there is nothing even remotely concrete that indicates the Rams would consider leaving Kroenke's home state of Missouri and the city of St. Louis.  
A city that he has served long-term while sitting on boards and while doing major business in. The city and franchise that helped give him his name (Enos Stanley Kroenke), inspired by St. Louis Cardinals greats Stan Musial and Enos Slaughter.
Last year, in an interview that took place when Kroenke was in the process of being approved to purchase the remaining 60 percent of the Rams from Chip and Lucia Rosenbloom, Kroenke told the St. Louis Post-Dispatch, as shared by ramsrule.com: 
  "There's a track record," Kroenke said. "I've always stepped up for pro football in St. Louis. And I'm stepping up one more time."  He also said that "I'm born and raised in Missouri. I've been a Missourian for 60 years. People in our state know me. People know I can be trusted. People know I am an honorable guy."

"I'm going to attempt to do everything that I can to keep the Rams in St. Louis," Kroenke said in a phone interview Tuesday night. "Just as I did everything that I could to bring the team to St. Louis in 1995. I believe my actions speak for themselves."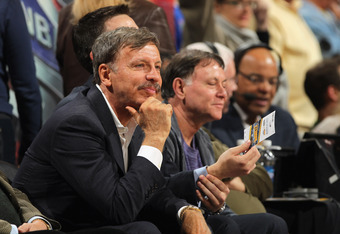 Doug Pensinger/Getty Images
Some have criticized these comments, but I believe those individuals are failing to understand them in full. 
However, Kroenke is a businessman and, as mentioned above, the lease situation has arrived.  If he would have came out and said that we are staying in St. Louis no matter what, he would have lost his leverage in regard to the lease.  
Quite frankly, that would have been stupid from a business perspective.
Furthermore, if Kroenke has visions of a WalMart Field or Sam's Club Stadium dancing in his head, that leverage could and would come in handy in securing at least some assistance in that effort. 
Keep in mind that former Rams owner Georgia Frontiere, a native of St. Louis, told her children, Chip and Lucia Rosenbloom, that she wanted them to ensure that they keep the Rams in St. Louis and finding an owner that would do that was of utmost importance to her.  They made a commitment to her that they would do just that. 
Regading Stan Kroenke, (long-time friend and Rams co-owner of Chip Ronenbloom's mother Georgia), Chip said:
"There's no reason to believe that Stan would be anything less than committed to St. Louis," Rosenbloom said. "He was instrumental in securing the Rams franchise for St. Louis...All of it points to a good relationship with St. Louis," Rosenbloom said. "I don't know why anyone would believe otherwise."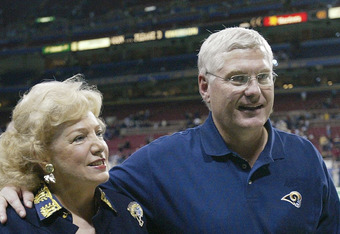 Elsa/Getty Images
With a $250,000 per year lease, Stan already has a license to print money.  His deal with Rams Park in Earth City is even sweeter.  
With the upgrades that are likely coming from the aftermath of the lease negotiations with the CVC, that will only improve. 
Possibilities being tossed around by either the CVC or St. Louis fans include the CVC buying the parking garages around the Edward Jones Dome and giving the proceeds to the Rams, upgraded luxury suites, clear roof panels to allow natural light, selling the red seats to buy all blue ones, and some statues of former St. Louis Rams greats like Marshall Faulk, Kurt Warner and Isaac Bruce around the main entrance to the dome.  
If the Rams organization had eyes on leaving in the near future, please explain why they have went out of their way to ensure that the Rams were televised in St. Louis this year on multiple occasions when they could have suffered blackouts?  
Wouldn't blackouts make a case to leave look better? And why invest in a temporary market if you plan to relocate?
Why did the Rams expand their preseason market this year, under Kroenke, into all of Missouri for the first time and into other new markets that now include five states, all of which border the Show-Me State?  Why would you invest in this region if you are about to skip town for another one? 
Why would Stan give up partial ownership, something that would likely be a prerequisite, to go to L.A.? Stan has never done this with any of his sports franchises. 
As for Missouri, a bill will be brought back to the table that would aid the state and St. Louis in attracting Final Fours, Olympic trials and more to the city.  
Governor Jay Nixon, a major supporter of the Rams, understands how vital sports and major sporting events can be as an industry and an economic catalyst and will push for this bill to pass.
As for a possible new stadium, speculation abounds that Kroenke could eventually be given the prized Bottle District adjacent to the Edward Jones Dome.  The old Chrysler grounds in Fenton is often brought up as a potential future stadium site as well.  
Wouldn't a Sam's Club Stadium or Wal Mart Field look nice amid a Mall of America Midwest somewhere in the St. Louis metro in the years to come? 
According to various media including one from Brian Burwell of the St. Louis Post-Dispatch, numerous informed sources have said that at no point in any discussions with local officials regarding the dome lease has Kroenke ever brought up moving the franchise back to LA.
It's hard to say how long the Rams will remain in the dome, but I do expect that the Rams will call St. Louis home, just as owner Stan Kroenke has for more than 60 years, for a very, very long time.  
Shane Gray covers the St. Louis Rams year round. To check out the rest of his work, go here.  You are also encouraged to follow him here on Twitter.