Week 17 Waiver Wire: Who's Worth Picking Up This Week?
December 26, 2011
Ronald Martinez/Getty Images
Greetings from snowy Alaska where it's four degrees, snowing and there are moose in the backyard of the house I am staying in.
Rustic, ain't it?
While I have been chipping frost off the truck windows, I've also been keeping a close eye on all the Week 16 action. 
For most of us, the the fantasy football season is just ending. We've watched Week 16 play out and can now turn our attention to remembering the names of our kids or making up time for our significant others.
At Footballguys, we'll be back to work really soon once Week 17 has come and gone, continuing to provide great fantasy advice all year long.
However, for some hearty (dare I say insane?) folks, Week 17 still requires attention as their leagues run the full NFL season.  
Based on what we've seen so far this weekend (and assuming everyone leaves Monday night's ATL-NO tilt in good health), there are a few players who might still be available on waivers.
Crazy, but true.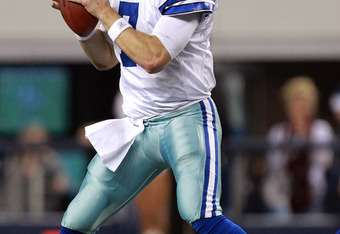 Ronald Martinez/Getty Images
Before I get into that though, here's my biggest piece of advice for owners preparing for a Week 17 championship game.
The very first thing you need to do is check and see if your most important players clinched anything or have been eliminated from anything this Sunday.
For example, the Packers have clinched home field throughout the playoffs and their division title, while the Texans have been locked into the third seed and really can't move up or down.
Teams like the Packers and Texans know they are going to the playoffs and have to make sure they get everyone some extra rest. Will Aaron Rodgers play four quarters against the Lions next week? While the Packers aren't playing for anything anymore, the Lions will be fighting to stay ahead of Atlanta and avoid a trip to New Orleans.
What are the chances that Green Bay and head coach Mike McCarthy will expose their franchise quarterback to four full quarters of Ndamukong Suh?
Pretty thin. By the same token, if the Texans can neither improve or hurt their draft position next weekend, why have Andre Johnson come back for a full game? He'll play in all likelihood, but probably not much.
So make sure you have the backup to quarterbacks like Rodgers and replacements for guys like Johnson.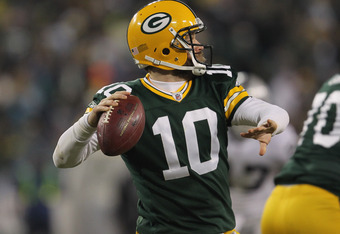 Jonathan Daniel/Getty Images
Now, onto some guys who could still be on the waiver wire this week for use in a pinch.
Stephen McGee (Romo Owners Insurance)
As I was just saying above, making sure you have the right backup is vital this week. Romo was injured against the Eagles but with the so much on the line for the game against the  Giants, he'll do everything he can to play.
If you've got Romo, McGee is a must-have this week, just in case Romo cannot go last minute.
The battle for the NFC East division takes place at 8:20 p.m. EST on Sunday. If you have Romo and he can't play, you won't have a chance to put in someone else. So unless you want to go without Romo (not the worst idea), you have to have someone you can plug in if he can't play.
Stephen McGee looked OK, if very rough, against Philly. He was dealing with a lack of snaps during the week and then also lost Felix Jones. This isn't to say with Jones and more snaps he'd be Joe Montana. Just that he is a little better than he showed this Saturday.
If Romo cannot go, McGee is your only choice to replace him, given how late the game is, and he should do enough to keep you competitive.
With nothing to play for, how much will Aaron Rodgers play? It's worth taking a look at Matt Flynn. He won't put up numbers equal to Rodgers, which few would.
What he can do is play well and keep the offense moving. It's going to be hard to know how much to risk Flynn in your starting lineup.
It's worth having him in case Rodgers is a complete scratch.
Joe Webb
Vikings quarterback Christian Ponder is out with a concussion and the team has no choice but to go with Webb under center. It's not a horrific choice, though it's easy to think so by looking at his stats.
Sure, he didn't pile up passing yards. He did score two touchdowns through the air and one on the ground. He'll face a Chicago Bears defense which was embarrassed by the Packers on Sunday night, so they will be fired up.
Webb isn't going to put up top quarterback numbers, but he is dangerous with his feet and can score. Chicago is on the ropes and while they can play well defensively (when Aaron Rodgers isn't the opposing quarterback), they can also get scored on.
In a pinch, Webb has some upside and can fill in for you.
Dan Orlovsky
Orlovsky, having replaced Curtis Painter full time now, looked pretty good against a reinforced and solid Texans defense. While the Jaguars have been a good defense this year, injuries have undercut their progress.
I'm not saying Orlovsky will put up Peyton Manning numbers, but he seems to have remembered Reggie Wayne is alive and is efficient with the ball.
Orlovsky is probably your safest and best bet for quarterbacks on this list, as he will definitely be in the whole game and he has a nice matchup.
Kahlil Bell
I can't say I'm a huge fan of Bell but the former UCLA back had a tremendous game against the Packers Sunday night and while a bunch of the yards were garbage time yards, he ran well and also was effective catching the ball.
The matchup against Minnesota is good as well, so don't be worried about plugging him in as a flex play or a RB2. He has the upside to do better and in a game against the Vikings, could very well see his potential reached.
Steven Ridley
While Ridley is this week's flavor, we know the risk is that head coach Bill Belichick may change his mind tomorrow morning over eggs.
That said, Ridley's carries have been consistent the last few weeks and while he is unlikely to put up stud running back numbers, he is getting the carries and should serve as a somewhat risky flex play.
Buffalo isn't the toughest defense, so Ridley should be effective against the Bills, it's just his ceiling is lower than you'd like.
Brandon LaFell
It's hard to say for sure that LaFell is on your waivers. On the one hand, we've been talking about him off and on for some time, so he may just be on a roster. On the other hand, his production has been scattered, so there is a fair chance he really is out there for you.
I pretty much expect Steve Smith to reassert himself as the No. 1 and LaFell's numbers mostly came of just three passes which is dicey for a guy you want in your lineup for championship week.
That said, the New Orleans Saints can be thrown on and will occupy Steve Smith leaving LaFell open for some more balls.
Randall Cobb
I'm a pretty big fan of Cobb, which you can tell with this video.
The fact is that Cobb is still a bit raw, but a solid player. There is a good chance that several players will rest for the final game and Cobb will probably get a chance to do some damage. Cobb shows great run after the catch ability and sure hands.
Jordy Nelson and James Jones will get some work, but ultimately I believe Cobb will see more because he is not as vital as the other two and will not get yanked while Nelson and Jones will in order to keep them healthy.
Is there risk to Cobb? Yes, but his ceiling is pretty high and I believe he is worth the shot.
Andrew Garda is a staff writer at Footballguys.com, which is still going to get you all the Fantasy Football info you need even after the League Championship because a leg up in January will win you a Championship in December.