Meet the Blackzilians: A Family of World Class Coaches and Fighters
December 23, 2011
After spending time in Boca Raton, Florida, with the Blackzilians, it's clear that they're much more than a team.
Led by head coach Mike Van Arsdale, the Blackzilians are a family of world class fighters.
With world champion kickboxer Tyrone Spong, MMA's Anthony Johnson, Rashad Evans, Melvin Guillard, Michael Johnson, Jorge Santiago, JZ Cavalcante, Abel Trujillo, and Roy Jones Jr., to merely name a few, there's no lack of talent and determination in the group.
Van Arsdale keeps training structured and professional in order for each fighter to achieve his full potential.
Dutch striking coach Henri Hooft leads the way in developing that aspect of their skill sets; I only had to attend one sparring practice to realize how knowledgeable he truly is.
Hooft's input to each fighter is received with full attention and it quickly shows during practice and one-on-ones.
Van Arsdale, Hooft, and the fighters are in the midst of preparing for an extremely busy month to kick off their 2012 campaign.
January features Anthony Johnson making his middleweight debut against Vitor Belfort at UFC 142, Guillard headlining UFC on FX 1, Spong facing Melvin Manhoef in kickboxing and Evans along with Michael Johnson round out the month at UFC on Fox 2 Jan. 28.
In preparation for those bouts, the atmosphere in training is serious, and with a full lineup of fights slated within weeks of one another, each fighter is growing and vastly improving his game.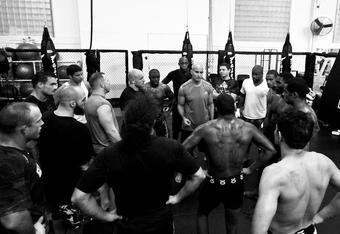 In addition to Van Arsdale and Hooft, jiu-jitsu professor Flavius Silva leads the way and Marcus Silva works with the gentlemen to round out their skill sets with his judo expertise.
There's no doubt that each man was meant to be a professional fighter.  There's a near perfect balance of the disciplines needed to be a world champion.
No one fighter holds himself higher than another, and each professional is dedicated to the overall success of his teammates.
While the goal is to grow and evolve as fighters, everyone has fun and works together for the greater good of the Blackzilian family.
Glenn Robinson, president of Authentic Sports Management, ensures that all of the fighters' needs are met; he's a true professional in every sense of the word.
Overall, the Blackzilians are a tremendous group of fighters and coaches who are primed for a dynamic year in 2012.
Stay tuned for the team profile feature that is set for publishing on the week of Dec. 26.