Tim Tebow: What Will People Think of Him If Denver Broncos Keep Losing?
December 22, 2011
Marc Piscotty/Getty Images
Ask ESPN First Take's Skip Bayless about Tim Tebow and you'll hear "all he does is win."
After the Denver Broncos' matchup with New England, we know that Tebow can, in fact, lose.
But what happens if Tebow continues to lose games?
It's evident right off the bat that the ridiculously overdone Tebow coverage took a hit when he lost the first game since Denver's installation of the Tebow-option offense. But it wasn't a very big hit.
Instead of hearing about Tebow every three minutes, now we only have to hear about him every seven or eight.
If Tebow loses to the Buffalo Bills on Christmas Eve, and, dare I say, to the Chiefs and ex-Bronco Kyle Orton the following weekend, what will people think of him?
Tebow's entire media-driven persona has been influenced by his ability to play when it matters most and win games in clutch fashion. With the season on the line, and the AFC West title within Denver's grasp, Tebow cannot slip up.
Let's jump ahead two weeks and assume that Denver has lost its last two games. Does Tebow disappear from the media?
I'm reluctant to say so.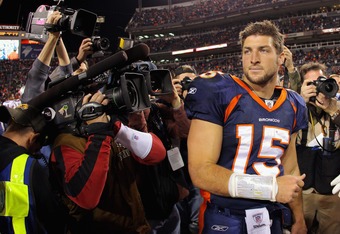 Doug Pensinger/Getty Images
Even if Tebow is sitting on his couch in January, I'm sure we'll hear plenty about him.
What's clear about Tebow is that he garners attention from every man, woman and child that follows the NFL. Whether they want to hear about him or not. Tebow could manage to take two losses in the final two games and still have a place on every channel's bottom line.
The thing is, without a doubt, Tebow draws coverage regardless of his wins or losses.
I can say this with full confidence after watching day after day of Tebow highlights during Broncos training camp this last summer: Tebow will go down as one of the worse practice players the people of Denver have ever seen.
Or will he?
It's impossible to know for sure. Whether he threw three interceptions on no-contact drills, or ran for 20 minutes to gain 10 yards, Tebow was still the focal point of the local media every night.
When is Tebow going to start? Can Tebow really play in the NFL?
These were the questions that plagued the nightly newscast in Denver for weeks on end.
Even if Tebow turns out to be a loser in 2011 and finishes with an 8-8 team record, we'll still have more questions to ask.
Can Tebow turn it around in 2012? Will Tebow win the AFC West next year?
All the while, the fans and media alike forget that there are 52 other men on the roster who deserve at least a little attention.
After all, the name of the team is the Denver Broncos—not the Denver Tebows, as many believe.
So what will people think of Tebow if the Broncos keep losing? It won't be much different from what they think of him now.
Tim Tebow is a winner. He wins games. He wins people's hearts. And he's even winning over his most talked-about perceived detractor, John Elway.
I, for one, don't see Tebow losing any more in 2011. Nor will I bet against him to win if/when he shows up to play in January, or even February.
This guy can play, and it's too early to count him out in his career with Denver.
As annoying as he can sometimes be, here's to Tebow controlling our televisions well into the New Year.