Chris Miller Fired, Could Todd Haley Be Reunited with Ken Whisenhunt at Cards?
January 10, 2012
Christian Petersen/Getty Images
The Arizona Cardinals have fired their QB coach, Chris Miller, ushering in yet another wave of speculation that the firing clears the way for Todd Haley's reunion with Ken Whisenhunt and the Cardinals.
Not so fast, says Darren Urban, according to this tweet.
Cardinals have fired QB coach Chris Miller. That's the only coaching change as of now. Haley hiring not imminent.
Clearly, since the Cardinals seem unlikely to dump their $63 million investment in Kevin Kolb, someone needs to take the flack for their QB struggles in 2011, and Miller is the obvious choice. Miller has struggled since Kurt Warner's retirement, both to develop the players he has and to identify the best available replacements.
However, his firing, this early, with no one else in line to take his place—not even any word on potential replacements, which would normally accompany the release of an assistant—does seem to at least suggest that the Cardinals have something else in mind.
Todd Haley isn't going to take a QB coach job, plain and simple, but since a head coach position seems off the table, Haley will become an offensive coordinator, a position he has excelled at in recent years.
Mike Miller, the current offensive coordinator, is something of a passing game expert, and should Haley come back, Miller could easily be given his old job of passing game coordinator, rolling the QB coaches job into that role, to open the OC job for Haley.
As much as Urban would remind me that nothing is imminent, it's hard for me not to at least begin speculating about what comes next.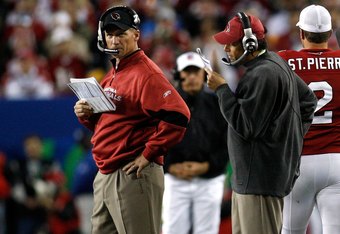 Chris Graythen/Getty Images
Offensive Play-Calling is Still a Concern for the Cardinals
The Cardinals' late-season resurgence in 2011 was nothing short of miraculous. After a 1-6 start to the season, the Cardinals clawed their way back into playoff contention with two weeks remaining. And while they ultimately failed to grab a wild card spot, the team finished the season at 8-8.
Ray Horton can take a lot of credit for that, having turned around the team's defense, which, while still rough around the edges, already looks fierce. With a few key re-signings, and following a full preseason workout, the defense looks set to dominate in 2012.
The Cardinals special teams unit also played their part, keeping the Cardinals in numerous games, but the Cardinals offense still appears sub-par, especially when compared to the aerial spectacle the Cardinals fans were treated to under Haley, with Kurt Warner, Larry Fitzgerald, Anquan Boldin and Steve Breaston.
The Cardinals' issues appear to run deep, including the loss of all but one of those players, but it's hard to put the team's struggles solely on the shoulders of the on-field talent.
The Cardinals are not short on skill on the offensive side of the ball. Larry Fitzgerald is an NFL superstar, Andre Roberts and Early Doucet have both shown flashes of what they are able to produce, and Beanie Wells ran well all season.
The ability of players like Todd Heap should not be in question, yet he has struggled at the Cardinals. And while both John Skelton and Kolb have been good enough to give Cardinals fans hope, they have also been bad enough to cause real concerns for the future.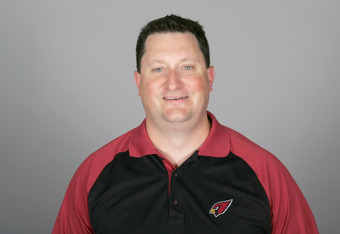 Handout/Getty Images
A truncated preseason undoubtedly affected the Cardinals early, but while most teams solved their timing and miscommunication issues within the first two or three games, the Cardinals appeared to struggle right up to their final game.
With Chris Miller now gone, some of the blame must fall on the shoulders of the play-caller, Mike Miller. 
Indeed, many of the Cardinals' issues started with their inability to sustain drives, and a huge part of that is being able to draw up the right play at the right time. Dropped balls, stifled runs and on-field misreads all played their part, but altogether too often, the biggest reason that drives stall is that defenses can see what's coming from a mile off and simply don't give the team any options.
Miller was a first-year play-caller, and some issues are to be expected. He has certainly not been so spectacularly bad as to have automatically lost himself his job. Indeed, given that Whisenhunt is known for being very hands-on when it comes to shaping the playbook and calling the plays, the issues may not even be Miller's fault at all.
Whisenhunt has Trust Issues
Ken Whisenhunt is a good head coach. He is also a good play-caller, but he has always struggled with balancing the two. When he possibly can, Whisenhunt goes without an OC altogether. When the ownership forced one upon him, he still prefers to handle the play-calling duties himself. Rarely has he truly developed a rapport with an OC.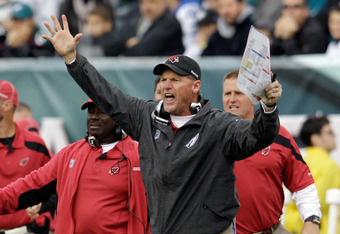 Rob Carr/Getty Images
Miller, for example, has only recently been allowed to walk the sidelines with the players. He is still not the one who actually calls out the plays to the players, Whisenhunt is. At best, Miller is an adviser to Whisenhunt, not a true play-caller.
With Haley, it took time, but eventually Whisenhunt learned to trust him. By 2009, when the Cardinals narrowly missed out on winning Super Bowl XLIII, you rarely saw Whisenhunt without Haley by his side. The two developed a great working relationship, and the results were spectacular. The prospect of reuniting the two has to be something to whet the fans appetite.
Haley, like Whisenhunt, is a very hands-on coach and appeared to be on the same wavelength as his players. He knew when they needed calling out over a dropped catch or wayward throw and when they needed encouragement. Without the pressure of being the top dog, Haley appeared much less stressed and, as a result, made much better calls.
Haley is a Players' Coach
Larry Fitzgerald was nothing but complementary about Haley, and Warner credited him with resurrecting his career.
Many of the players who knew Haley in Arizona are still there, and some youngsters—Roberts, Doucet and Skelton spring to mind—would certainly benefit from his coaching style.
It is hard not to get excited about what someone like Haley could do with a young receiving core like the one the Cardinals have and a quarterback like Skelton.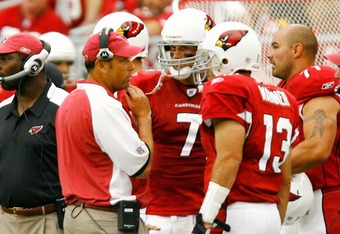 Kevin Terrell/Getty Images
Haley has grown up around the game. As the son of Steelers great and director of player personnel Dick Haley, though never a player himself, he has developed a natural nose for sniffing out great talent and moulding it.
Haley helped turn Dwayne Bowe from a disappointing, somewhat lazy receiver, with a reputation for dropping balls, to a one of the best receivers in the game: hard-working, physical and with some of the safer hands in the league.
He brought in Matt Cassel, a career backup, and saw the potential in him to lead the team to a 10-6 AFC West title and Pro Bowl selection in his second year starting in Kansas City.
The Cardinals, hardly short on talent, have struggled to utilise much of that in recent years, and Haley is exactly the sort of coach who could inject new life into this stagnating group.
Signs Still Point to Haley Rejoining Cards
However you slice it, Haley is a good fit for the Cardinals. I have heard suggestions that bringing back Haley is bad for the team, given that eventually he will be poached for another head coach job. The argument goes that the Cardinals need stability, and Haley will eventually depart for another head coaching gig, perhaps after only a season or two.
Haley has made it clear that he considers himself a head coach and would interview for any available position if approached about it in the future, but by that logic the Cardinals should also have never hired Ray Horton, who has already interviewed with—and impressed—the St. Louis Rams. Horton will continue to get called for the foreseeable future, in no small part because he is currently one of the most senior minority assistants in the NFL, and the "Rooney Rule" requires the interviewing of minorities for such roles.
Haley is a great offensive coordinator, who could work wonders for a Cardinals offense which has floundered in recent years. He knows the area, he knows the scheme—much of what the Cardinals still do today originated during his time in Arizona previously—and has spoken very fondly of his love of the team, its players, management and owners.
Assuming that Mike Miller stays in Arizona and slides into a passing game coordinator-type role, Haley's return would likely also do wonders for him. Miller was passing game coordinator when Haley was last in Arizona but clearly was never considered his natural successor. It took more than one-and a-half seasons for Miller to be handed any play-calling responsibilities, and he was not installed as OC until two seasons after Haley's departure for Kansas City. Unsurprisingly, Miller struggled to adjust to the role, having never been mentored in it.
Spending time learning from Haley—even if he is only there for a year—and learning the subtleties of designing and running an offense, will help Miller to no end when he is eventually handed back the job or given a coordinator's job elsewhere. Miller was basically handed Haley's old playbook, designed around an elite quarterback—Kurt Warner—and three top receivers—Fitzgerald, Boldin and Breaston—and expected to make it work for the 2011 Cardinals, having never, it would appear, been groomed as a future OC.
If nothing else, Haley's return would give the Cardinals a year or more to do what they should have done in 2008: train an eventual replacement.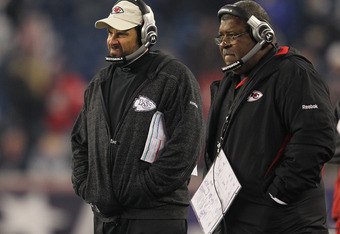 Jim Rogash/Getty Images
Still a Head Coach in the Making
In addition to bringing Haley in as offensive coordinator, the Cardinals management must also consider what happens if the Cardinals fail to improve on their 2011 record next season. Ken Whisenhunt managed to save his job thanks to a late-season comeback, but he has to know that failure to challenge for the NFC West title for three years in a row would all but certainly end his career in Arizona. As much as Cardinals fans will hate to have to think about it, mid-way through next season, the Cardinals could be looking for Whisenhunt's replacement.
The Cardinals already have a future head coach on their staff in the shape of Ray Horton, but adding Haley to the mix would give the Cardinals a coach with recent head coaching experience, exactly the sort of person you'd want to hand the reins to on an interim basis if everything does fall apart.
Much like Romeo Crennel, who has just been installed as permanent head coach in place of Haley in Kansas City, the Cardinals would do well to at least consider the possibility of getting Whisenhunt's potential successor on their staff now and promote from within, in the case of Whisenhunt's failure, rather than take their chances elsewhere, if and when it happens.
Of course, no Cardinals fan, manager or coach wants to dwell on this possibility, but to fail to prepare is, as the saying goes, to prepare to fail.
In Conclusion
While Haley's appointment is not yet assured, the Cardinals appear, at least, to be making moves with his joining the team in mind. The longer a formal meeting takes, the more likely it is that Haley will have had other offers to entertain. However, assuming that such a meeting takes place within the next week or so, signs point to Haley rejoining the Cardinals soon, a real win-win situation for the team, no matter what the long-term future holds.
Even if Haley does receive other offers, given how open Whisenhunt has been to the prospect of bringing Haley back, it would surprise me if Haley accepted anything without first contacting the Cardinals about availability.
As much as people like Darren Urban, a well-respected commentator on the Cardinals, would remind us that nothing is set in stone yet, as a fan, I would still put a reasonable amount of money on Haley's return in a fairly short order of time.