NCAA Women's Basketball: Lady Volunteers' Aura of Winning Remains, Sustains
December 14, 2011
Stephen Lovekin/Getty Images
Some teams just play the game as if they expect to win.
At all times and regardless of the score.
They walk onto the court that way.
They walk into the gym that way.
They walk off the team bus that way.
They probably walk to the john in the middle of the night that way.
You see these teams at all levels of play—pro, college, high school and even youth ball.
The sixth-ranked Tennessee Lady Volunteers of legendary, now stricken coach Pat Summitt are one such team, even under these most unusual circumstances. They put this fascinating athletic quality on display for a national TV audience Tuesday night in Piscataway, New Jersey against talented, but very young Rutgers.
A competitive and entertaining second half of dueling mini-runs had wound its way down to the two-minute mark.
Then, on three of their next four possessions, the last after hustling their way to a couple of offensive rebounds, Tennessee drains a trey, a one-point edge grows to 10 and game over.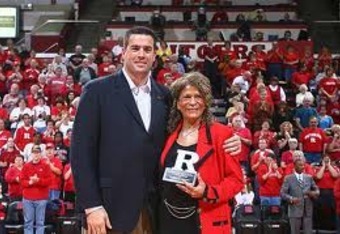 Some uncharacteristically shoddy foul shooting allowed coach C. Vivian Stringer's scrappy 11th-ranked Lady Scarlet Knights (Abacus has long maintained, in the interest of gender equity, they should be called the Scarlet Dames) to creep within five points, but hope never grew to belief, free throws fell and UT won 67-61.
Following the customary warm welcome for their coach in her struggle with her illness, the confident Lady Vols jumped out to a quick 22-12 advantage, forcing Rutgers to fight an up-hill battle to close within five at the intermission.
Coach Stringer's young-uns showed flashes of the team she hopes they'll become, but their poised adversaries had a counter for each charge before any real momentum could build or the crowd could involve itself.
Over-zealous athletes are regularly admonished by coaches and pundits alike to "act like you've been there before."
Certain athletes and teams have the "act" perfected—it's become the very essence of their game, no longer a pretense.  The coaching staff establishes an expectation, and when the players buy in to the point of assuming both personal and collective responsibility…well, you get "there," win or lose.
Pat Summitt—Coach Stringer, too—has been "there" for some time.
No doubt, she'll keep playing and living as if she expects to win.