NHL Trade Rumors: New Jersey Devils Must Trade Icon Martin Brodeur
December 13, 2011
Al Bello/Getty Images
The NHL trade deadline is still a while away. However, it isn't to early to start looking at teams that could trade a valuable player, like the New Jersey Devils' Martin Brodeur. 
It is hard to think that Brodeur could get moved from the place in which he has built his Hall-of-Fame career. However, he does become an unrestricted free agent at the end of the year and the Devils may have a hard time resigning him to another deal with a cap hit of more than $5 million. 
While speaking to reporters, Brodeur has thought about what may happen if the Devils do not feel that he is in the plans for them.
In the future you never know, but I don't want to," Brodeur said. "But if I want to play— and I have so much respect for this organization—and if they don't feel I'm the guy for them and they want to move on, if I still want to play I have to look after myself. I don't see that happening, but I can't say no."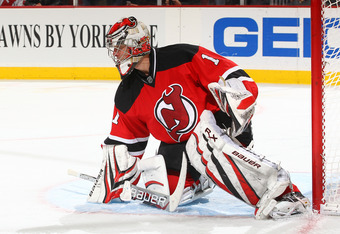 Al Bello/Getty Images
The Devils have to think about their future here and move Brodeur to a team that needs a goaltender. This year has seen Martin split time with Johan Hedberg. Both goalies have played in 16 games, with Hedberg having more wins and a lower goals against average (GAA). 
It is hard to think about trading someone who has been the face of the franchise for so long. However, if you look at Marty's stats in two of his last three years, you'll see that his GAA numbers are increasing and his body is breaking down. 
In the 2008-2009 and 2010-2011 seasons, Brodeur failed to hit his usual average of playing in 70 or more games, while posting GAAs of 2.42 and 2.45. Through 16 games this year, Brodeur is on pace to finish below 70 games and have another GAA of 2.45 or higher. 

With the Devils floundering in ninth place in the Eastern Conference at 15-13-1, it looks like they could miss the playoffs for a second straight year. 
If the Devils decide to hold onto Brodeur and bring him back for his 19th season, it will only hold back the development of their young goalies in the AHL. 
Every team has to move on from their legends. Devils fans and the organization knew that one day they would have to move on from Brodeur. That time has come, and they must move forward.