Terrelle Pryor: Should the Oakland Raiders Give Him a Shot Now?
December 12, 2011
Mike Ehrmann/Getty Images
With Carson Palmer coming off of one of his worst games in his career, many Oakland Raiders fans have been wondering if the Raiders have a bit of buyer's remorse after the blockbuster trade for Palmer's talents. Like most Raiders fans, I did agree that the team gave up way too much, yet they didn't really have no other choice.
If the Raiders had let Kyle Boller remain the starter, the Raiders would be a 5-11 football team, and we would want head coach Hue Jackson's head on a platter for not going after some sort of quarterback.
But who?
David Garrard was the second best option, but he was coming off of back surgery. Maybe the Raiders should've brought back Trent Edwards. But what has Edwards shown that he could keep the Raiders on a playoff pace?
Were there really any other options, other than Palmer?
Jake Delhomme, Kellen Clemens, Sage Rosenfels?
You can't be serious.
There were reports that if the Raiders could not get there hands on Palmer, that they were prepared to trade for Eagles backup Vince Young, according to ESPN. That may have been a decent Plan B, but you already have that style of quarterback on your roster in Terrelle Pryor.
Which brings up the question: How much longer before we see Pryor as our quarterback.
For the record, I completely understand and agree with why Jackson has not let Pryor get the starting job. After quarterback Jason Campbell broke his collarbone against the Cleveland Browns, Jackson said that Pryor had called him and told him "Coach, I'm ready!"
That is all good and well, but the fact is, he wasn't.
Pryor had not even practiced a full week with his team after his five game suspension at that point. So there is no way he could have been 100 percent ready to take over. But that was over eight weeks ago.
Logic would assume that if Pryor is really wanting to prove himself to be an NFL quarterback, he has indulged all of his time into that playbook and in meetings.
So is now the time for the Raiders to at least get Pryor's feet wet, or would that be considered giving up on the playoffs?
Well, let's look at it this way. If the Raiders win the rest of their games and the Denver Broncos loose just one most likely against the New England Patriots, both teams would hold a 10-6 overall record and 4-2 in the division.
But if the Raiders lose to the Lions, the chances of making the playoffs almost go out the window. If Palmer has a rough game next week, what is stopping the Raiders from at least seeing what they have to work with in Pryor?
Then, Pryor would have the benefit of experiencing a road division game against the Kansas City Chiefs, and a thrilling home division game against the San Diego Chargers.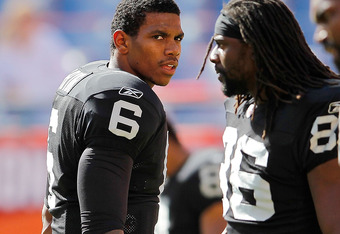 Mike Ehrmann/Getty Images
Is it necessary to let Pryor get some playing time?
No, but if the Raiders don't make the playoffs, is it worth it? Absolutely.
It helped Tim Tebow and the Broncos, why not Pryor and the Raiders? Pryor, in my opinion, is a way better quarterback prospect than Tebow. Yes, I know, you can't measure heart and determination, but who said Pryor doesn't have those traits?
It may not be as flamboyant as Tebow's, but that does not mean it is not there.
With what Cam Newton has done in a shortened offseason with the Carolina Panthers, is it hard to believe that Pryor can do the same thing? He is every bit the athlete Newton is, and has the same question marks that Newton did.
You can't measure how bad a guy wants it. That's why Newton and Tebow have had success, but they have also had something that Pryor has not, and that is opportunity.
Is it time to for him to get it?