Indiana vs. Kentucky: Hoosers' Upset Was Much More Than One Win
December 12, 2011
Andy Lyons/Getty Images
Anyone who has watched SportsCenter, visited ESPN.com or follows college basketball in any manner has heard or seen the upset Indiana University had over Kentucky on Saturday.
In the most dramatic way possible, IU stunned No. 1-ranked Kentucky on a buzzer-beating three-pointer from junior Christian Watford.
Much has been written about this game, but it's hard to truly quantify what this win means to IU basketball and the University in general.
The emotion was seen as students rushed on to the court fast and furiously. Players stood on the scorers' table soaking in the moment. Tom Crean seemed to be in near disbelief. Students hung around Assembly Hall for hours after, partied on streets on campus for the entirety of the night and relived the moment the whole weekend.
It was more than just a win. It was a statement: We're back.
It's hard for those not involved with or around Indiana basketball to realize how bad IU basketball was punished in 2008. It certainly was a valid punishment, but a brutal one nonetheless. When news broke that former coach Kelvin Sampson and company had broken five major NCAA violations, the Indiana fan base was speechless.
Led forever by arguably the greatest coach of all time, Bob Knight, IU fans hardly knew what a recruiting violation was.
Sampson quickly resigned, just a week after the NCAA revealed the news of the five broken rules, and IU basketball was left to tailspin quickly thereafter.
Jonathan Daniel/Getty Images
Eric Gordon left for the NBA early, DJ White graduated, Jordan Crawford and Eli Holman transferred, players like Devin Ebanks and Tu Holloway decommitted and Armon Bassett and Jamarcus Ellis were kicked off the team by Dan Dakich weeks before he would be relieved of interim head coaching duties.
The NCAA did the Hoosiers no favors, putting them on probation for three years, rescinding a scholarship and meting out all sorts of recruiting-related punishments.
The school was left with its hardest task to that point: finding someone to take over this program in complete shambles.
They took no chances and searched a very clean-cut, good guy with no question marks. What they found was an all-too-eager coach at Marquette who had success with the program, ready to step in.
Crean accepted the job and, at his introduction press conference, spoke the words that have been echoed throughout IU.
"I listened and I thought, and I still come back to what I thought at the very beginning, if anybody asks me why, it's Indiana. It's Indiana."
He cautioned the Hoosier fans that it would take time, but that they were in it for the long haul and that the team needed them.
While his passion was obvious, it could only do so much for a depleted team. Crean did some last-minute recruiting, accepted a few transfers and asked for any and all walk-ons. What he got was a team that set records in all the wrong ways at IU, finishing 6-25, 1-17 in conference.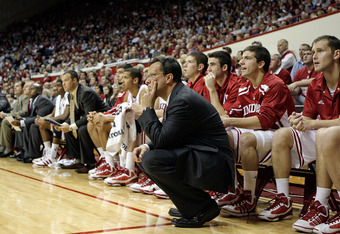 Andy Lyons/Getty Images
However, IU made its mark recruiting, grabbing four top-100 recruits, six total. They improved the next year to 10-21, but the support was always there. Fans sold out the gym on a nightly basis and were also as passionate as their leader.
Crean's third year offered a breakthrough, but more importantly, hope.
The team won its first game against a ranked opponent under Crean when they beat Illinois. Less than a week later, they took down their second straight ranked team in Minnesota.
While IU would finish the season on a disappointing note on the court, off the court they kept improving. Crean's biggest win to that date came when Cody Zeller, a heralded recruit and the consensus top-ranked recruit out of Indiana, picked IU over Butler and UNC.
It was a sign of great things to come. At the same time, the 2012 recruiting class was loaded with stars, two top-30 recruits and five total.
But Indiana fans were starting to grow impatient. Just an hour upstate, Butler was making its second straight national championship game. It seemed the whole state was succeeding in basketball.
In fact, IU was the only Division I school in Indiana last season not to have a winning record. IU fans needed something to hang their hat on, and wins in recruiting weren't enough.
Which brings us to this season.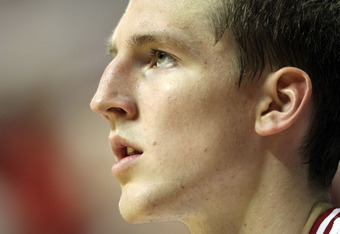 Andy Lyons/Getty Images
IU started hot, reeling off three wins before traveling to Evansville. While Evansville doesn't strike fear in opponents, IU hadn't won a road game under Crean and needed this win.
They responded with a 21-point win, which set up a matchup against the aforementioned Butler Bulldogs. It was a moment Crean needed to succeed in, for the fans and for himself. And not only did Crean succeed, he blew the doors off, with the Hoosiers routing Butler by 16.
Three days later, Crean faced another test. While the win at Evansville was nice, it wasn't a game IU should have had problems in. A game at NC State was. But IU again answered lots of questions, coming back from a late deficit to win by nine points.
Finally, IU fans could be excited. They knew that 11 days later, Kentucky was coming to town. They knew Kentucky was the No. 1-ranked team. They had hung with Indiana through the worst of the worst, and were ready.
The fans packed into Assembly Hall 45 minutes early, buzzing with excitement. While most predicted Kentucky would win easily, Indiana fans knew to ignore the critics. The critics had said IU wouldn't be back, Crean couldn't do it and that IU wouldn't be good until next year. What the fans knew was that this IU team was long overdue for redemption.
Which is why, once the shot by Watford fell through the net, IU hadn't just won a basketball game—they had shown America they were back.
A program that was once so powerful and seemingly invincible had fallen so hard. They endured the closest to the death penalty anyone has seen since SMU. Yet the students, fans and team never quit.
When Butler made their tourney runs, Purdue had their great trio of Robbie Hummell, JuJuan Johnson and E'Twaun Moore, and Notre Dame battled for the Big East title, IU fans sat by the wayside waiting for their moment.
Their biggest out-of-state rival—Kentucky—was bringing in the best recruiting classes year after year. Yet the fans didn't waver in support.
Christian Watford's three-pointer on Saturday did more than win Indiana a game.
In the moment, against that team, under those circumstances, Watford finally gave IU fans a moment they've been long overdue for. He gave IU a moment of glory, a moment of nostalgia from the past and a glimpse of the future.
But most importantly, he gave Tom Crean, Indiana basketball and IU fans across the globe a moment to celebrate what they'd long missed and what they most deserved.
For that I—as does the rest of Hoosier Nation—thank Christian Watford.