Fc Barcelona and the Genius of Football Managers from Shankly to Guardiola
December 12, 2011
"Some people believe football is a matter of life and death, I am very disappointed with that attitude. I can assure you it is much, much more important than that."
These famous words. once uttered by the great William "Bill" Shankly, manager of Liverpool from 1959-74, continue to give goosebumps to those of us in love with the beautiful game. Needless to say that Shankly was a 'man's man.'
So, for the benefit of the women readers of this blog (rumour has it there are a few) who dare question the genius of Shankly and even more worryingly write him off as a mad man, it would suffice to say that football is more important to the average male than all the things women hold dear.
Take your lipstick, shoes, makeup, soppy movies, favourite sweater from the old boyfriend and even your 30-year-old teddy bear, who mind you is crying out for retirement, and you will still have no idea how precious football is.
It's a gift from God, yet some still question his graciousness?  
As far as raw emotion is concerned, no other tie-up in the world of sport has the pulling power of 'El Classico' on both the eyes and the heartstrings. FC Barcelona vs Real Madrid is the finest example in the world of football to the truism of Shankly's words, and never before more pertinent than during the recent run of encounters.
After the mass brawl and craziness in the season-opening Super Cup tie between the bitter rivals during which Jose Mourinho decided to rather unceremoniously and unprovoked poke a grubby finger into the eye of Pep Gaurdiola's assistant Tito Villanova, Barcelona President, Sandro Rosell said: "If we keep on going this way then we will end up killing each other on the streets."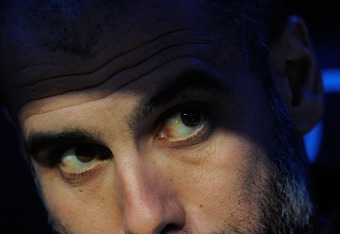 Denis Doyle/Getty Images
Ask any old Rangers or Celtic fan and they will affirm that Rosell's words are far from being fanciful. 
After all, this particular duel has never been about three points. Silverware is worthless if it comes at the expense of tasting defeat at the hands of the archrival. Ask any red-blooded Barcelona or Madrid fan and they will happily concede that, in the end, all that matters is the bragging rights, and bearing in mind, such is the quality of the two sides that more often than not the greater of the two is generally regarding as the best team in the world.
So, perhaps not just bragging rights at stake after all.Now, although last weekends game was not quite the most classic 'clasico' in recent years, it did, however, highlight a number of interesting points.
Firstly, Barcelona remain the team to beat, with Madrid folding over 1-3 at home, and last year's Champions League finalists Manchester Utd well and truly beaten and no longer featuring in this year's competition following their shock exit.
We find ourselves looking around for who could possibly stop this juggernaut.
In a blog written at the start of the season, I stated my case for why I think Barcelona should and will be even more motivated than last year to win everything.
Now as Pep Guardiola sets his sights on his and Barcelona's second possible World Club Cup, a fifth Champions Leagues title and a fourth consecutive league title, the script is crystal clear. Cruyff's dream team were outstanding, impenetrable even. However, Guardiola's class of '87 stands on the periphery of something greater still. 
Rumour has it if you walk past the office which simply states 'First Team Manager' high up in the Nou Camp and press your ear up against the door, you will hear a man, some say a gladiator with a strong Catalan accent, relentlessly repeating the following words as if in preparation to address an army for something grand: "Beyond those shores, there lies immortality, take it, it's yours".