Jose Reyes to Miami Marlins: How New York Mets Fans, Organization Should React
December 10, 2011
Patrick McDermott/Getty Images
Jose Reyes, who recently signed with the Miami Marlins, will never wear a New York Mets jersey again.
There are certain things about being a sports fan that you learn to accept. One is the lack of permanence of athletes in your life. Jose Reyes is a professional baseball player, which quite literally means that he is paid to play baseball.
As a professional baseball player, Jose Reyes does not owe his loyalty to the Mets once his contract has elapsed, just as the CEO of Goldman-Sachs owes his clients anything once he opts to leave his company. But as a baseball fan that has spent the past eight years rooting for Jose Reyes to lead your franchise to a World Series ring, how is a fan expected to settle with the end of that era?
Let's present the facts: coming to terms with the fact that Jose Reyes is no longer a player for the New York Mets is certainly not easy. I know this personally.
I was a child that grew up with Jose Reyes as a predominantly large figure in my life, as my father and I began to realize that this young Dominican athlete had the talent to become one of the best in Mets history.
Ultimately, Reyes proved to us that we had been correct. He leaves the organization coming off of winning the National League batting title last season—the first in Mets history—and, at 28 years old, is the New York Mets' all-time leader in stolen bases, runs scored and triples, along with a stellar .292 career batting average.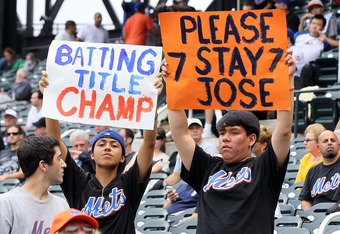 Jim McIsaac/Getty Images
Presumably frustrated with having to play second fiddle to the New York Yankees for a "losing club" that only made the playoffs once in Reyes' tenure (a casual ctrl + f search on Jose Reyes's Wikipedia page only highlights the word "playoff" once), it's easy to come to terms with the fact that Reyes has chosen greener pastures with Miami.
The New York Mets failed to even offer Reyes a contract. Per the New York Post:
"They didn't make a real offer, so that means they don't want me there," Reyes said upon his introduction as the Marlins' new shortstop.

Later, speaking with New York reporters, Reyes expanded his comments.

"I always said I wanted to go back to play there, but they didn't do anything to have me there," he said. "I don't know if it's because of the money or they don't want me there. They didn't offer anything."
Miami, instead, seemed to have done everything right.
Reyes leaves the Mets for a team that seems to be focused on winning. They have built a new ballpark that will certainly bring in curious fans, spent money on some of the top free agents on the market (including former teammate Heath Bell and pitcher Mark Buerhle), feature a young lineup of often charismatic studs (Logan Morrison, Hanley Ramirez, Mike Stanton, Gaby Sanchez), and an ace pitcher that should be stellar for years to come (Josh Johnson).
For someone looking to win, starting over is a logical choice for Reyes.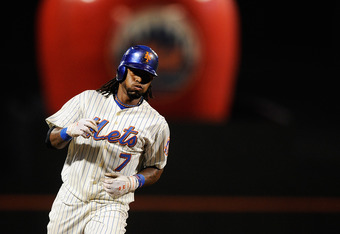 Patrick McDermott/Getty Images
Unfortunately for the Mets, however, the appeal does not stop there. The Marlins also recently unveiled more marketable new jerseys, with the word "Miami" draped across the chest, in the wake of the recent resurgence of LeBron James and the Miami Heat.
They have also signed a Latin-legend and a proven World Series champion as a manager in Ozzie Guillen. Reyes, who will be playing in a market more compatible with his Dominican roots, now has much going for him, which would not have otherwise existed in New York.
Those are the facts. So my question remains: now that the news has had time to settle among the New York Mets fans, how does one come to terms with the loss?
A basic sociology lesson teaches that there are two ways to explain a social issue.
The first is individualized. In this example, the issue lies in the hand of one person. This can be found with LeBron James: he personally chose to sign with the Miami Heat following seven unsuccessful years in Cleveland.
The other side of the diagnosis is systematic. That's when Reyes's contract expires, and fans of the game inevitably declare something like "That's baseball!" or "It's a part of the game" in order to justify the actions of the player.
Reyes leaving the Mets was just baseball. A New York Mets fan has no right to be upset at Reyes; it's simply a product of the system. When Carmelo Anthony left the Denver Nuggets, he pushed himself out and forced a trade in order to play for his hometown team in the New York Knicks with his friend, Amare Stoudemire. Reyes did what was in his best interest under the conditions of the system.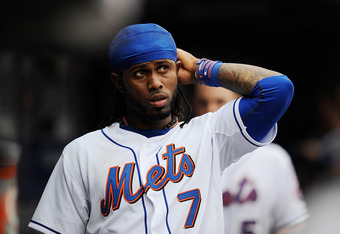 Patrick McDermott/Getty Images
Now, Mets fans need to accept that and simply move on. The Jose Reyes situation is over, and now the money they saved ($106 million over six years) can be spent in a multitude of other places.
This includes picking up Jon Rauch, Ramon Ramirez and Frank Francisco—properly filling the bullpen holes that has plagued the team for so long. They also added a new leadoff hitter, Andres Torres, by trading away Angel Pagan.
The fields of Citi Field have been brought in, perhaps igniting a spark in the power numbers of Jason Bay and David Wright. Further, the New York Mets already have some young talent (Ike Davis, Justin Turner, Lucas Duda) that may emerge as stars in the coming season. And with Johan Santana potentially coming back healthy for the 2012 season (wait, did I just type that?) there's a chance that the team can continue to rebuild. And hey, who's stopping them from trading for Hanley Ramirez?
The New York Mets are a young team—no one should expect them to contend for the NL East over the next few years.
Still, the world does not end.
One of the more exciting things about professional sports is that any team can strike gold at any time. Sports is a business, but they're also a competitive market. No one knew that Reyes would turn out to be the star that he turned out to be, just like no one know when the next Mets messiah may arise within the organization.
Without sounding like an Evangelical preacher, New York Met fans need to take that same kind of dedication and apply it in their dedication to the team.
The New York Mets are not done. I don't expect them to win in the next 10 years, but if (or even when) they do? Boy, will that make it all even sweeter.
Click here to Follow @BryanKalbrosky.