MLB 2012: The Immediate Impact of the Angels' and Marlins' Shopping Sprees
December 9, 2011
Jamie Squire/Getty Images
You know, baseball has long been characterized as unpredictable, but the winter meetings the last few years have been anything but.
Do the Yankees and Red Sox need the same position? There'll be a bidding war (Mark Teixeira, 2008). Does only one of them need the position? The top free agent at that position is on his way to the AL East (CC Sabathia and A.J. Burnett, 2008, Carl Crawford, 2010). You thought maybe you could retain your star? Your team got outbid for the top-tier free agent that was just what you guys needed? Tough.
The 2011 offseason looked as though it'd be a quiet one. Sure, everyone and their brother who needed a bat would be chasing Prince Fielder, and someone would indubitably wind up with Jose Reyes, Mets or not.
But Pujols? Rollins? Wilson? They seemed pretty likely to stay home.
The Yankees and Red Sox? Not a twitch, even with the Yanks' need for pitching. Seems their credit cards were maxed out, which left kind of a money vacuum.
Or so we thought two weeks ago—maybe even just one week ago.
Now, of course, those thoughts look naive and under-informed. The new-home, new-look, newly renamed Miami Marlins wasted no time dumping $191 million on three of the top 10 or 15 free agents available in Heath Bell, Reyes and Mark Buehrle (in order of signing) and figure to keep shopping through the holidays.
They even made a serious run at Pujols before they were told that not only were they not offering enough to really outclass the home team for El Hombre, but without a no-trade clause—strictly against team policy, which seems obvious given their post-championship fire sales—Albert wasn't coming, thank you very much. Besides, there's a team we're not going to name that's outbid you.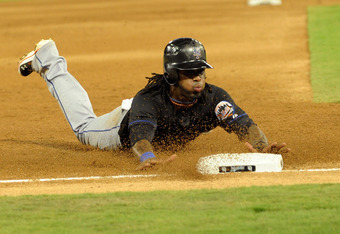 Sarah Glenn/Getty Images
And thus began the Angels' run to steal the rebuilding Marlins' thunder. Brand new GM Jerry DiPoto and his boss, Arte Moreno, woke up Wednesday morning with their Angels having been connected to Pujols as a "mystery team" the night before, and as serious suitors for hometown-boy-done-good C.J. Wilson, and decided to throw all caution to the wind and go for broke.
Twenty-four hours later, Pujols called the Angels and said that for $250 million, yeah, sure, a decade in SoCal sounded good, and less than an hour later, Wilson came home sweet home for $77.5 million more.
Now, $572 million later, these teams have some real punch and some serious drawing power. But the real question is this: How quickly will these deals translate into success for these two clubs?
Marlins Make Moves, but in the Right Direction?
First, let's look at the Marlins and face a cold, hard reality: The NL East is stacked and was stacked even before the Marlins discovered their bank account had basically doubled. The Braves should have been in the playoffs this year and have a potent young rotation that's only going to improve from last year, plus some guy named Heyward.
The Phillies? Aging, but they still sport a terrifying rotation paired with a still-nasty lineup (though they haven't yet re-signed Rollins, and whatever the "experts" may say, after the last five days, no one should believe anything until the ink is dry). 
So realistically? The Marlins will likely land in second or third place, probably with 88 or 90 wins, and will be serious Wild Card challengers.
But here's the key: The Marlins have just learned how to spend. You field a winning team in a gorgeous home stadium, and chances are, you can spend some more. So they should be players in winter 2012, too, and should continue improving. If the Marlins aren't in the playoffs by 2013, then either Reyes has spent a lot of time hurt, or the Marlins misfired big-time.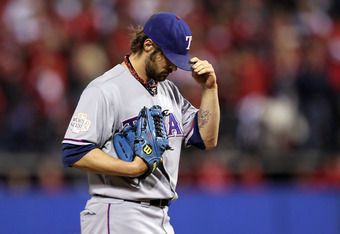 Ezra Shaw/Getty Images
The NL Wild Card race will likely be between Miami, the Braves and whoever's in second in the NL Central between the Brewers and Cardinals. I'll do a different article talking about the teams that have been subtracted from later, but let's not get into the Cardinals now. Let's just say that even without Pujols, they're built to contend for a division crown in the NL.
The NL West is a mediocre division and won't produce any serious Wild Card challengers.
So it's possible the Marlins make the playoffs next year, but no sure thing.
Angels Make Moves, and Look Like Contenders  
The Angels are another matter entirely.
To recap the Angels' division: They just robbed the Texas Rangers of their best pitcher (though that staff still ain't half-bad by any means), and so far, the Mariners and A's are as awful as they were last year. The A's have key pieces on the block, so they won't improve too much.
The fun part comes when you point out they have a fifth team in that division now, and that's exactly what they'll be: fifth place. The Astros have a new and talented GM in Jeff Luhnow, which is what they really needed from these meetings and will likely be rebuilding for at least the next half-decade.
So, it's a two-horse race for the AL West, and the Angels are more balanced, have one of the two best rotations in the AL with Wilson, a stellar defense and have now just added a terrifying center to their offensive attack in Pujols.
The only weak spot is the bullpen, and let's be honest, it's not so weak that it'll keep them out of first place. The Angels will pop the champagne in mid-September, and the Rangers will keep playing for the Wild Card spot, fighting most of the AL East, and will have a legitimate shot.
But $325 million needs to buy more than a division crown. The Angels have finally spent like the big-market team into which Moreno's been trying to build them. And with their rotation, they'll match up well against anyone the AL has to offer. Though the lineup isn't as potent, they may have the best fundamental manager in baseball, and like the Rangers and Cardinals this year, have a hundred ways to beat you with that lineup.
So the expectation will be that they win at least one postseason series, if not make a World Series run.
If the Halos don't, I'd forecast it's because their opponents got to their decent-but-not-stellar pen. I won't tell you they'd be a surprising World Series winner, but they're not my top pick right out of the gate.
However, there's no team I'm more sure will win a World Series in the next five years. Unfortunately, Vegas won't take bets that long term, so good luck picking which year, but I guarantee the odds won't be too long against them in any of those years.
Of course, if after these winter meetings, you're still putting stock in the odds, you haven't learned a thing.