Chris Paul Lakers: Twitter Reacts to Blockbuster Trade That Rocked NBA Landscape
December 9, 2011
Kevork Djansezian/Getty Images
It's been a long time since the Los Angeles Lakers had a superstar point guard, but it sounds like that is going to change this season. New Orleans Hornets point guard Chris Paul is reportedly coming to Hollywood.
Per a report from Yahoo! Sports' Adrian Wojnarowski, the Lakers are set to acquire CP3 in a three-team deal that has them sending out Pau Gasol and Lamar Odom. The Houston Rockets are the other team involved in the trade.
To say that this trade is huge doesn't quite do it justice. In the NBA, the Lakers are basically the New York Yankees. Everything they do is big, and they rarely disappoint. They do, after all, have their legions of fans to consider.
Many of these fans are sounding off on Twitter. In fact, Twitter is alive with Chris Paul talk. Let's take a look at what the people are saying.
To the Twitterverse!
So those Lakers fans I mentioned? Yeah, they're pretty excited about this deal. A good portion of them are thinking only one thing, and that's that this deal will lead to a championship.
For example: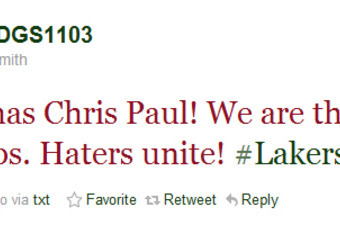 And for good measure, here's another example: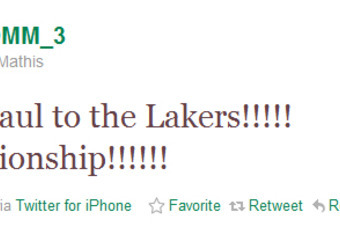 Naturally, plenty of celebrities are fans of the trade as well. Tennis star Andy Roddick seems to be a fan of it: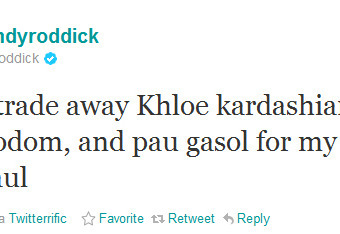 Actor Omar Epps has high hopes for what this trade might lead to: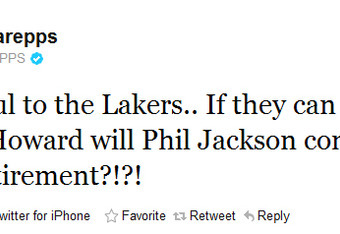 Even New England Patriots running back Shane Vereen is thrilled about the trade. He better watch it with this kind of talk in that neck of the woods:
You get the idea. I guess we should thank our lucky stars that nobody has said "not five, not six, not seven..." yet. Though, that's bound to happen sooner or later.
For now, more people are going to rally to the Lakers' cause. This guy has the truth of it: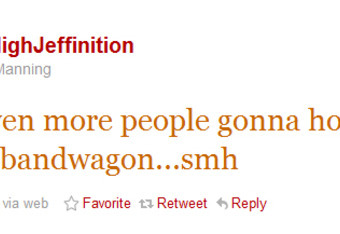 However, not everyone is stoked about this move. A lot of people are expressing their belief that this trade is already being tremendously over-hyped. It certainly looks good, but that doesn't mean it's going to work out.
To give you an idea, this clever fellow drew an interesting comparison: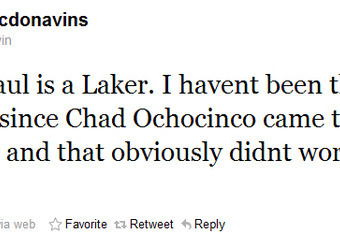 Many others are not convinced that adding Paul makes the Lakers a better team. After all, it's not like Chris Paul can guard a particular seven-footer who shares the Western Conference with the Lakers: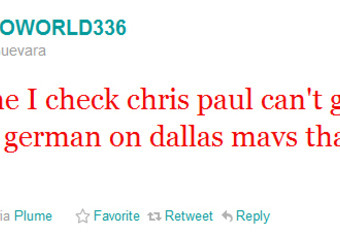 The question many people are asking is whether or not the Lakers are going to stop at just adding Paul. Lakers Nation doesn't think that they can: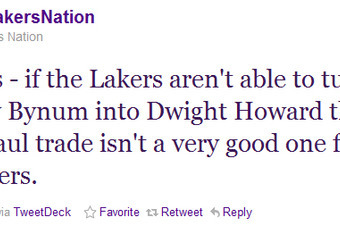 It's a good point. With Gasol and Odom gone, the Lakers' frontcourt is pretty thin. In addition, Bleacher Report's own Richard Langford points out that the Lakers didn't get much healthier: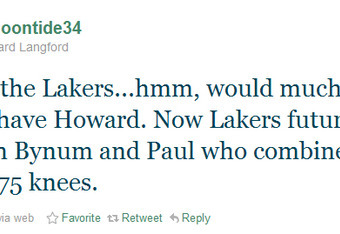 With Gasol gone, there's no mistaking that the Lakers have a pretty big hole at power forward. Rey-Rey of TheNoLookPass.com has a solution: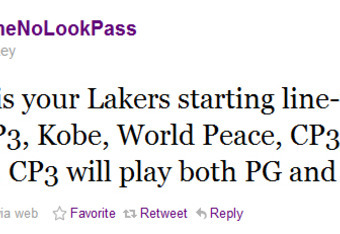 The always-entertaining fake Buster Olney account has another solution: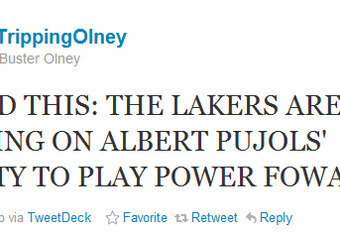 Regardless of whether the Lakers add Dwight Howard down the line, you do have to wonder whether or not CP3 and Kobe Bryant can play together. Hoops analyst Kevin Pelton took the liberty of pointing that out: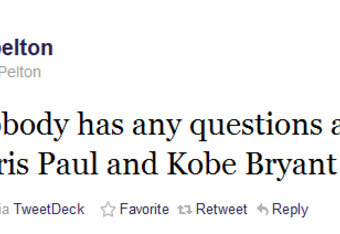 But hey, at least one guy thinks CP3 and Kobe will work just fine: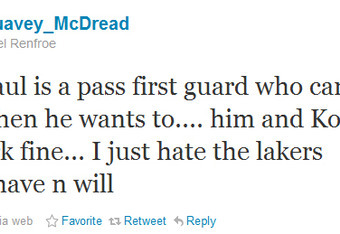 You can love the trade and you can hate it, but one thing you can't deny is that the trade does look a little fishy. The Hornets are owned by the NBA, and it's a little too convenient that the team's biggest star is going to the league's biggest team.
The Twitter account former know as the "Fake NBA Season" put a humorous spin on it: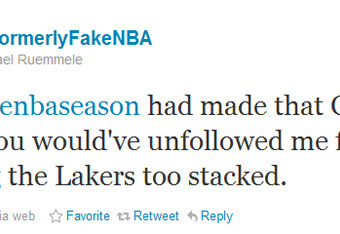 Frank Isola of the New York Daily News isn't messing around. He's thinking conspiracy theory: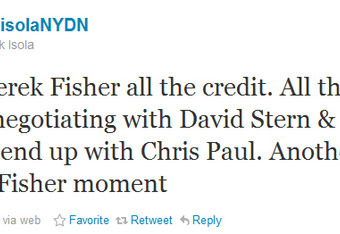 Indeed, and Darren Rovell of CNBC points out that the league isn't going to be able to duck talk like this: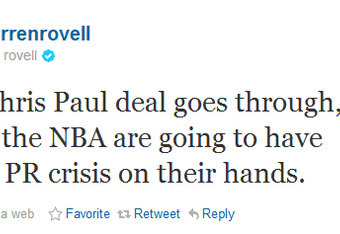 It's a good point. Now that the deed is reportedly done, you have to wonder exactly how it got done.
And wouldn't you know it, as more and more details come out, this deal looks more and more like a classic Lakers thieving job. Larry Coon of ESPN.com has the latest: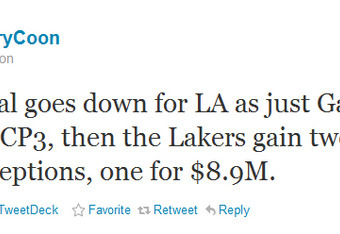 Honestly, how does Mitch Kupchak keep doing this?
One last thing. Everyone has their opinions about who the winners and losers of this trade are, but Jimmy Kimmel thinks that a whole family could be hurt by it: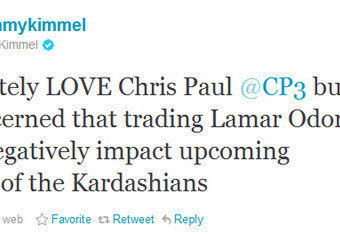 We can only hope...
Plenty more where these came from, folks. Check back periodically for more Twitter goodness.