NFL Week 14: Predictions and Storylines for All Games on the Schedule
December 8, 2011
Gregory Shamus/Getty Images
Note: The quotes in this article are fictional.
Cleveland at Pittsburgh (-14)
The Steelers face the Browns in what is sure to be a typical AFC North slugfest, replete with intensity, emotion and hard-hitting action. The Steelers are riding a three-game winning streak after a convincing 35-7 win over the Bengals last week.
"What does the NFL fear more?" James Harrison said. "The Steelers causing concussions, or treating them. The Browns may wear helmets with no names on them, but I've got a helmet with their names on it. Roger Goodell will no doubt have an eye on this game, with the other on Ndamukong Suh."
The Browns are 0-3 in the AFC North after losing to Baltimore last week. Cleveland has struggled to score, averaging only 14.5 points per game.
"In Cleveland," Pat Shurmur said, "'offensively-challenged' is an adjective and a verb.
"But we're not afraid to take it to Pittsburgh. What we do with it when we get there is of greater concern. Surprisingly, we have a lot in common with the Steelers. Actually, we only have one thing in common with the Steelers—neither of us can beat the Ravens."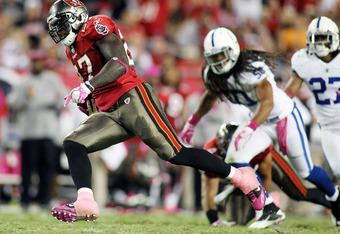 Marc Serota/Getty Images
Pittsburgh wins 27-16.
Tampa Bay at Jacksonville (-1)
The 3-9 Jaguars host the 4-8 Buccaneers in a battle of inferiority for superiority in the state of Florida, not including teams that started the season 0-7. Jacksonville lost to the Chargers on Monday night in the first game for interim head coach Mel Tucker.
"That's right, the Mel Tucker," said Tucker. "Jack Del Rio is gone as head coach. After a number of blackouts in Jacksonville, there's finally a white out. I'm here to pick up the pieces. Loosely translated, 'Jack Del Rio' means 'Jack of the river.' Now, 'Jack Del Rio' means 'Jack up the creek.'"
The Bucs fell 38-19 in a sloppy loss to Carolina last week. After a 3-1 start, Tampa has lost seven of their last eight, and are currently 4-8.
"The state of Florida has certainly been the national capitol of football ineptitude this year," Raheem Morris said. "That's obviously why they call it the hot 'seat.' But I think my job is safe. The Tampa front office promised the league 'no more firings,' guns or otherwise."
Tampa Bay wins 27-10.
Kansas City at NY Jets (-9)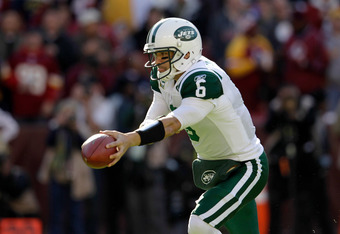 Rob Carr/Getty Images
The Jets won in Washington 34-19, breaking a 13-13 third quarter tie with 21 fourth quarter points. The Jets are now 7-5 and in the hunt with four other 7-5 AFC teams for two wildcard spots.
"I'm guaranteeing a Super Bowl victory," Rex Ryan said, "retroactive to January 12, 1969.
"We're right where we want to be. Our running game is working, our defense is solid and Mark Sanchez has regained his swagger, which he apparently misplaced in the centerfold of the September issue of GQ."
The Chiefs stayed alive in the AFC West race with a 10-3 win in Chicago. Tyler Palko's 38-yard Hail Mary touchdown pass to Dexter McCluster to end the first half provided the winning margin.
"Ironically," Todd Haley said, "that's not the first time Palko has thrown a pass into a crowd of six defenders. It was luck, but I'd rather be lucky than good any day, particularly those when Palko is quarterback. The next time I say 'Hail Mary,' it will likely be because I'm requesting a quarterback named 'Mary.'"
The Jets confuse Palko with changing defensive schemes, oddly enough, the very same ones they use in practice to confuse Sanchez. Three Palko turnovers later, the Jets walk away with a 23-10 win.
Houston at Cincinnati (-3)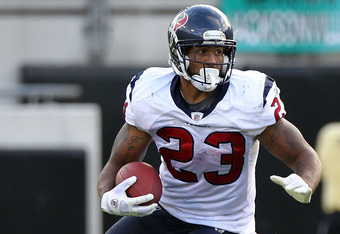 Sam Greenwood/Getty Images
The Texans are 9-3 after earning their sixth-straight win, a 17-10 defensive battle over the Falcons. Arian Foster rushed for 111 yards and a touchdown on 31 carries to lead Houston. A tough contest awaits in Cincinnati, where the 7-6 Bengals look to reassert themselves.
"I don't know what's done more carrying for Houston this year," Arian Foster said. "Me, or a stretcher. And I'm not done. I've got W.B. Yeats in my backpack, and T.J. Yates on my back."
The Bengals dropped to 7-5 after a 35-7 loss in Pittsburgh as the Steelers swept the season series and knocked Cincinnati down a notch.
"We're 0-3 against the Steelers and Ravens this year," Marvin Lewis said. "It appears that the big cats can't run with the big dogs. Hopefully, the porch we'll be staying on won't be our own come playoff time."
Foster scores two touchdowns, and the Texans defense sacks Andy Falton four times.
Houston tunes up for a cold weather playoff game with a 25-17 win.
Minnesota at Detroit (-5)
The Vikings are 2-10 after a heartbreaking 35-32 loss to the Broncos last week. Christian Ponder passed for 381 yards, but a late interception spelled doom, and Matt Prater's 23-yard field goal as time expired ended it.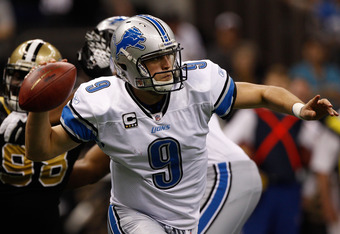 Chris Graythen/Getty Images
"Tebow is Jesus," Ponder said. "Just with way more comebacks. I feel personally responsible for our defeat. On the fateful interception, my receiver and I had mixed signals. As a result, this Christian died on the 'cross.'"
The Lions season continues to spiral slowly downward. The Lions lost to New Orleans 31-17 last week, hampered by 11 penalties for 107 yards, including a personal foul on Brandon Pettigrew for shoving an official. Meanwhile, Ndamukong Suh served the first game of his two-game suspension for his Thanksgiving Day stomping incident.
"We started the season 5-0," Jim Schwartz said. "Since then, we're 2-5. We've gone from 'ballers' to 'bawlers.' Earlier, we played like there was a chip on our shoulders. Now, we're playing like there's chippiness on our shoulders. Frankly, I don't mind Roger Goodell taking a personal interest in my team. Who else will discipline my players?
"The real question is this: If a suspended NFL player hits a tree in a car, does it make a sound? Do the injured passengers make a sound? Apparently, Portland, Oregon police are much more gullible than Commissioner Goodell."
Detroit wins 34-14.
Indianapolis at Baltimore (-15)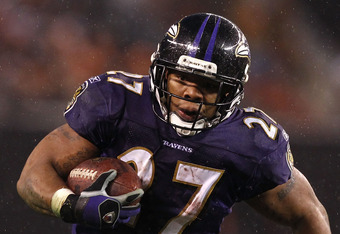 Matt Sullivan/Getty Images
After a 31-24 loss to the Patriots last week, the Colts are 0-12 and are closing in on securing next year's No. 1 pick in the NFL draft. Dan Orlovsky threw for 352 yards and two scores as the Colts made a late comeback that fell short.
"Not only are we 0-12," Orlovsky said, "we're also 0 for '11. That's a winning percentage of .000. We're all hoping Peyton Manning neck surgeries eventually have a better success rate."
The Ravens whipped the Browns in Cleveland last week behind 204 yards rushing from Ray Rice. Baltimore rushed for 290 yards as a team, including 76 on 16 carries by Ricky Williams.
"That's not the first time Ricky's been charged with clean-up duty," Rice said. "He's 'still got it,' and I don't mean the ability to run the ball."
Baltimore wins 34-13.
New Orleans at Tennessee (+3 1/2)
Chris Johnson rushed for 153 yards and two touchdowns to lead the Titans to a 23-17 win in Buffalo. Johnson has rushed for 343 yards in his last two games and is 14th in the NFL with 852 yards on the ground.
"Chris is finally giving us a run for our money," Mike Munchak said. "He's been running with our money nearly all season."
The Saints whipped the Lions, 31-14, on Monday night behind 342 yards passing and three touchdowns from Drew Brees. Brees became the first player to reach 4,000 yards passing in 12 games.
"With apologies to Tim Tebow," Sean Payton said, "Brees is a Saint.
"Right now, we're the third seed in the NFC. That's not to say we've given up on overtaking the 49ers for the two-seed. Indeed, we are 'bye-curious.' But a home game against the NFC's No. 6 seed, and a trip to San Fran as opposed to Green Bay, sounds appealing."
New Orleans wins 27-20.
Philadelphia at Miami (-3)
The Dolphins pummeled the Raiders, 34-14, last week, dominating the AFC West leaders. Miami has won four of its last five games, outscoring opponents 139-54 in the process.
"This is one team no one wants to play," Tony Sparano said. "And judging by all the talk questioning the Eagles' effort, we're one of four teams Philly doesn't want to play."
The Eagles lost last Thursday, 31-14, in Seattle, as Vince Young threw four interceptions and DeSean Jackson listened to the Moody Blues on his iPod.
"I'll reiterate," Andy Reid said. "There is no quit in this team. Heck, we did all our 'giving up' during the offseason, when we went on a free agent spending spree.
"Jackson is struggling at a time when he needs to excel. That's not to say he hasn't made a name for himself. He has. Everyone calls him 'DeValued Jackson now."
The Eagles come to play, and Michael Vick, returning from injury, channels Ron Mexico, infecting everyone with his attitude.
Eagles win 31-27.
Atlanta at Carolina (+2 1/2)
In last week's 38-19 win over Tampa, Cam Newton rushed for three touchdowns, breaking Steve Grogan's NFL record for rushing touchdowns by a quarterback. Newton has 13 scores on the ground to go along with 13 passing TD's.
"Eli Manning be damned," Newton said. "I'm the one in the same class with a Patriot quarterback. I knew I was destined for super-stardom. As soon as I donned that Carolina jersey, it was clear that I was numbered '1.'
"Athleticism runs in my family. I'm skilled at running, the ball. My dad is skilled at passing, the collection plate."
Atlanta looks to rebound after a tough 17-10 loss to the Texans. Now 7-5, the Falcons trail the Saints by two games in the NFC South, and are still well in the hunt for a wildcard spot.
"We're perfectly happy with a wildcard spot," Mike Smith said. "I won't take a back seat to Ndamukong Suh, but I don't mind taking one to the Saints."
The Falcons get their offense in gear, and Michael Turner rushes for 121 yards and a touchdown, while Matt Ryan passes for two scores.
Atlanta wins 31-22.
New England at Washington (+9)
The Patriots built a 31-3 lead over the Colts last week before surviving a furious Indianapolis rally. With their 31-24 win, New England is now 9-3, two games up on the Jets in the AFC East, with a test against the unpredictable Redskins upcoming.
"We've got the NFL's second-best air attack," Tom Brady said. "So, I think it's safe to say we'll 'pass' the test.
"As for our defense, they can be passed on, but they can't be passed. Why? Because they're ranked 32nd in pass defense. Most people don't know who our defensive coordinator is, and I think he'd prefer to keep it that way."
The Redskins are 4-8 after a 34-19 loss to the Jets last week, and they'll be without tight end Fred Davis and offensive tackle Trent Williams for the remainder of the season. The two were suspended for violating the league's substance abuse policy.
"Fred and Trent are two of our best offensive players," Mike Shanahan said. "NFL guidelines say if you fail three times, you sit. Obviously, the same does not apply to our quarterbacks."
Bill Belichick and the Patriots surprise everyone, including the Redskins, by controlling the game with their defense and running game.
New England wins 34-16.
Chicago at Denver (-3 1/2)
The Broncos won in Minnesota, 35-32, and took a share of the AFC West lead behind the arm of Tim Tebow and the leg of Matt Prater. Tebow threw for two scores, and Prater kicked the game-winning field goal.
"It's hard not to get excited about what Tebow is doing," John Fox said. "It's even harder not to exclaim 'Hell yeah!' when he does it. If Tim gives me that look, I just tell him I said 'Hail yeah.'
"There's a fine line between 'Tebow is God' and 'Tebow is good.' I think the former applies more than the latter. You need proof? Here it is: The image of Tebow has appeared in the box score."
Caleb Hanie threw three interceptions as the Bears tumbled at home, 10-3, to the Chiefs. Matt Forte sprained his knee and will likely miss significant time, adding to the Bears woes in the wake of Jay Cutler's broken thumb.
"Things went from bad to worse," Lovie Smith said. "Three points won't win you many games. Goldilocks was not in Chicago, but the '3' Bears were.
"I'd give an arm and a leg for a solution to my problems. Despite the availability of both Brett Favre and Donovan McNabb, we're sticking with Hanie. That speaks volumes about what I think of Hanie's leadership skills. And it speaks volumes about what people think of my lack of leadership skills."
Tebow and the Broncos continue their ascension, while Hanie and the Bears continue to struggle. Smith considers calling Favre and McNabb at halftime.
Denver wins 16-9.
San Francisco at Arizona (+3 1/2)
The 49ers clinched the NFC West in style last week, shutting out the Rams, 26-0, to improve to 10-2. With wins in their last four games, San Francisco would be ensured of a first-round bye. That quest begins in Glendale as the Cardinals play host.
"As most people know," Jim Harbaugh said, "I'm a workaholic. Some nights, I don't even make it home. That's why my family and I were thrilled to clinch the West so early. That Gatorade bath was the first one I've had in months."
Arizona stunned the Cowboys in overtime, winning on Kevin Kolb's 52-yard screen pass to LaRod Stephens-Howling, who weaved through the Dallas defense to paydirt. Arizona is now 5-7, good for a tie for second in the NFC West.
"In Dallas film study," Ken Whisenhunt said, "they call that play 'The Howling,' and it's still a horror movie."
San Francisco wins 23-17.
Buffalo at San Diego (-6 1/2)
The Chargers ended their six-game slide with a resounding 38-14 win in Jacksonville on Monday night. Philip Rivers threw for 294 yards and three touchdowns, and San Diego improved to 5-7, two games behind the Raiders and Broncos in the AFC West.
"I'd like to say we're right back in the AFC West race," Philip Rivers said. "But I won't, because in this pathetic division, we never left, even after losing six in a row.
"We certainly turned a corner. Of course, we need to be careful, because if we turn another corner, those lines would combine to form an 'L.'"
After last week's 23-17 loss to the Titans, the Bills have lost five in a row and are approaching the bottom of the AFC East. At 5-7, Buffalo is only one ahead of the surging Dolphins, who have won four of five.
"What's the weather forecast for San Diego?" asked Ryan Fitzpatrick. "Warm and moist, at least on the Chargers sideline. It's a long flight to San Diego from Buffalo. But at least we don't have to travel overseas for a game, like the Bears and Bucs did earlier this year. As Nick Novak would say, we're staying 'in continent.'"
San Diego win 34-17.
Oakland at Green Bay (-11)
The Packers remained perfect after a thrilling 38-35 win over the Giants last week. At 12-0, Green Bay has clinched the NFC North and has their sights set on home-field advantage throughout the playoffs, as well as a perfect 16-0 regular season.
"Fifty eight seconds was plenty of time," Aaron Rodgers said. "We needed less than a New York minute to beat the Giants.
"What's more important to us? A perfect record or another Super Bowl win? I say why not expand your horizons, open your mind and go both ways. So, Miami and Indianapolis, here we come."
The Raiders looked awful in a 34-14 loss in Miami, and fell into a tie with the Broncos atop the AFC West at 7-5.
"Carson Palmer has thrown eight touchdowns," Hue Jackson said, "and nine interceptions as a Raider. We gave up two picks to get him, and so far, we've received nine in return.
"The 49ers and Packers have 'y's' next to their names in the standings, indicating they've clinched a playoff berth. We should have a 'how' next to ours, because I don't know how we're in first."
Aaron Rodgers throws for 345 yards and three touchdowns, and the Packers win, 38-17.
NY Giants at Dallas (-3 1/2)
Despite a 38-35 loss to the Packers last week, the Giants remained only one game behind the Cowboys due to Dallas' 19-13 overtime loss in Arizona. New York could regain a share of the NFC East lead with a win in Dallas in the first of two games against Dallas in the next four weeks.
"Like the Cowboys," Tom Coughlin said, "we lost on the last play of the game. In some cases, that's called 'sudden death,' which is usually the fate of NFC East in the playoffs, not the regular season.
"Luckily, we have a lot of confidence, especially Antrel Rolle, who guaranteed we'll make the playoffs. Just what the Cowboys need, bulletin board material. They, like us, don't have any of their own. I'll be sure to mark Rolle's words in pencil."
The Cowboys lost, 19-13, in overtime in Arizona last week. Dallas head coach Jason Garrett called a timeout with seven seconds left in regulation, just before Dan Bailey's successful 48-yard field goal. Bailey missed the re-kick, sending the game into overtime.
"Garrett is to clock management," Jerry Jones said, "what Raheem Morris is to Glock management. Neither is very good at it."
New York wins 30-27.
St. Louis at Seattle (-6 1/2)
The Seahawks beat the Eagles, 31-14, last Thursday, powered by Marshawn Lynch's 148 yards rushing and two touchdowns. Seattle is 5-7, tied for second in the NFC West, and hosts the 2-10 Rams.
"Marshawn may be the best running back I've ever coached," Pete Carroll said, "college or professional. And he's certainly the most underpaid, college or professional."
Seattle wins 24-14.