What We've Actually Learned After 14 Weeks of College Football
December 5, 2011
Gregory Shamus/Getty Images
During a weekend and ensuing week in which every detail about schedules, wins, losses and individual accomplishments will be debated nonstop by people of varying intellect and with genuine interest, let's take a step back, now that the season is behind us, and bask in what we now ACTUALLY know about 2011 college football conferences, teams, players and storylines:
• Despite its strong argument of possibly having the two best national teams in one division, it was a year the SEC would rather forget. LSU and Alabama (and Vanderbilt's scrapiness) have served as great "Look over here, guys!"-type misdirection away from things like:
   • Stephen Garcia
   • Tennessee's complete implosion
   • Kentucky becoming a competitive non-entity
   • Mississippi State wildly underachieving
   • Mississippi taking another nosedive
   • Florida finding no offense despite spending millions on an allegedly superior offensive mind
   • Stephen Garcia again
   • Auburn completely losing its footing midway through the season
There's little doubt that, if you've been paying attention, the "week in, week out" argument for the SEC has been legitimate these past few years. Even going into this season, there was reason to think, if you can believe it, the conference would be as interesting offensively (injuries notwithstanding) with the wealth of talented running backs (Richardson, Dyer, Lattimore, Poole, Ballard, Rainey, Davis, Bolden, et al) but if you've paid as much attention this fall, the conference, when balancing the top heavy with the wide load in the back, is pretty ordinary.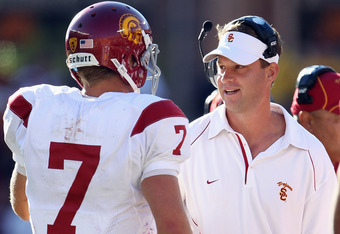 Jamie Squire/Getty Images
• Like it or not (and most of you won't), Lane Kiffin and USC took an enormous step forward this fall. The season's start wasn't ideal, with many Trojan fans openly lamenting the game-planning and in-game decision-making of the coaching staff, but the screws began turning in October, with the odd discovery that the talents of RB Curtis McNeal and WR Marqise Lee were being squandered with mere spot duty.
All things considered, the idea of Matt Barkley coming back for his senior season still seems pretty far-fetched, and he only has his final eight games to blame (301 ypg, 3.6 TD/g, 69 percent completion rate). An AP-ranked team doesn't exist that isn't thrilled that USC isn't bowl eligible. That's right—I'm so flustered by USC's ascent that I may have just spun a triple negative sentence.
• Though the geographic spectrum of realignment received more attention, it's been interesting to see the divides in general styles and philosophies move even further apart.
The SEC has in general, for the better of its trophy aspirations and for the worse of sheer entertainment value, become a Sabanized conference of minimizing opportunities for error and, in the process, offensive curiosity and creativity. There are exceptions (Arkansas), but you're just not paying enough attention if you don't see the SEC isolating itself from the rest of college football, something I can't imagine any fan of the conference really minds anyway.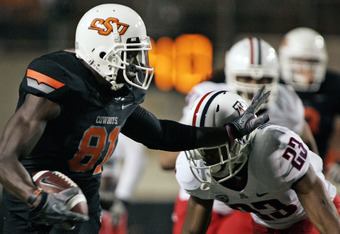 Brett Deering/Getty Images
The Pac-12 and Big 12, even before the recent firings and hirings, have continued to be much more inclined to seek out and destroy defensive inefficiencies through a variety of different ground and aerial attacks. These are the conferences of Chip Kelly's spread, Lane Kiffin's downfield passing attack, Art Briles's spread, Oklahoma's air raid-y look, Oklahoma State's Holgorsenian imprint, etc.
While it's true that few can match the cold efficiency of missionary in the SEC, they're just as happy due west to have a good enough time with the rest of the Kama Sutra book.
• The ACC either thoroughly beat itself up (unlikely) or is simply unable to produce a standout team (more than likely). As soon as Clemson asserted itself, it…stopped asserting itself. And then Virginia Tech appeared to be the one who would stand atop the mountain before the original asserter re-asserted? The best thing you can say is that despite wildly inconsistent play, college football's fourth- or fifth-best conference is sending two teams to BCS bowls. No matter who asserts themselves in January, we all lose.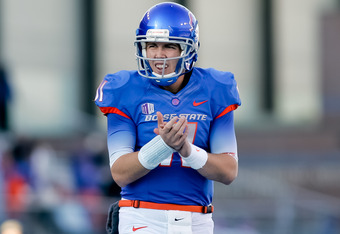 Otto Kitsinger III/Getty Images
• Boise State and TCU are very good teams that will play in inconsequential (well, more than usual) games 10 or so days before New Year's Day. Let me go a step further—Boise State and TCU are very good teams not playing anywhere near New Year's Day that would both be favored over the aforementioned ACC squads on a neutral field. Even if you hate the idea of teams from non-AQ conferences popping up in national discussions, you probably secretly still want to see these teams in BCS bowls just to prove their defenders wrong, right? Feels weird without them this year.
• Michigan's defense making the jump that it did against similar competition that it faced in 2010 is one of the great season-long stories. The 2011 defense looked like a new team in regards to fundamentals, scheme, speed, tackling and line of scrimmage success. Defensive coordinator Greg Mattison deserves the awards. All of them.
• LSU's defense is somehow primarily made up of particularly angry underclassmen. Per SEC offenses, this is not cool.
• You're not watching (hell, I barely did), but Temple RB Bernard Pierce is the single best running back in the country to have only been (mostly) seen in passing this fall.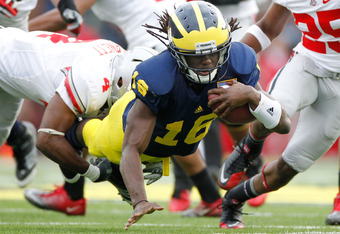 Gregory Shamus/Getty Images
• The Big Ten, somehow, has the best triumvirate of easy-to-root-for QBs in Michigan State's Kirk Cousins, Wisconsin's Russell Wilson and Michigan's Denard Robinson. It's easy to see the same faces on TV every week and find something that annoys you about them, but they all made it increasingly difficult this season.
• The Big East isn't terrible, it's just a smaller ACC with a slightly lower talent level. Remember, even though it's just Louisville playing Rutgers or just Cincinnati playing West Virginia, we still only have a little over a dozen weeks of college football. It's certainly good enough.
• Even though they didn't finish with a winning record, it was nice to see Vanderbilt join Virginia as the torchbearers of top academic schools winning games in tough conferences. With these specific schools, it directly points to outcoaching and outmaneuvering greater opposing talent, which should perk every ear (other than those pulling for greater talent).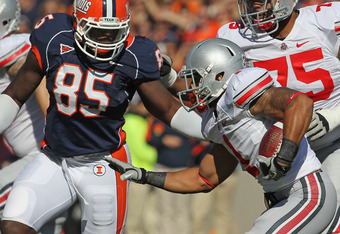 Jonathan Daniel/Getty Images
• Despite playing for a half-and-half Illinois team (6-0! 0-6!), Whitney Mercilus remains among the baddest men in college football with his nation-leading 14.5 sacks. At this point, he may also be fall under "only seen in passing."
• Cal coach Jeff Tedford is the Bears' best modern coach, and the school shouldn't get greedy and let him go, but there may not be a better collection of squandered BCS level talent than there is in the East Bay. The fact that RB Isi Sofele isn't a name you're consistently mispronouncing in early December is a shame.
• College football is probably more fun with at least one of the big schools in Florida in the top 10, but did anyone REALLY have a bad time this season without excessive TV shots of chomping, chopping or Uing? We did all right.
• Unless their ACLs and/or crucial ankle ligaments are removed under the cover of night, nobody's catching Oregon WR/RB De'Anthony Thomas or Clemson WR Sammy Watkins from behind for the next two to three years. 
Kevin C. Cox/Getty Images
• Realignment rumors and actual realignment activity can take our headlines and Twitter feeds, but can't successfully take our Saturdays.
Finally, no matter what happens in the years to come with the bowls or a potential playoff, the great thing about the college football season isn't that EVERY GAME IS A PLAYOFF (not true) or it's the BEST REGULAR SEASON IN SPORTS (true, but irrelevant), but rather nothing in sports compares to your average, run-of-the-mill Saturday sitting on the couch with (depending on your time zone) early Big Ten, ACC or SEC games, big midday games of varying degrees, a prime-time game in which we all find ourselves looking live at something, and then a late (potentially meaningless) Pac-12 game to hang on to the Saturday that was.
This should all be done with people wearing similar colors and that have similar taste in terrible food. 2011 easily proved this.
Dan Rubenstein co-hosts The Solid Verbal college football podcast and can be followed on Twitter here.