Tim Tebow: 3 Reasons the NFL MVP Talk Is Justified
December 4, 2011
Adam Bettcher/Getty Images
Let's not go crazy here. Tim Tebow is neither the football messiah, nor the worst quarterback in the history of the NFL.
His outspoken faith doesn't make him a hero or a villain, it just makes him a guy who likes to talk about Jesus. Whether you think that's a good thing or not is more a reflection on YOU than it is on Tebow.
So let's do the only sensible thing we can do: Let's talk about Tim Tebow the football player.
In the seven games Tim Tebow has started for the Broncos this year, the team is 6-1. They've gone from bottom dwellers to legitimate playoff contenders. Does that make Tebow the league MVP? Its not as crazy as you think.
1. Numbers Don't Lie. As Mark Kriegel of Fox Sports points out, you don't need to have a leap of faith to think Tebow is having a very good year. The numbers bear it out. 
The money quote is this:
Tebow gains an average of 2.61 yards every time he touches the ball. Maybe that doesn't sound like much, but only four quarterbacks have done better this season. In order, they are Rodgers, Drew Brees, Brady and injured Matt Schaub. Tebow is No. 5.
Those were the stats heading into week 13. His good play today in the win against Minnesota only made his case stronger. We talk about Rodgers, Brees and Brady as MVP candidates, so why not Tim Terrific? 
2. He Really Is a Great Value. According to Spotrac.com, Tom Brady is costing New England $13.2 million against the cap this year; Aaron Rodgers costs Green Bay $10.4 million. Tim Tebow? He's a bargain at about $4.2 million.
If any part of the most valuable player calculus includes a player's dollar value, you could make an argument that Tebow really is number one. He's winning just as many games for a fraction of the price.
3. He's Given His Franchise a New Lease on Life. Heading into their bye week, the Broncos were a franchise in disarray. Sitting at 1-4, Coach John Fox was in danger, and the Broncos brass could be blamed for creating a roster with Kyle Orton, Brady Quinn and Tim Tebow at QB. Three options and all of them bad, or so it seemed.
Remember these billboards? That's not a happy fan base.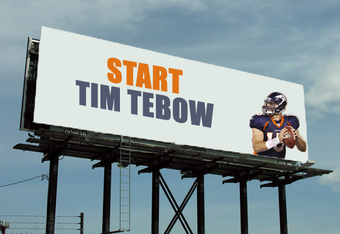 Enter Tebow. Not only has he turned around the team's performance on the field, he's given hope to the fans, and the front office some breathing room. In fact, all the focus has turned to a smart front office move -- the decision to draft Von Miller at #2. 
Meanwhile John Fox looks like a genius for starting Tebow and then crafting an offense that he could thrive in. 
Look, it's looking increasingly like the Broncos are going to make the playoffs, but Aaron Rodgers should still probably be the MVP of the league this year.
Still, Tim Tebow deserves to be a part of the MVP conversation, and that in and of itself is an amazing accomplishment. Let's enjoy that, and his unconventional play ... and we'll see how he does in the playoffs.