UFC Octagon Girl Brittney Palmer: "I'm the Gift That Keeps on Giving"
December 3, 2011
When California bombshell Brittney Palmer announced that she would be stepping down from her Octagon girl duties with the UFC to attend a semester of art school, the male and female population went into a depression the likes of which we haven't seen since the 1920's.
Even though her departure was announced as a temporary hiatus, Palmer's fans began to fear that they would never see the gorgeous brunette in between rounds ever again.
Sure, Arianny Celeste and Chandella Powell are nice to look at, but Palmer's smile was so addictive that drug dealers could make a fortune selling her lips on the street. I personally do not do drugs but I would smoke (or snort?) Palmer crack all day, every day. 
It's almost as if a little naked flying baby with an enormous bow and arrow shot every MMA fan in the caboose upon their first glance at Palmer.
Fans—both male and female, autobot and decepticon, vampire and werewolf, Tom and Jerry—formed a connection with Palmer that they haven't had with any ring girl of the past or present. Finally, after months of Tweets pleading UFC President Dana White to bring Brittney back, White caved in and Palmer is set to return at UFC 140 on December 10th in Toronto, Ontario, Canada.
Yours truly spoke exclusively to Ms. Palmer on her Octagon return and various other topics.
On her return to the UFC
"I didn't really have a plan [on when I would return to the UFC]. I just knew that I needed some time off to go to school but it just so happens that the next UFC will be in Toronto and I'm already going to be there promoting my new clothing line [Stone Free by Brittney] so it worked out at the right time," Palmer told Mitch Ciccarelli of Bleacher Report MMA.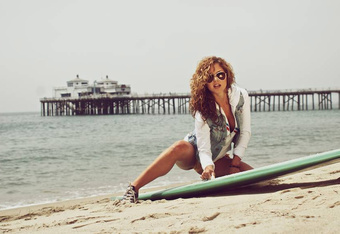 "It wasn't really planned but I'm happy and I've missed the UFC so much. I'm just very thankful that I was able to pursue my artistic ambitions and go after my dreams."
"[Dana White's Tweet] was as big of a shock to me as it was to everyone else, Dana and I didn't really talk too much about it. I knew that I wasn't officially gone from the UFC but I didn't know when I would be coming back."
On her new clothing line, Stone Free by Brittney presented by Jakt Apparel
"Right now the line is currently running and selling and we are working on new designs. We are working on some Stone Free designs for men and collaborating on all of these different ideas. We will be promoting the product and making more appearances throughout the week."
On whether Lyoto Machida is being underestimated against Jon Jones at UFC 140
"I think Machida is automatically getting that respect because he is fighting Jon Jones. They won't match people up with the champion if they think it is going to be an easy win, they want a good fight. That's the point of the sport and that's why I think [Machida] is getting the credit he deserves heading into this," Palmer said.
"At the same time, though, it is Jon Jones. He has the belt and it doesn't look like he has any intention of losing it anytime soon, it will be a good fight."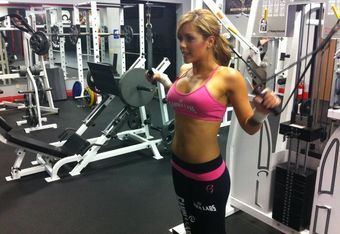 On the 2012 Brittney Palmer Calendar
"Of course [the 2012 Brittney Palmer calendar] is the best gift to give for the Holiday season. It's the gift that keeps on giving every month. It's a cool calendar and all of the pictures are featuring me and I designed it," Palmer said.
"I chose the final images and I chose the month that each photo would be in. That's what I like about it because it was 100% what I wanted to do and I enjoyed that."
"I put my favorite photos [in the calendar] on the month of my birthday, which is June. There is one where I'm on my surf board and then another where I'm waxing my surf board. It was actually my surfboard and my wet suit and my converse so it wasn't all just wardrobe, a lot of it was my very own clothes."
"There's also one of me holding a guitar which was actually my very own guitar that I painted so the whole thing is really close to me but I guess those would be my two favorite shots."
On the mysterious random dude in deleted calendar photo
"You know, it's a funny story. We had an RV for hair and makeup and for all of us to hang out in during the shoot because we were shooting at the beach. So we went into the RV and he was the RV rental guy and a total surfer kid with long hair," Palmer said.
"Me just trying to be creative, I thought 'how rad would it be to pull this little surfer in the shots.' The pictures came out awesome but at the end we realized it wouldn't be good because we didn't want a guy in the calendar."
The only thing more awesome than Brittney Palmer is if we were somehow able to clone two of her, or three or four or even five.
Actually seven is the magic number, you know like seven chipmunks twirling on a branch smoking weed on my Uncles Ranch. Just like the title of that movie I stole that quote from, there's something about Brittney Palmer, and the MMA community is ecstatic to see her back on UFC programming.
Mitch Ciccarelli is, by far, the sexiest columnist in MMA today. This man snaps his fingers and every bra within 10 miles pops off. Follow this American God on Twitter @ mitchciccarelli