BYU Football: Who Will BYU Play in the Armed Forces Bowl?
November 28, 2011
Sarah Glenn/Getty Images
As the BYU Cougar football team gears up a trip to Oahu to play against Hawaii this weekend, many fans are already thinking about postseason plans and opponents.
Bowl assignment can be tricky business, with varying factors in deciding conference placement, and unique opt-outs for certain situations.
But we do know the Cougars are headed to Texas to play in the Armed Forces Bowl. The invitation came and was accepted last week, so it's very unlikely shuffling will occur to put BYU in a different bowl. The Poinsetta Bowl in San Diego is set to put Louisiana Tech from the WAC against a MWC team. Fans from both La Tech and BYU would have preferred to trade venues, but at this point, it's Dallas or Bust for the Cougs.
BYU will matchup with a Conference USA opponent, but at this point, it's up in the air as to which one. Here, we break it down.
What's left to happen
Houston and Southern Mississippi will square off for the Conference USA title Saturday morning in Houston.
And as of Sunday, Houston is sixth in the BCS standings, and more importantly, ahead of fellow non-AQ school Boise State. Houston is likely to get a bump in the computers should they beat Southern Miss, while Boise State should lose ground playing New Mexico.
All that boils down to this: If Houston wins, it's very likely in a BCS bowl. Win or lose, Southern Miss is almost definitely in the Liberty Bowl.  
Houston in a BCS game scenario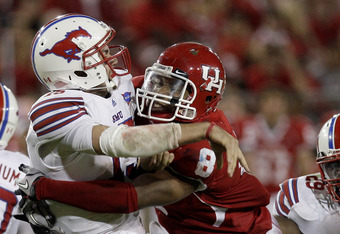 Thomas B. Shea/Getty Images
So if Houston wins and ends up in a big game, Southern Miss takes the spot in the Liberty Bowl. That leaves the Sheraton Hawaii Bowl with the second choice of Tulsa, Southern Methodist, or Marshall, leaving the third choice to the Armed Forces Bowl.
Here's where politics come into play. From the Hawaii Bowl's standpoint, there's probably not much difference in expected fan attendance between SMU and Tulsa.
But you can bet in this scenario that the Armed Forces Bowl will push hard for Hawaii to take Tulsa so that it can match SMU up against BYU in a home game. That said, Tulsa played in Honolulu last year, so would the bowl take them again?
Should Houston choke
In the unlikely event that Houston falls to Southern Miss those teams will end up in the Liberty and Hawaii bowls in some order.
That leaves the Armed Forces Bowl with a touch choice: Choose Tulsa for the better matchup? Or choose SMU and sell more tickets.
Follow Ryan at Twitter.com/SportsGuyUtah