Rick Neuheisel Fired as UCLA Head Coach, Sources Confirm
November 28, 2011
Stephen Dunn/Getty Images
Rick Neuheisel has been fired by the UCLA Bruins and will possibly coach his last football game this Friday against the Oregon Ducks in the inaugural Pac-12 Championship Game.
Joe Schad broke the news moments ago.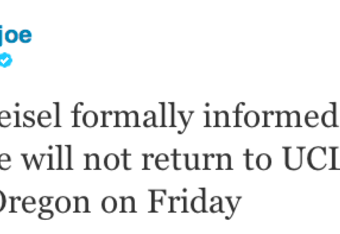 This doesn't make any sense.
Neuheisel has guided his team to a 6-6 record thus far this season and has wins over ranked Arizona State, rival Cal Bears and played BCS-bound Houston close in a 38-34 thriller to open the season.
Now that he has won the division and is in the conference championship game, with a chance to go to a BCS bowl if his team pulls the upset, he gets fired?
I understand that Neuheisel hasn't been the best coach for the team and has gone 20-27 during his tenure, but why didn't they fire him in 2008 or 2009 when his team finished eighth in a 10-team conference or last year when they went just 4-8 and 2-7 in conference play and placed in ninth?
Now that he has a chance for a winning record and to claim the first Pac-12 championship since 1998 for the team, the university is pulling the rug out from under him?
This is the worst timing imaginable and now the Bruins have no chance of beating the Ducks and playing in a home-stadium Rose Bowl game for the first time in 13 years.
What were school officials thinking?
They must have been anxious to get rid of Neuheisel and better have a solid replacement waiting in the wings or students and fans are going to be furious.
No one expected them to be in this position at the start of the year but the team persevered and the coach believed in them. He put them in this position and he should have had every right to see it through without knowing the job is ending even with two straight victories to close this season out.