Baltimore Orioles: Winter Meetings Preview According to TPR
November 27, 2011
Jim Rogash/Getty Images
As we continue down the road with our winter meetings preview, we find ourselves stopping at one of the more dysfunctional organizations in baseball. Dan Duquette is now on the job, so there are bound to be changes in Baltimore. The question will be what kind of changes we hope to find.
The Orioles have been in last in the AL East for as long as anyone can remember. The 2012 campaign appears to be more of the same for the Orioles. In particular, the pitching staff was historically bad this past season. Moreover, their best pitcher was traded to the Rangers before the deadline. Even after Koji Uehara was dealt, Jim Johnson made the bullpen passable. The rotation was a lot less than passable.
Still, when you are in last place, there are a number of areas that need to be addressed. So, let's take a look at the four key areas of the team to see where they can improve during the Winter Meetings. I suppose one could argue that when you are down there is nowhere you can go but up.

Infield
The Orioles are in a state of flux on the infield. The only player guaranteed a spot is J.J. Hardy. The Orioles signed him to a long-term deal, so he will be playing somewhere on the infield for the next few seasons. He turned in the best season of his career both offensively and defensively.
On the other hand, second base is unsettled. Brian Roberts has been a constant up until this past season. Robert Andino took over and played ably while Roberts was hurt. Roberts has been injured off and on the past two seasons. Roberts is still under contract, so he may get another shot. Otherwise, Andino seems capable.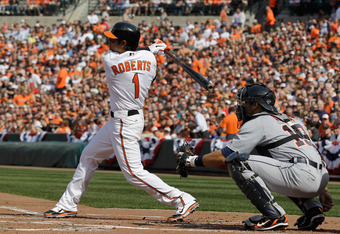 Rob Carr/Getty Images
The interesting case will be Mark Reynolds. He is still a productive offensive player, but he is the worst defender in baseball. Not at third base, but in all baseball. If they could find a way to play him at designated hitter they could save a ton of runs defensively. Andino can play third if Roberts can remain healthy.
Player to Watch: Brian Roberts

Outfield
The Orioles' outfield is a lot more settled. Nolan Reimold seems to have captured the left field position, but Luke Scott will be back as well. Adam Jones performed very well offensively, and Nick Markakis is as steady as they come. The fate of all of these players will depend a lot on what Duquette wants to do with the DH spot. The smart money would be on Reynolds moving over, but Scott might force the issue.
Vladimir Guerrero held down the spot this past season and was largely a disappointment. Duquette would be wise not to spend anymore money on hitting. In fact, he could conceivably move Luke Scott to a contender looking for a good fourth outfielder. He could score a young pitcher or two.
Player to Watch: Luke Scott

Rotation
The Orioles offense is actually above average. The key to their struggles was really two-fold. First, they play in the best division in baseball. So, while their offense was solid, it was below average in comparison with the rest of the division. Secondly, their rotation just fell apart. Jeremy Guthrie registered as the only positive impact pitcher in the rotation, according to TPR.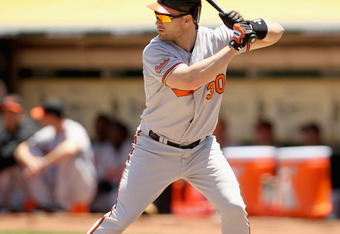 Ezra Shaw/Getty Images
So, before the Orioles do anything, they must add some pitching. Brian Matusv was a disaster last season, but they are hoping he will make good on his talent. Otherwise, they are going to have to do better than simply hoping for better performance. The Winter Meetings will be a good time to address that.
Player to Watch: Brian Matusv

Bullpen
Jim Johnson should prove something to general managers out there. Closers are not as rare as people think. Kevin Gregg began the season as the closer, but he performed horribly. Unfortunately, Johnson was the only reliever to perform well. So, eventually it made sense to move him to the ninth inning.
Some might be tempted to see a big time reliever go there. For the Orioles, getting three solid relievers makes more sense than getting one big time closer. Koji Uehara was never a closer, but he was more effective while he was there than anyone. His cost is a fraction of the Heath Bells and Jonathan Papelbon.
Player to Watch: Jim Johnson

Winter Meetings Win
Last year, Andy MacPhail focused on offense and it really did no good. J.J. Hardy, Derrek Lee and Mark Reynolds all added some offense, but none of them could pitch. Duquette must rebuild the pitching staff or the Orioles will continue to be last. It will be a difficult task as almost everyone is looking for pitching.