Why the Indianapolis Colts Should Not Select Andrew Luck in 2012 NFL Draft
November 27, 2011
Ezra Shaw/Getty Images
When the 2012 NFL season kicks off, Peyton Manning will be 36 years old.
The question that the Indianapolis Colts must ask themselves—how many more years, from the minute that opening game is underway, can Manning perform at an elite level for this franchise?
Let's look at the facts. If Manning is able to fully recover from the neck injury that has kept him out the entire 2011 season thus far, he would still have four full seasons to play before he hits the age of 40.
Given the fact that he matched the second-highest touchdown total of his career in 2010, I would conclude that the Colts' franchise quarterback is still in his prime. Even if you were to argue that he has exited his prime, Manning is still capable of performing at a level matched by a very select few quarterbacks in the NFL.
He is one of the best quarterbacks in the history of the game, and—if he does return to full health—he likely still has four years of productive play left in him.
Now I raise a new question: is Andrew Luck going to sit on the bench for four years?
So many fans and analysts have compared the benefits of drafting Luck now to the success that Aaron Rodgers turned into after waiting under Brett Favre for a few years. While I do believe this strategy is a particularly useful one, people often forget just how close things came to boiling over in Green Bay.
The plan was to sit Rodgers for two seasons. People within the organization, including Rodgers himself, felt that he was ready to go for the start of the 2007 season after being drafted in 2005.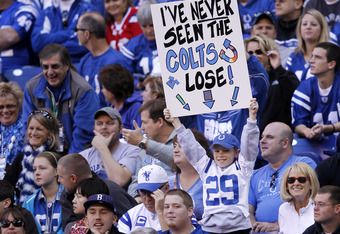 Joe Robbins/Getty Images
Then Brett Favre wanted to come back.
Finally, after Favre wanted to return a season later, the Packers said that enough was enough. Rodgers had sat for three seasons, and he absolutely could not wait any longer. It was his time.
So you think Andrew Luck could sit for four?
Even if he was willing to do that—and even if it successfully prepared him for a good NFL career—wouldn't Indianapolis be sacrificing a chance to improve the team during the final years of the Peyton Manning era?
If the Colts were to trade that selection, what could they get in return? The number one overall pick in the 2012 NFL Draft is one of the most highly-coveted picks we have ever seen.
If the Colts were to move down, acquire a first-rounder in a year such as 2014, and fill the areas that they need to fill through this upcoming draft, they would greatly improve their chances of bringing in another championship in the next five years.
We have seen what the Colts are made of without Peyton Manning. They're made of nothing but two pass-rushing defensive ends.
Could a guy like Trent Richardson help that team out, giving their offense more than one dimension?
What about a Luke Kuechly or a Vontaze Burfict to solidify the middle of their defense?
Maybe a shutdown cover corner like Morris Claiborne?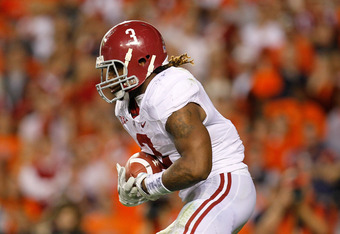 Kevin C. Cox/Getty Images
By trading down in the draft, the Colts could guarantee themselves at least one of these pieces, if not more. They could stockpile a first-rounder for a later draft, and they could prepare themselves to go after Peyton Manning's successor during a season somewhat closer to the end of Manning's career.
Are people seeing what is going on this year? The Indianapolis Colts are 0-10. That's how special Peyton Manning is. That's how bad this team is without him. Can Andrew Luck really carry that same load?
Instead of passing on the chance to improve now and making a pick for the future, the Colts should give serious consideration to the fact that they will have one of the greatest quarterbacks who ever lived for only four or five more seasons.
Having this selection presents them with an exceptional chance to provide that star with the extra supporting talent—say, a defense and a running game—that could catapult them to the promised land once again.
Do I think that Andrew Luck will be a successful quarterback in the NFL? Yes.
Do we know that he will be? Absolutely not.
It may not be as obvious a choice as it seems to appoint Luck as the replacement for Manning. No one thought Cam Newton could be the QB he has been, but he has been phenomenal. People thought Ryan Leaf was the real deal—that went well.
You simply never know for certain if a quarterback will pan out at the next level.
The Colts already have a quarterback. He's one of the best in the entire league. And if he returns to full health, he can continue to be an elite quarterback for at least a few more years. We've seen QBs play into their forties, and with the new rules that protect them from extra contact, it has become an even greater possibility.
Why take another one when you can make yourself a bona fide title contender with quality selections at other positions?
This entire idea hinges on whether or not Manning can fully recover from his neck injury. If he can, then I disagree with the old adage.
Better to be lucky than good? I say it's better to be good than Luck-y.