Detroit Red Wings End Boston Bruins' Streak at 10 with Shootout Win
November 26, 2011
Elsa/Getty Images
The Boston Bruins played at home against the Original Six Detroit Red Wings for the first and only time this season.
The Red Wings were on their own win streak of three games going into today and were looking to extend it.
Just over halfway into the opening period, Boston was applying the pressure, but the Red Wings headed up the ice.  Henrik Zetterberg passed to Valtteri Filppula, and it was redirected in the net to give the Wings a 1-0 lead.
In the second period, it was give and go.
Detroit goalie, Jimmy Howard misplayed the puck and was behind the net when it went to Nathan Horton.  Horton passed it to Daniel Paille who backhanded it under a diving Howard to tie the game.
Just 35 seconds later, Pavel Datsyuk skated up the ice and turned a sharp left to get to the fornt of the net.  He kicked the puck to his stick and beat Tuukka Rask on the right side to regain the lead.
In the third period, the Bruins got the game all tied up on another costly turnover.
Zetterberg misplayed the puck in front of Howard and Patrice Bergeron.  Bergeron intercepted the puck and wristed it past Howard to knot it up at two.  The goal forced overtime.
Overtime proved nothing, and we went to the shootout.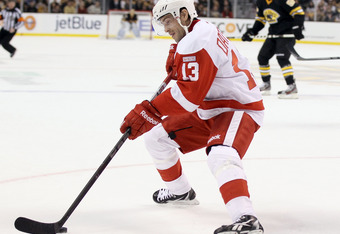 Elsa/Getty Images
The first round went to Detroit as Tyler Seguin couldn't beat Howard, but Datsyuk got Rask with a nice deek right to left to flip it midway up and left of the Boston net.
The second round proved nothing.
The third round decided it.
Horton beat Howard, but Todd Bertuzzi beat Rask to give the extra point to Detroit.
The win streak ended at 10, and the Bruins will look to start anew. This was the first extra time game the Bruins have lost this season. On the positive side, the Bruins still gained a point.
This was a sloppy game at both ends of the ice for both teams.
Next up are the Winnipeg Jets in their debut at the Garden tomorrow at 7 p.m. EST.
This will be the first time that the Bruins will be playing back-to-back days.
This is Cory Ducey saying "Hit Hard, But Keep It Clean."