Tim Tebow: Why Denver Broncos' QB Would Make a Perfect Hybrid Halfback
November 25, 2011
Garrett Ellwood/Getty Images
Has there ever been a more heavily criticized quarterback that stood at 4-1 through his first five games?
Tim Tebow has received pounding after pounding from analysts and fans alike who believe the 24-year-old quarterback is not cut out for the NFL. Playing in an organization run by the great John Elway, many believe—with good reason—Tebow is not the guy Denver wants to move forward with for the rest of the decade.
Most of you will think I'm crazy for suggesting what I'm about to suggest.
Tebow would have the greatest chance of sustained success at the NFL level by playing a new hybrid halfback position.
First, let's face the facts. Tebow has won four of his first five NFL games, but it has been anything but pretty. He has completed fewer than half of his pass attempts and, in most of his efforts, he has stalled until the final five minutes of the contest.
Is he great in those final five minutes? Sure.
Is he winning the game for Denver? Debatable.
I would contest that Denver's defense is winning games for the Broncos. Tebow has a chance to beat the Jets in the final minute because of the countless stops his defense made against Mark Sanchez and the New York offense. Without Von Miller wreaking havoc in the opponent's backfield, the rising Florida product never gets a chance to quarterback his team down the field for the win.
What none of us can argue with, however, is that Tebow has shown incredible prowess running the football. He has shown the speed to get to the edge with some blocking, the power to break tackles and the resiliency to fight for every last yard he gets.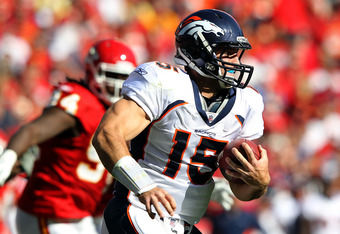 Jamie Squire/Getty Images
I know a few running backs with those same qualities.
It would be a concept so foreign to every NFL mind that it is unlikely to ever happen in Denver. John Fox and John Elway are looking for the standard pocket passer who will methodically pick a defense apart and drive down the field every time he touches the ball.
Let's imagine for a moment that they get that player. Lined up behind him, they have a halfback. But that halfback is also a quarterback.
We've seen the idea in its undeveloped stages. Think back to Ronnie Brown in the Miami Dolphins' Wildcat offense. Brown—a running back—doubled as a quarterback on several sweep plays, making a decision to tuck the ball and run or to hurl the rock downfield. The play proved to be effective at times, but Brown was not a quarterback. It ended up backfiring a fair share due to his inability to make NFL throws.
When you consider what Tebow could do with this type of option, the possibilities are far more promising.
Not only can Tebow physically throw a better ball than an NFL running back, he can also make at least a few reads down the field. When Ronnie Brown sees someone remotely open, he's throwing the ball their way with a reckless abandon, whether or not a safety is about to jump the route on his way to a pick-six.
Tebow, on the other hand, could just play his game. Be the same Tim Tebow you have been—just do it outside the tackle box, with added pressure from the defense.
The Wildcat had two running backs, and it failed because of the lack of virtually any passing threat.
This idea has two quarterbacks, but would it necessarily fail because of the lack of a running threat? As I mentioned before, Tebow has shown the ability to run the football at an NFL level.
I understand there is almost no chance of it ever happening, but making Tebow a hybrid halfback on your NFL team would make you far more difficult to game plan against.
Given his size and strength, he can be a legitimate runner without serious risk of injury. Given his nature as a quarterback, he can actually serve as a second QB who will be on the football field with the rest of the offense.
On top of all of that, he's a winner and a clutch performer. If he were on a team like the Cowboys, maybe he could just take over Tony Romo's duties in the final two minutes of the football game.
Innovative thinking is how any new style emerges in professional sports. If NFL defenses finally figure out how to defend Tim Tebow as a quarterback—which I believe will happen sooner rather than later—it can't hurt to spice things up with a never-before-seen tactic.
Tebow is the prototypical player to implement that tactic.
Be sure to follow Derek Robinson on Twitter. @DRobMachine