NHLPA Player of the Week: Milan Michalek
November 24, 2011
Dale MacMillan/Getty Images
Need to Know

The Northeast Division, it can be argued, is one of the most interesting stories of the 2011-12 season.
The Boston Bruins are the defending champs, the Buffalo Sabres added some significant players to their lineup in the summer, the Toronto Maple Leafs continue to grow and improve and the Montreal Canadiens are always a tough two points. That leaves the Ottawa Senators, a team that has not performed as well as they probably would have liked over the past few seasons.
One player that is working to change those fortunes in Canada's capital is dynamic forward Milan Michalek, who was acquired from the San Jose Sharks in the 2009 trade that saw Dany Heatley dealt from Ottawa. The speedy Czech winger is a multi-talented piece of the puzzle in Ottawa, a player that is taking the offensive lead—together with linemate Jason Spezza—for the youthful Senators early in the 2011-12 season.
So far, Milan and the Sens have experienced some ups and downs, but they are making some noise in the unpredictable Northeast Division, and Michalek is helping lead the way on the stat sheet. With faceoff specialist and assist machine Spezza dishing to Milan, he is making the most of his chances, drawing the attention of the opposition's top players and making life easier for the rest of the young Sens forwards.
Milan has been hot this past week, recording three points over the past three games (all Sens wins), giving him 12 goals and six assists for 18 points in 20 games. He is on pace so far this season to set career highs in both goals and points.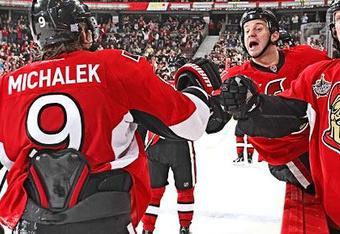 With Ottawa hosting the 2012 NHL All-Star Game, Milan will be looking to keep up his strong play so he can earn the chance to represent the Senators and the Eastern Conference at Scotiabank Place in January.
Biography
- Born in Jindrichuv Hradec, Czech Republic on December 7, 1984
- Drafted in the first round, sixth overall, in the 2003 NHL entry draft by the San Jose Sharks
- Milan has battled back from a significant knee injury, which he rehabbed and strengthened during the 2004-05 NHL lockout
- His brother, Zbynek, also plays in the NHL as a defenceman for the Pittsburgh Penguins
- Has represented Czech Republic on the international stage, including the 2010 Olympic Games in Vancouver, and the 2011 IIHF World Championships, where he captured a bronze medal