Fire Spagnolo and Devanney: A True Look at Why the St. Louis Rams Need Change
November 23, 2011
Christian Petersen/Getty Images
We are past the halfway point this season, and I can finally speak my mind again. Before the season began, I said that this team was horrible and the moves they made were more slight of hand than anything progressive, and I was blasted by many readers that wanted to label me as being a hater and just a guy venting my anger. I took a vow of silence and hoped for the best, stating that I would not comment, good or bad, until the first half of the season was over, no matter how the Rams did.
Well, just like I said, the Rams got one win, but I was wrong: It wasn't against the Redskins, it was against the Saints, I guess the Cardinals' World Series run could even inspire the lambs to do great things. Also, Sam Bulger—I mean Marc Bradford—I mean Sam Bradford wasn't starting because he is so delicate that he couldn't play, and A.J. Feely, the worst backup QB in the league, looked better than Bradford, as he was made to look like a cagey vet with little fuel in the tank.
A gift horse fell in the Rams' lap in Brandon Lloyd, but I seriously doubt he will stay, considering the string of ineptitude displayed by this front office and coaching staff when it comes to management, development and coaching.
I guess I have to say something about the numerous injuries that have plagued this roster. Oh, wait a minute—didn't these guys have problems before they began having injuries? Aren't there other teams in the league, such as the Kansas City Chiefs, Miami Dolphins, Arizona Cardinals, Oakland Raiders, Dallas Cowboys and New York Giants that have had injuries decimate their lineups as well?
And besides all of that, have injuries ever been a valid excuse for truly horrendous play? It wasn't for the 2011 World Series Champions. They started out well, had injuries and setbacks, continued to fight, made moves, got healthy, went into a slump that would have killed any other team and still came back to fight their way into the playoffs.
Am I saying the Rams can do the same? No—I'm saying that, unlike the Rams, the Cardinals kept fighting, found ways to produce, had talent and depth to begin with and continued to look under every rock to find more. They had people at every position that helped to build and cultivate the team, and at the darkest hour, when all hope was lost, they had leaders that wouldn't let themselves or their teammates give up and the talent to back it up.  
Now the World Series champs had a lot of team chemistry and some colorful characters. Some of them are good guys and some of them not so good, and, hell, Albert Pujols is nearly a saint. That being said, I can't see the World Series champs being a team concerned about the four pillars, like the Lamest Show on Turf that currently occupies every Sunday afternoon on local television in St. Louis.
The four pillars has got to be the single dumbest idea ever. To make another simple analogy, a team built around the concept of the four pillars is similar to the Boy Scouts. Now, the Boy Scouts is a great organization and those young guys are very dedicated, but would you send in the Marines or the Boy Scouts to do a dangerous job?
I'd be perfectly satisfied with two pillars: The guy can play his position at a high level and the guy can be counted on by his teammates. I can care less that he gives you a warm fuzzy feeling inside or if he is an altar boy. I can really care less how well a player interacts with the media as well—they're the main supporters of this lousy team, coaching staff and front office. All of these fans sat there and listened to them and bought into the idea that this team was headed in the right direction when clearly they were stuck in neutral on a steep hill.
Jason Miller/Getty Images
The Rams have paid a lot of money to players on the O line and truly, with the exception of Jason Smith, he is obviously a guard in the NFL but you are paying him OT money—and not just OT money, but LT money.
All of that wasn't money spent in vain, but without adequate coaching, you see that this line is not meeting potential. We drafted however many defensive tackles early in the draft, and how many of them do we currently have on the roster? Zero, with most of them still playing quite well, such as Kennedy, Carriker and Pickett.
I'm not even going to mention how much better this defense looks with Suh and any of those guys playing in front of Lauranitis. I also won't mention how good Lauranitis would look with Will Witherspoon and Pisa Tinoisomoa flanking either side of him. I won't even mention how good the addition of Quentin Mikell would have been with O.J. Atogwe opposite him. But just consider some of the many proven free-agent cornerbacks, linebackers and wideout talents that the Rams have let pass them by who could definitely have helped this team and the QB that they grossly overpaid.
Lofa Tatupu could have been had for a song, Marshawn Lynch was available, Phillip Buchannon, Takeo Spikes, Adam Jones, Donte Whitner, Deangelo Hall, Terrell Owens, Steve Smith—and the list goes on and on.
The Rams have one win this season. I refuse to give them credit for Cleveland losing when the game was already a technicality. Like that fumbling of the ball on a kneel-down, the chances of that happening again have to be a million to one. The Rams didn't win, they didn't beat, the Browns just lost—plain and simple, it was no fault of the Rams that they did nothing to win that game.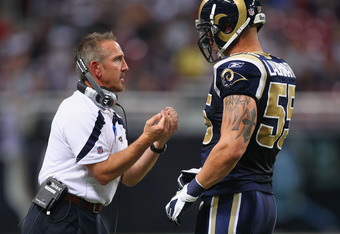 Dilip Vishwanat/Getty Images
The Rams remind me of an inferior little league team that just doesn't know how to play and can't play with the bigger, faster, stronger and more coordinated kids. But at the end of the season, they still get a second-place trophy for just participating.
And what about people who support this attitude by saying statements like, "Despite owning a record of 1-7, the Rams played as if the playoffs were on the line"? Are you kidding me? I understand that injuries hurt, but you cannot use that as a crutch when it is the players who are not injured losing. To be brutally honest, the Rams were still losing, even when the players who are injured now were playing.
I like Quin and Long, but Quin is not on the field enough to be a No. 1 pick, and the middle of the line is horrible. On the next level, Lauranitis is good in the middle, but there is nothing outside. And on the third level of the defense, all you have is Mikell.
The offense needs a Terrell Owens-type receiver, an Andre Johnson, Charles Johnson, Roddy White, Greg Jennings or a Mike Wallace—a bona fide No. 1 receiver. Danario Alexander or Mark Clayton would be fine opposite until you can find better, and resigning Brandon Lloyd for that quick in-deep threat is paramount. Amendola or Salis would be fine as the main slot-possession guy. Saffold is the only lineman on the team that isn't completely suspect and, like I said, you have a LG playing RT.
Spagnolo is clearly not a teacher. He is a motivator, but he's also not a reliable judge of talent, and neither is Devaney. I shouted it high from the mountain tops (well the hilltop here in St. Louis) before the season began, and Spags and Devaney should have both definitely been fired immediately after the owner bought the team.
The Rams need to get a real coach in here and real front office people to match—guys who have produced and cultivated talented programs before. Spags and McDaniels can even stay if you get someone else to pick and coach the players. Fire most of the coaching staff, as it's clear that you need some teachers to show these young guys how, and not only what to do.
Fire Devaney—this team needs a better judge of talent to head up the front office. If you don't get rid of Spagnolo, then hire Brian Billick as the GM. If you do fire him, hire Billick to coach this team and give him the ability to pick his own coaches and players. He helped build the Ravens organization, and it seems to run like a well-oiled machine.
This team is poorly put together and lacks talent at the big-play positions, and sometimes you have to take chances on guys that have overwhelming talent, put people in place to manage them and hope that the leaders on your team can show them the way. Bradford still has not shown me anything impressive; not to knock him because coaches teach talent and not the other way around.
There is no reason why this guy is regressing as a QB, other than the poor talent and poor coaching around him. This isn't to say that he was some phenomenal QB to begin with, but the kid does have potential that is currently being wasted and deteriorated. I'm tired of seeing that kid come to the sideline to take off his helmet and his eyes look as big as silver dollars after another third and long that he just got post-set into the ground, like he's a part of the new foundation of the Ed that the opposing defense decided to renovate on Sunday at noon.