Alex McLeish: Aston Villa Manager Wanted for Crimes Against Football
November 22, 2011
Dean Mouhtaropoulos/Getty Images
Typically, I've enjoyed Aston Villa's visits to White Hart Lane. The Villa fans ensure that the atmosphere is lively, and players like Tony Daley, Dalian Atkinson, Dwight Yorke, David Platt and Ashley Young have entertained both Tottenham and Villa fans alike.
Unfortunately, last night's 2-0 reverse for Villa was one of the worst performances in recent memory at White Hart Lane. It was comparable to Birmingham City's efforts on the last day of last season. In a game where a win would have guaranteed Premier League survival, Birmingham mustered just two shots on target, losing 2-1, and were duly relegated.
The common theme to both games is the dour and negative approach to football favoured by current Aston Villa manager Alex McLeish.
By no means are these two games isolated occurrences. In his last two seasons at Birmingham, McLeish's side barely averaged over a goal a game. This includes the 2009-10 season, when they finished a creditable eighth in the Premier League.
Amazingly, in 2007-08, McLeish secured automatic promotion from the Championship with a poultry 54 goals in 46 games, making Birmingham just joint 12th highest goal scorers in the Championship that year.
Last night, McLeish's current side were up against a Tottenham team at the top of their game. Yet a sum total of just one effort on goal in 90 minutes illustrates how devoid of attacking flair Aston Villa were.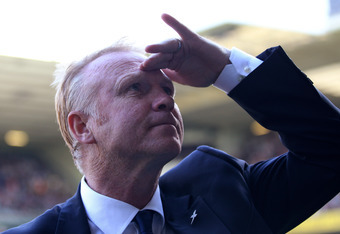 Julian Finney/Getty Images
Alarmingly, McLeish, after the game, seemed reassured by the chances his side had created. He then rounded on his players, being highly critical of their inability to retain the ball. This is dreadfully harsh on a team that started with six defenders, including three centre-backs, and with Emile Heskey stuck out on the left wing.
There were no signs of the more skillful midfielders like Barry Bannan, Fabian Delph, Marc Albrighton and Charles N'Zogbia in the starting XI.
Instead, McLeish opted for a midfield consisting of Heskey, full-back Alan Hutton and the attritional Stiliyan Petrov and Chris Herd.
By halftime, Villa were 2-0 down and hardly in the game. Encouragingly, McLeish sent his team out to pressure Tottenham in the second half, and almost instantly the game opened up. However, it still took till the 63rd minute for McLeish to change personnel, removing one of his centre-backs in Carlos Cuellar and replacing him with midfielder Bannan.
Amusingly it took to the 87th minute for McLeish to finally go for broke and throw on Delph. It was far too little and far too late.
Despite Tottenham's form in recent matches, they can struggle defensively. QPR and Fulham showed that if teams are prepared to take Tottenham on, chances will be created.
Clearly, McLeish did not entertain such a notion. 
Even the away fans seemed muted. Admittedly, it was a Monday night and the game was on television, but the support was light on numbers and understandably become disheartened as the Villa team failed to create any clear-cut chances.
After such a display, McLeish deservedly will be criticised for his tactics. The board too, will have to answer questions over how the likes of Gareth Barry, James Milner, Ashley Young and Stuart Downing were all allowed to leave without replacements being found.
The players should also be criticised. Whilst understandably short on creativity, their performance was low on both energy and passion. It was all too easy for Tottenham to dictate play to suit their style.
As I left the ground, my thoughts were of McLeish. Part of me couldn't help thinking that maybe he was just as happy with the result as Tottenham manager Harry Redknapp was. He had picked a team that had no chance of winning and a slim chance of earning a draw.
Was his aim to leave White Hart Lane without a dent to his team's goal difference?
If so, a job done, but as a club, Aston Villa and its supporters deserve much more.