Nebraska Football: Huskers in Need of Major Overhaul
November 22, 2011
Eric Francis/Getty Images
The lid is officially shut on Saturday's embarrassing 45-17 loss to Michigan.  The known variables have already been discussed at length in the three days since the Huskers walked out of the Big House licking their wounds—the offense was erratic, and save for one or two big plays, was completely shut down and the defense, yet again, couldn't figure out how to stop a mobile quarterback.
And yet, three days after the debacle in Ann Arbor, the disappointment (at least from a fan viewpoint) has evaporated rather quickly.  The lofty expectations surrounding the 2011 Huskers died with this loss, and has been replaced with an all-to-familiar feeling—complacency.
If Bo Pelini and Nebraska are going to make the jump from "pretty good" football team to "great" football team, it is apparent that a major overhaul is needed.
Defense
Let's get the defense out of the way first, since the majority of this program's issues do not lie on this side of the ball.  Sure, the Huskers of yesteryear would not have given up 40-plus points to either Wisconsin or Michigan, but the problem with this particular version of the blackshirts is a matter of "what ifs". 
What if the entire defensive backfield didn't have to be rebuilt?  What if Jared Crick hadn't gotten hurt?  What if the defensive line hadn't been so injury prone?  What if the blackshirts had 11 Lavonte Davids?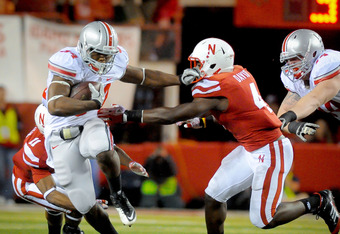 Eric Francis/Getty Images
Pelini's strong suit has always been defense.  He has a proven track record, both at Nebraska and elsewhere.  Perhaps this particular defense is much more pedestrian than anyone could have thought, and Pelini is squeezing every possible drop of talent from this unit.  His accolades point to that possibility.
Two things remain apparent—1) this is still a very young defense and 2) just think about how bad this season would have gone under the previous regime.
Offense
This is where things get dicey.  The offense has taken everyone for a roller coaster ride this season, with sparks of true brilliance and long stretches of headache inducing inefficiency.
This unit, more than anything else, is in serious need of help.  Here are a few ideas:
Find an identity! 
An exclamation point was sorely needed.  All offseason we heard the words "multiple" and "attacking" in describing Tim Beck's new plan.  There was supreme optimism because the offense would more closely resemble the one run by Taylor Martinez in high school, meaning his comfort level would help him overcome boneheaded decisions.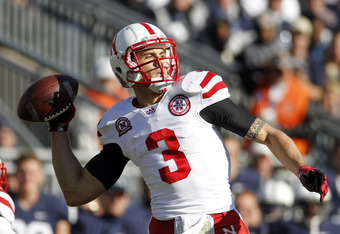 Justin K. Aller/Getty Images
Entering the last week of the season, there still seems to be a complete lack of identity.  Is this an option offense?  Zone read?  Power running offense? 
The only constant has been Rex Burkhead, and we have all seen what happens when defenses key in on him entirely.  Superman can't do it all.
The Huskers need to find an offensive plan and stick to it.  If that is zone-read, then run zone-read as much as possible.  Use different plays in that particular set to exploit weaknesses. Same goes for the other types of offenses.
Isn't that what Tom Osborne did for years?  How often did you see defenses lose focus on the fullback in the triple option after fifteen plays, or even a quarter?  And how often did that fullback break out for big yardage?
Long story short, the "multiple" part of this offense is what is really holding everything back.  By being a "jack of all trades, master of none", the Huskers have set themselves up to be a team that runs several different formations well.  Not "with precision", but well.
Get a Quarterback who can throw
This is a much more sensitive topic, but why continue to recruit quarterbacks who everyone knows are not truly quarterbacks?  If you are recruiting a kid who runs a 4.4 forty, rushed for over 1,000 yards his junior year and completed 50 percent of his passes for another 1,000 yards, he is not a true quarterback.
It sounds harsh, but to go along with the identity crisis mentioned above, if you are going to recruit good receivers and commit to passing the ball at least 20 times a game, it would behoove you to recruit quarterbacks who can play the position.
If you are going to run the option or zone-read strictly, then by all means, recruit mega athletes who can flat out fly.
But there are plenty of kids out there who are mobile and can, surprisingly, throw the ball.  And not all are 5-star recruits.  Just to name a few (and you may have heard of some of them)—Robert Griffin III, Collin Klein, Keith Price, etc.
The jury is still out on Taylor Martinez, and in all fairness to him, he is still only a sophomore, but it is also apparent that he is never going to be a fluid passer who can hurt you with both his legs and arm.  He can hurt you with his legs and you never know what you are going to get when his arm gets mixed in.
Rather than focus on extremely athletic, raw quarterbacks, why not recruit fluid passers who have a decent amount of speed.  Cody Green may not have worked out, but there are more fish in the sea.
Offensive line is key
With the talent the Huskers have at running back, there is no reason why they shouldn't be one of the top rushing teams in the nation for the next few seasons.  A big factor in determining this is the offensive line.
Pelini and co. have done a great job recruiting this position, but the need for depth is at an all-time high.  The line is extremely young after this season, and while a lot of the freshmen and sophomores have seen extensive playing time, the Huskers need a few superstars to emerge.
The Michigan State victory was just as much due to the O-line as it was Burkhead's heroics.  If any unit is going to help this program, the big boys in the trench are going to.  But it all goes back to finding an identity.