Tim Tebow: Why Religion Shouldn't Define His Popularity
November 22, 2011
Doug Pensinger/Getty Images
Tim Tebow has a relationship with Jesus Christ.
This isn't opinion. This is fact.
Tebow, in his own words, says:
It is the most important thing in my life. Any time I get an opportunity to tell him I love him or get the opportunity to shout him out on national TV I am going to take it ... Any time I get the opportunity to give the Lord some praise he is due for it because of what he did for me and what he did for all of us.
His interviews, his book, his commercials, his press conferences, his "Tebowing"; the man is who he says is.
He believes in himself, believes in what he does and believes in his lord and savior Jesus Christ.
But religion alone should not be what defines this young man.
The Denver Broncos quarterback was interviewed by Skip Bayless over the phone on ESPN's First Take on Tuesday and, naturally, had a lot of intriguing things to say.
He said he's not interested in "convincing" anyone he's an NFL quarterback. 
He said he doesn't just play to win football games —although we love the phrase, "Tebow just wins football games." And he said he doesn't listen to what other people have to say about his ability to play quarterback in the NFL.
He said he plays to inspire, to lead. He plays because he wants to be a role model, and because it gives him a platform to "try to make this world a better place."
And when Tim Tebow was asked about Jake Plummer, the former Broncos quarterback who said on radio:
Tebow, regardless of whether I wish he'd just shut up after a game and go hug his teammates, I think he's a winner and I respect that about him ... I think that when he accepts the fact that we know that he loves Jesus Christ, then I think I'll like him a little better. I don't hate him because of that, I just would rather not have to hear that every single time he takes a good snap or makes a good handoff.
Tebow's response was, "First thing I'd say is thank you for the compliment of calling me a winner."
For some inexplicable reason, people cannot get over the fact that Tebow believes in God and praises him at any and all opportunities.
For some inexplicable reason, we have come to define Tim Tebow by his religion alone.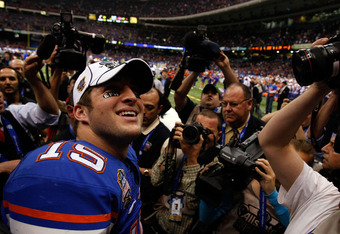 Kevin C. Cox/Getty Images
For some inexplicable reason, we have come to challenge one of the people on this Earth who actually gets it.
You see, Tim Tebow has it all.
Not because he's a former first-round pick and starting quarterback in the NFL. Not because he has a "special relationship" with Jesus Christ. 
But because he's doing something he loves, chasing and living a dream at the same time, and has something he truly believes in.
Tim Tebow has it all because he is happy in his pursuit of happiness.
It's not about money. It's not about football. And it certainly isn't about religion.
It is simply about living life the way he thinks it should be lived. Tebow just happens to attribute that to a higher power.
There are certainly others who have a similar feeling about life; Tebow's life just happens to be in a very public arena.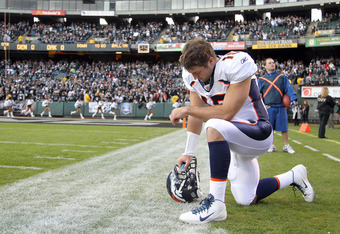 Ezra Shaw/Getty Images
We shouldn't be defining Tebow by his religion, or football for that matter, either.
Heck, I've never even met the man and there is a good chance you haven't, either. Who are are we to define him?
But every time he says how blessed and thankful he is for his opportunities. Every time he "Tebows" or says, "Thanks for having me and God bless y'all," doesn't give us the right to define him by religion alone.
Apparently we've forgotten that Tim Tebow is a person just like the rest of us.
If we have to define him at all it should be by his happiness. He's not only earned it; he deserves it.