Arkansas Football: 5 Things We Learned from the Hogs' Win over Mississippi St.
November 21, 2011
Wesley Hitt/Getty Images
The Hog's demolished the Mississippi State Bulldogs on Saturday by the score of 44-17 to set up a top-five matchup against LSU the day after Thanksgiving in Baton Rouge. 
It seems a bit trivial to discuss football, with the news coming out of Fayetteville that reserve tight end Garrett Uekman was found dead this morning, but let's take a look at five things that we learned from the Arkansas win.
Tyler Wilson won't get away with this against LSU
I know how ridiculous it is to even begin to criticize a quarterback that just set the school record with 33 completions in a game, but Wilson made a couple of throws on Saturday that a better defense would have made him pay for. 
The bad news is that LSU is that better defense. 
Arkansas fans have gotten spoiled at the quarterback position and Tyler Wilson is an awesome quarterback, but from time to time he makes some bad decisions.  
One of the keys to staying with LSU will be making its offense score all of its points, so Wilson might have to go a little more conservative on some of his choices.
Style points are for sissies and so is the BCS for that matter
As Gary Danielson was going on about the need for style points on Saturday, the absurdity of this system really hit home with me for the 100th time in the last week. 
Any system decided by voting and comparing scores is a joke and I do think teams get too caught up in it sometimes. 
If you want style points then win your damn games! 
I am going to jump off my roof the next time someone mentions that Arkansas has ugly wins against Ole Miss and Vanderbilt because those ugly wins are better than losing to Iowa St., Texas Tech, Baylor or USC. 
At least Arkansas wins its ugly games.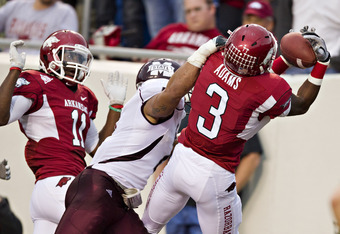 Wesley Hitt/Getty Images
Not hearing much about slow starts anymore
It seems like an eternity ago that the biggest concern with the Arkansas football team was its slow starts. 
Arkansas found themselves in a pattern of spotting teams about 17 points and then storming back for the win. 
The last three weeks, the Hogs have jumped out quick, placed their foot on the throat of their opponent and had the game out of reach by the halfway point of the fourth quarter. 
A quick start will be key to getting LSU to play a game that they are less comfortable with.
Chris Gragg is a beast!
Early in the season, Gragg was splitting time at tight end because of his need for improvement in the run game, but as the season has rolled on, he has stepped up and taken over the position. 
He is third on the team with receptions and he had a career high eight receptions for 119 yards against Mississippi State. 
It's getting to the point where he is a mismatch with any linebacker in the country.
We're No. 3!
I know that there is really no award for third place, but this is the highest ranking for the Arkansas football team in over three decades. 
After being on the outside of the BCS conversation for most of the year, it will be hard for the pundits to ignore this team now. 
More important than being No. 3 is the fact that this team finally looks like a top 10 team. 
A month ago, I'd have been the first to admit that this group of Hogs was overrated, but as they've gotten healthy and found some younger players to step up, this Arkansas team is peaking at the right time. 
Arkansas may or may not beat LSU next week and they may or may not get hosed by the BCS even if they do win, but the important thing to appreciate is that after 12 weeks of football, Arkansas is in the conversation for a national championship. 
It has been a long time since the Hogs could say that.