Rooting for a Losing Franchise Is Bad for Your Health...Just Ask Jets Fans
November 19, 2011
Garrett Ellwood/Getty Images
Before I begin, let me give much credit and help to my friend Finster Allen for working with me on this topic. Now, on to the madness.
While scouring the message boards across NFL sites, all fans have attitudes that represent the confidence and satisfaction they have with their teams.
Cowboys fans are generally arrogant from the teams success of five Super Bowls, yet growing frustrated with their maddening inconsistency of the last few years.
Steelers and Colts fans are confident, but also mostly polite, while Patriot fans are confident, yet insufferable.
Then there are Jets fans.
It's hard to examine the different levels of emotion a Jets fan has without rolling over in laughter at the range and how quickly a long-time follower of the team (from at least the 1980s) can go from elation to complete meltdown.
After a win, most true fans (again, long-time followers of the team that have consistently rooted for them since the 1980s) are content and keep to themselves. Very few would dare to brag or predict more success, while most are waiting for the eventual "heartbreak" moment - like Tim Tebow dancing untouched into the end zone with :58 seconds remaining — that will give way to the term this franchise has come to be labeled with — Same Old Jets.
Rex Ryan denies that it exists. Other coaches like Herman Edwards and Bruce Coslet have sworn to end it, but nevertheless the term is like an old ex-girlfriend or boyfriend that broke your heart; one that even if you have tried to move on, keeps coming back.
Thursday night's result was nothing new to Jets fans, who have lived through "the Spike", Cary Blanchard's three missed FGs against the Bills, followed by a 24-0 no-show on a "win and get in" Sunday night game in Houston in 1993 the next week, a loss to the 2-12 Bills at home that paved the way for Tom Brady's first title in 2001 by giving the Patriots the AFC East title, etc, etc.
To a man, most Jets fans could see this coming after the way they fell apart against Brady and the Pats on Sunday night, much like how the team lost 10-6 to Miami, in perhaps the worst offensive game of the Mark Sanchez, Rex Ryan era, after their 45-3 breakdown against the Pats last season.
Getting back to the message boards and blogs.
Jets fans have unique, if not hysterical ways of reacting to losses like Thursday's. Ones which characterize the love and hate their fans have for the this franchise. Never before in the history of love and hate have you seen such venom and anger directed at anything as you have the "true" Jets fan after a loss like that.
Some don't understand it. Even other Jets fans, that maybe started rooting for the team in the post Parcells era, don't understand it. Well, with help from Finster - someone who has been around this team since the late 70s, and yes, that is his real name, having been named after a character in a Bugs Bunny cartoon — we will break down why Jets fans react with such anger.
1. The Pathetic History of the Franchise
Since the NFL merger only three of the 26 teams around in 1970 have failed to REACH the Super Bowl: the Jets, Chiefs and Lions (the Jets and Chiefs reached the Super Bowl as members of the AFL, not NFL).
Yes, the Jets won perhaps the most important game in pro football history, one that gave validity and respect to the AFL (imagine the Jets being the poster child of achievement?), but that is ancient history to most Jets fans. Some actually think Super Bowl III is a "Paul Bunyan" esque myth, that coaches warn their overconfident teams with. Even three of the six expansion teams that have joined the NFL since have managed to reach the Super Bowl (Buccaneers, Seahawks and Panthers).
It should be noted that NFL history will show the Browns as a fourth team to not reach the Super Bowl since the merger, HOWEVER, remember that the current Browns franchise began play in 1999, while the franchise that was part of the merger in 1970 moved to Baltimore and became the Ravens in 1996 (the Ravens reached the Super Bowl in 2000). A unique rule went into effect that made the Ravens an expansion team with no history, while a team was promised back in Cleveland no later than 1999 (when a new stadium was built), which would then continue the Browns franchise.
The Jets have won just TWO division titles since the merger, taking longer than any of the 26 teams around in 1970 to do so (finally winning their first one in 1998 - a span of 28 years). Of the other 26 teams, 24 have won at least four division titles since then, while the Lions have won three.
2. The Pathetic Direction and Decisions of Owners and Management
Starting with Harry Wismer to Sonny Werblin, to the unimaginable ignorance of Leon Hess, and all the way up to Woody Johnson, Jets owners have made very bad decisions in who they have chosen to run the franchise, consistently bringing in losers or unproven people to be GM or HC.
None of the coaches the Jets have hired in their 52 years, outside of Bill Parcells, had a Super Bowl on their resume. Of the 16 coaches in team history hired before Rex Ryan that have coached a game, only Parcells and Al Groh (9-7 in 2000 - his only year as HC) has a winning record.
Look at the names that they have hired as coach. Bruce Coslet, Joe Walton, Charley Winner, Walt Michaels, Pete Carroll, Herman Edwards and Eric Mangini all had either no head coaching experience or a losing record when named head coach.

Jarrett Baker/Getty Images
Then there are the stories of perhaps the worst two coaches in franchise history, Lou Holtz and Rich Kotite, who were actually hired after having success in their previous head coaching jobs.
Lou Holtz had established himself as a successful college coach when he was hired in 1976, having posted a 33-12-3 record with two bowl wins in his four seasons at North Carolina State. Holtz lasted just 13 games, as he resigned prior to their final game. The Jets 1976 team that Holtz coached finished with the worst point differential in team history (-214).
Rich Kotite was hired in 1995 after finishing with a 36-28 record in four season as head coach of the Philadelphia Eagles from 1991-94. Under Kotite the Jets won just four of 32 games, and he was fired after a 1-15 performance in 1996.
After the 2008 season the Jets had a chance to reach out to Bill Cowher, who had hosted FIVE AFC Championship games (1994, 95, 97, 2001 and 04) and been to two Super Bowls (winning in 2005) as head coach of the Steelers from 1992-2006.
In the history of the Jets, no coach has ever hosted an AFC Championship game or obviously been to the Super Bowl since the merger.
However, instead of hiring a proven winner (something that turned a morbid franchise into respectability with Parcells in 1997), they chose to go with the find the "next guy" theory that has failed them every time by hiring Rex Ryan.
It's hard to argue with the success of Ryan in his two plus seasons (consecutive AFC Championship games and four playoff wins - the most in team history for a coach already) but his arrogance and what have turned out to be lies (promising Super Bowl titles in each of his seasons) are starting to turn against him.
If Ryan doesn't rebound and get this team to the playoffs, the fans will start to turn on him - something that is happening already thanks to his big mouth. God forbid Ryan guarantees another Super Bowl championship in 2012 if this team misses the playoffs this season.
Above all, Jets fans want honesty. Don't promise a change to the "Same old Jets" only to deliver the same, gut wrenching losses that have plagued this franchise since the merger.
3. They have never had an elite QB in 52 seasons
I know most of you will say "What about Joe Namath?" Putting Joe Namath and elite QB in the same sentence is such an insult to true elite QBs like Tom Brady, Peyton Manning or Joe Montana.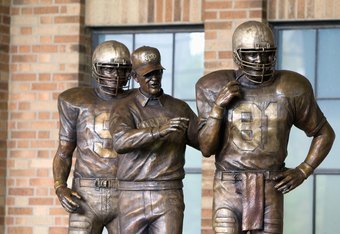 Gregory Shamus/Getty Images
Close your eyes for a second. When you open them you will see that I handed you a piece of paper with a QB statistics but no name. On that paper you see these stats. 
W-L: 60-61-4
Completion Pct. 50.2
QB Rating: 65.8
TD-INT: 170-215
What would you think of that QB? Would you describe him as even adequate? Well, that is Joe Namath's stats with the Jets.
Other names like O'Brien, Todd and Pennington have had success, but ultimately won nothing.
Esiason and O'Donnell reached the Super Bowl with other teams, but failed in their time with the Jets as both never reached the postseason, and were overwhelmed by NY.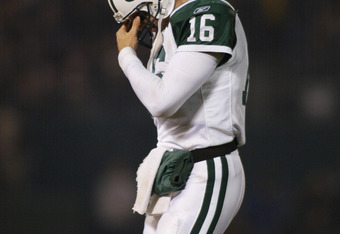 Jed Jacobsohn/Getty Images
The best QB in team history was Vinny Testeverde, whose 29 TD and 7 INT in 1998 highlighted the best season since the merger (finished with the most wins in franchise history (12), won their first AFC East title and were the number two seed in the AFC) and whose injury in the second quarter of the 1999 season opener, ended the franchises best chance to reach the Super Bowl since the merger.
When Testeverde returned in 2000, he was still good, but lacked the consistency he had in 1998 (thanks to Keyshawn Johnson being traded in the offseason), and although OK, never repeated the success he had that season.
4. The Aura of the "Same Old Jets"
Being a Jets fan by itself is humiliating based on the above reasons. Other teams fans (especially the Giants and Patriots now) mock and laugh at them, while this franchise continues to give them countless opportunities to continue to do so.
Ryan's arrogance and ignorance, along with the hype of "the Sanchize", are two of the latest reasons why other teams fans love to throw it in Jets fans faces. While fans had the pity of other teams before Ryan and Sanchez, they now have their scorn.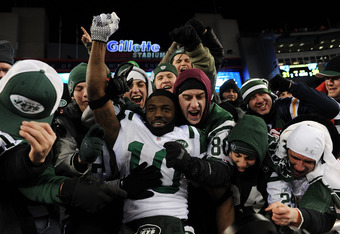 Michael Heiman/Getty Images
As most true fans of any team you come to look at yourself as a extension of the team you root for. When your team has success, you have success, and when your team losses, you lose.
Then their are games like Thursday night, when fans of the Jets go to bed with feelings of rage and heartbreak wondering when the day is going to come that they can finally at least see their team in the Super Bowl.
Most Jets fans thought that time was last season after beating the Patriots in New England in the Divisional Playoffs, but as it turned out, the "Same old Jets" returned for a first half nightmare that saw them fall behind 24-0 the next week in Pittsburgh in the AFC Championship game.
In the end, the Jets fan was left with something that has become a fixture late in losses during the Rex Ryan era: his vaunted defense failing to produce a stop at the end of a game.
Do yourselves a favor and check some Jets blogs to see the reaction of their fans in the next few days. Yes, Jets fans can be unreasonable and seem like they are ready to throw their TV set out the window (I actually knew a fan that did just that after the Jets 23-20 overtime loss to Cleveland in the 1986 AFC Divisional playoffs), but most of that anger and venom comes from maddening inconsistency, bad decisions and broken promises from a team that has left their fans wondering if they will ever see their team in the Super Bowl.