Alabama Football: Is It Time for the Tide to Use Jalston Fowler as a Fullback?
November 17, 2011
Kevin C. Cox/Getty Images
For some time the Alabama Crimson Tide have not utilized the fullback position.  Under Nick Saban, they run a lone setback formation while using their smaller tight ends as an H-back.  
The only time they truly used a fullback effectively was in goal-line situations when Terrence Cody was at the Capstone, throwing a 360-lb. nose guard into a wall of linebackers so Mark Ingram could waltz in for a score.  
The current system has been successful in most respects, but is the running game really meeting its full potential?
Trent Richardson has had to break far too many tackles this year just to cross the line of scrimmage, and it makes one wonder if he would do better with a bona fide 230-250-lb. fullback.
The Crimson Tide and their power running backs have a habit of cashing in with runs between the tackles. Is it really more helpful to have a tight end coming from the outside to run block rather than a full-stride fullback punching through the middle?  
I'm not Coach Saban, but to me it seems like it would add another weapon to the offense to have an actual fullback lined up in the backfield.  He would have momentum by the time he reached the line of scrimmage and would be large enough to handle the linebackers going for the tackle.
Jalston Fowler would be the ideal candidate for this.  He is big, almost 250 lbs., and could hold his own against almost any linebacker in the nation.  He is also only a sophomore this year, with plenty of time to master a new part of the offense.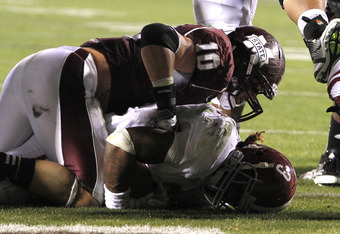 Butch Dill/Getty Images
Fowler actually played fullback in high school, but when Saban recruited him he has had him only as a ball-carrier.  
This is where he has become a weapon.  
Let's compare the use of the H-back as opposed to a fullback.
This year, the Tide's main H-back has been Brad Smelley, and Preston Dial before him.  They played as tight ends, but in the run game they were blockers.  
In 2010, Dial had no rushing attempts.  In 2011, Smelley has had one.  
When they were on the field and it was apparent that the play would be a run, they weren't even accounted for as a potential ball-carrying threat.  This allowed teams to focus-fire the running backs, and for two straight years that is what teams have done.  
The running backs have been incredibly productive despite this challenge, but Richardson has been met in the backfield far too many times this year, having to fight tooth and nail just to get back to the line of scrimmage.  
Alabama ranks 50th in the nation in tackles for losses allowed.  Richardson is a great running back, but his brute force can only go so far when the other team knows it's a run play.
As a running back, Fowler rushed for 111 yards on 14 carries in 2010 and 329 yards on 47 carries in 2011.  These stats show great promise for adding another dimension to the Tide's running game:  the fullback dive.
Again, H-backs at Alabama are not ball-carriers.  However, Fowler, as a fullback, would be a threat to make a big gain on every play.  
Who would they hand off to?  Two stellar running threats in the same backfield, who do you watch? You take your eyes off Fowler for a split-second after the snap, and he's either blocking your face into the ground or he's already ran past you with the ball.
The Tide's run game has become too predictable.  They get yards, but are they getting the kind of yards a guy like Richardson is capable of?  
The play calling has been lackluster at times, and it seems very unfair to expect Richardson and future running backs to carry such a burden in a single setback formation.  
Next year Eddie Lacy will be "The Guy," but who will be his backup at running back?  Will it be Fowler, or the newly recovered Demetrius Hart?  Fowler could break tackles, though probably not as well as Richardson, but how would the 190-lb. Hart fare as the lone setback?
More likely than not, Fowler will remain the third-string running back, rarely seeing the field unless it's mop-up duty or as a replacement for an injured player.  He's too valuable to not use more, and his potential as a blocker and a runner need to be embraced.  
Arguments could be made on both sides about which is better for blocking, an H-back or a fullback, but the H-back just doesn't add the kind of double threat that a fullback does.  
Alabama has a beastly fullback that just happens to only carry the ball.  I say it's time to use Jalston Fowler as a fullback.