Jared Allen: How Do We Get The Vikings Player Over The Border?
November 17, 2011
Adam Bettcher/Getty Images
Greetings from the Frozen Tundra, friends!
While sitting this evening with Manpig, the man who insists that he is my husband, the thought occurred to me that I did not comment on the Green Bay Packers-Minnesota Vikings game this weekend.  Horror filled my heart as I realized, "HEY!  There's a story to be told from this game and you MISSED the opportunity!" 
While sitting at my computer, and staring at the blank screen, the main thought that entered my mind was how awesome the Packers played.   But then, there was a reoccurring thought that kept popping up like a punch clown in a fun house filled with rambunctious teenage boys:  "Jared Allen is an awesome football player.  The Vikings are, to be kind, struggling this year.  Therefore, Jared Allen should be a Green Bay Packer."
Simple, eh?
Now, before you start screaming, Vikings fans, I realize that Jared Allen is yours for another three years.  He signed a six-year contract in 2008.  He is paid very well to stay in Minnesota.  But, with the chance that the Vikings may be moving to a different area code in the near future, which I also do not support, what would the chances be that, say, Mr. Allen packed up the family in the family truckster, headed east on Interstate 94, hopping on Highway 29 East at the Elk Mound/Chippewa Falls/Green Bay exit and landed in Green Bay?  Two highways and a pesky contract with the Vikings separate you from possible Super Bowl glory, Jared! 
You just think about it, Jared.  I'll let you borrow my GPS, or hey!  I'll even meet you in Hudson with Manpig, lead you to the Leinenkugel's Lodge in Chippewa Falls for a brief brewery tour and sober drive all the way to Green Bay, if you'd prefer that?  Even though I am sober, I have been told that I am quite humorous at times.  And while I have been told that you have a history of three "Operating While Intoxicated" charges from your younger years, a sober driver is a must.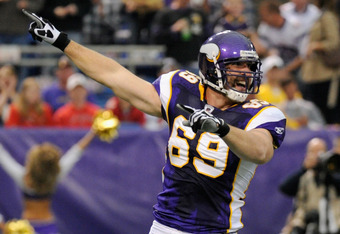 Hannah Foslien/Getty Images
And, while watching the game on Sunday, the announcer stated that you, Jared, play golf with Aaron Rodgers in the offseason.  While I imagine that you may tackle people at random if your game is a little off, we, in Wisconsin, are willing to overlook that if you can guarantee the same level of play (ie sacks and tackles) in the Frozen Tundra as you have maintained in the Metrodome.
Now, Packers fans, I realize that we have a good supply of talent in the Defensive End position, even the most die-hard Packers fan may have said, at least once and possibly under their breath and possibly under duress, that Jared Allen is a good player, even though he plays for the Vikings.  Who hasn't watched Allen appear from out-of-nowhere, sack Aaron Rodgers (which, unfortunately, causes a collective wince throughout the whole Packers Nation) and then smile sweetly?
Yeah, a 6'6", 270 pound man that just appears out-of-nowhere to wreak havoc and destruction with offensive lines everywhere.  He's kind of like a hyperactive, destructive Barney the Purple Dinosaur, I tell you!
Yeah, it seems safe to say that the Packers could put Jared Allen to good use.  Dom Capers, aka the evil genius of the Green Bay Packers defense, would certainly succeed in world football domination with Jared Allen on the Packers' roster.  Clay Matthews, Charles Woodson, B.J. Raji, Sam Shields, A.J. Hawk and...Jared Allen.
Has a nice ring to it, doesn't it?
So, Jared, if for some odd reason, your car starts heading East towards the Wisconsin border, and you find yourself nearing the Highway 29 exit, you just give Manpig and I a call.