San Francisco 49ers: The Best Defense in the NFL. Period.
November 16, 2011
The San Francisco 49ers are kicking butt and taking names. On Sunday, they moved to 8-1 on the season and picked-up their seventh straight victory against a good New York Giants team.
In case you had any doubt, this years 49ers are the real deal, but anyone who tells you they predicted this, isn't being truthful.  
Every local beat writer predicted that the 49ers would struggle in their first year under new head coach, Jim Harbaugh, but that is obviously not the case. 
With the shortened offseason and practically no time to teach the new system, I would imagine that even Jim Harbaugh is a bit surprised with the teams quick turn-around. 
So how are they doing it?
The formula is clear: ball control, field position, good coaching and the best defense in the NFL. With the most dominant ingredient in that recipe being defense.
- The 49ers haven't allowed a rushing touchdown since the day after Christmas.
- They haven't allowed a 100 yard rusher since November 22, 2009. 
- They lead the league in defensive takeaways with 21. 
- They have at least four pro-bowlers (if not more) on their defense alone:
1. Justin Smith, who is also an MVP candidate, 
2. Patrick Willis, who is the best linebacker in the NFL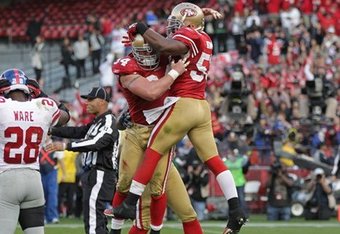 3. Navorro Bowman, who is the NFL's second leading tackler with 92.
4. Carlos Rogers, who is tied for first in the NFL with 5 interceptions.
- They may also have the Defensive Rookie of the Year in linebacker Aldon Smith.
The 49ers defense is incredible, and is now feared throughout the league. 
This week the 49ers take-on a struggling Arizona team at the stick. Aside from a great wide receiver in Larry Fitzgerald, and the standout rookie corner, Patrick Peterson, the Cardinals have nothing positive to expect out of this weeks game.
Buy your tickets, and go support the best 49ers team the Bay Area has had in over a decade. 
This ain't McDonalds, but I'm lovin' it.
This article was originally published in the Benicia Herald.
Thank you for reading. Please join me on Twitter @ryanthebroker.