St. Louis Cardinals: Can Mike Matheny Win the 2012 World Series?
November 14, 2011
Jeff Curry/Getty Images
Was new manager Mike Matheny, 41, the best choice that John Mozeliak, the Redbirds' general manager, could have made to replace Tony LaRussa? The new manager was officially announced during a press conference this morning in St. Louis.
Now, Matheny faces the daunting task of trying to guide the Cardinals back to the World Series. The Cardinals will be the hunted this time around and could well have used another manager with a World Series on their resume.
Instead, Mozeliak signed a managerial rookie to replace the man who's No. 3 in career victories. The St. Louis Post Dispatch reported that Matheny had signed a two-year deal. The Redbirds reportedly also have an option to re-sign him in 2014.
Now, there is certainly a lot of head-scratching and skepticism mixed with praise surrounding the choice. While former player Jim Edmonds has been quoted as supporting the hire, at least one former player, Chris Duncan, has been quoted as saying former Red Sox manager Terry Francona would be a good fit.
Duncan is the son of Dave Duncan, pitching coach for the Cardinals. Dave had partnered with LaRussa since the 1980s, and they became respected as one of MLB's best manager-pitching coach duos ever.
The pitching coach has one year left with an option for 2013 on his contract. It's unclear, though, what Duncan's distant future plans are. It is noteworthy; however, that he has apparently expressed his wish to remain in St. Louis for 2012.
On a different note, among many fans in Cardinal Nation, third base coach Jose Oquendo seemed to be the most popular choice to be the next manager. In any case, Jose also reportedly wants to return as a coach.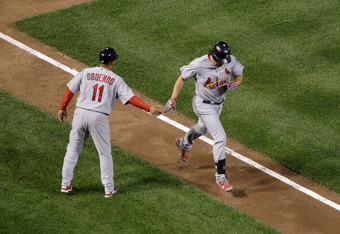 Rob Carr/Getty Images
Before choosing their manager, among others, Mozeliak and Bill DeWitt Jr., also interviewed Francona and Ryne Sandberg. The latter two have more managerial experience than Matheny. Oquendo likewise has more coaching experience than the new manager.
Other interviewees, Triple-A Memphis Redbirds manager Chris Maloney and Chicago White Sox coach Joe McEwing—a former Cardinal—do as well. But DeWitt Jr., obviously, desired to hire a strong leader more than he did a managerial veteran.  
So what does Matheny bring to the table that the others didn't? That's easy—it's his youth, three Gold Gloves as a Redbird and his humanitarian endeavors. See the Post Dispatch link in this article for more about that.
Matheny was also LaRussa's catcher and a team leader for five seasons. Further, Mike played 13 years in the Majors while developing a reputation for adeptly handling pitching staffs. For those reasons, he could very well have been LaRussa's and Duncan's recommendation.
Whether or not that possible recommendation will translate into the major respect needed to be manager of the St. Louis Cardinals remains to be seen.
As a respected manager in the Majors, Francona led the Boston Red Sox to the 2004 World Series championship in a sweep over the Cardinals. He seemed like the most sensible choice, in my opinion, to lead the Redbirds next season.
That's given the facts that he's won a World Series. Plus, the Cardinals could win "No. 12 in 2012"—the franchise's 12th World Series.
My further reasoning is that "Tito" would have been almost perfect for the job. Matheny, meanwhile, would likely have still been available after 2012.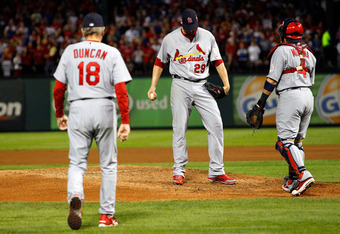 Tom Pennington/Getty Images
Therefore, announced today as the new skipper to try keeping the Cardinals' current championship team on course, he faces plenty of skepticism from fans and impartial observers.
On the other hand, Milwaukee and Arizona made the playoffs in 2011 under first-year skippers Ron Roenicke and Kirk Gibson, respectively. However, it was 67-year-old LaRussa who guided his team to the title.
Matheny is the MLB's youngest manager and is only a handful of years older than former teammate Chris Carpenter. At least three Cardinals players, though, have expressed their enthusiasm over the hire.
It's also interesting to note that Mike Scioscia and Joe Girardi have continued to make successful transitions from MLB catchers to managers. Dave Duncan was also a catcher. Likewise, Matheny will hope to follow in their footsteps.
Mike has been a St. Louisan for some time. He's married to a woman from St. Louis, he said during the press conference. And, he gets it when it comes to the tradition and aura surrounding the franchise. That's great for a new hire.
While the hire is trendy, it is risky.
The two-year deal causes me to breathe a little easier, but not much. Next season will be one of the most important, possibly perplexing and nerve-wracking season that the Redbirds have had in awhile.
That's because no one knows what to make of Matheny as a manager. We'll have to wait and see what the results are at the end of the 2012 season. I simply don't know if he can deliver "12 in '12."
The pressure is certainly on him, though, to start off strong. If the Redbirds get off to a weak start next season, then the Redbirds front office will be second guessed something fierce. But, I'm sure Mozeliak and Matheny are accustomed to criticism.
I'll be the first critic in line to make them feel at home with my humble opinion. As for my critics and fans, don't forget to catch me next time on Lake's Muddy Mississippi River Matheny Report.
Contact Lake Cruise: Lakecruise@att.net