NHL Hall of Fame 2011: Adam Oates, Pavel Bure and Stars Snubbed This Year
November 14, 2011
Doug Pensinger/Getty Images
The Hockey Hall of Fame is introducing its four newest members Monday night, and they are Joe Nieuwendyk, Doug Gilmour, Mark Howe and Ed Belfour.
While each of these stars is deserving of their introduction into the hall, there are certain players that were excluded from introduction this season that deserve the honor.
The following list is of NHL greats that deserved to be in the Hall of Fame this year.
Adam Oates—The Hall of Fame has really missed the boat with the lack of an induction for journeyman center Adam Oates.
Don't let the fact that he played for seven teams scare you into thinking he wasn't one of the greatest players of all time because four 100+ point seasons is nothing to scoff at.
Oates is sixth all time in assists and is No. 42 on my list of Top 100 NHL players of all time.
Pavel Bure—While it's true that injuries cut Pavel Bure's career short, the Russian Rocket was one of the greatest to ever play the game.
Bure sits at No. 73 on the Top 100 NHL players of all time list and it's because of his 437 goals and 779 points in just 702 games in the NHL.
If there is any reason that the voters are keeping Bure out it's because of his lack of games played. But players should be judged on the impact they made while they there and not just longevity.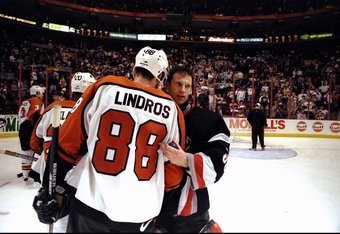 Craig Melvin/Getty Images
Eric Lindros—The Philadelphia Flyers never won a championship with Eric Lindros at the helm, but they certainly were competitive every season.
It was the play of Lindros that kept the team that lacked elite talent at times during his reign, relevant, but it was his numbers during his short NHL career that has him at No. 51 on the Top 100 NHL players of all time list and should have him in the Hall of Fame.
The 865 points in just 760 games is made even more impressive because of the latter years of his career being Lindros at far less than 100 percent. It shows just how dominant he was with the Philadelphia Flyers.
Check back for more on the National Hockey League as it comes, and check out Bleacher Report's NHL Page to get your fill of all things hockey.