College Football: Arkansas Razorbacks vs. Mississippi State Preview
November 16, 2011
Wesley Hitt/Getty Images
And just like that we have arrived at the 12th week of the season and the Arkansas Razorbacks have arrived with a 9-1 record to go along with a No. 6 BCS ranking.  The focal point of college football is quick becoming the game between Arkansas and LSU the day after Thanksgiving in Baton Rouge.
Before that showdown, however, Arkansas will need to take care of its business against Mississippi State in a rematch of last year's two overtime victory.  Here are some keys to victory for the Razorbacks.
Offensive Balance
For the first time all season, the Razorbacks gained more yards on the ground than through the air against Tennessee last weekend.  Arkansas possesses the most criticized 38 point per game offense that you'll ever see because of its inability to run the ball, but it seems the Razorbacks may have found their ground game in the last couple of weeks. 
Bobby Petrino is hard to step even without a running game, but with a balanced offense it is almost impossible to stop the Razorbacks.  Dennis Johnson lead the way last weekend with 140 total yards and two touchdowns, but it doesn't stop there. 
Broderick Green is productive as a big back and Ronnie Wingo Jr. is dangerous in space. Arkansas will need to continue to produce on the ground against a good Mississippi State defense.
Spread the Ball Around
Arkansas has a dilemma on offense that most teams would kill to have. They have so many playmakers that guys get lost.  On any given play, defenses need to account for Dennis Johnson, Ronnie Wingo Jr., Joe Adams, Jarius Wright, Chris Gragg, Cobi Hamilton and Greg Childs just to name a few. 
Arkansas has settled into relying on Wright, Adams and Johnson to account for most of the production, but the Hogs will need all of their playmakers to be involved if they are going to continue on a late season run that has seen them win six games in a row. 
Cobi Hamilton and Greg Childs are two guys in particular that seemed to have gotten lost in the mix.  Look for the Hog's to do a better job of spreading the ball around this week against the Bulldogs.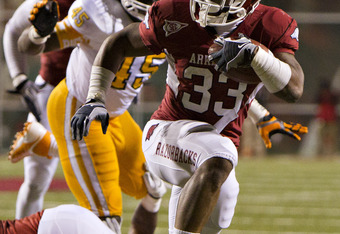 Wesley Hitt/Getty Images
Limit Big Plays
The Arkansas defense turned in its best performance of the season against Tennessee this past weekend, limiting the Volunteers to seven points, but Tennessee still had three plays of more than 40 yards and accounted for almost 400 total yards. 
With Jake Bequette and Tenarius Wright both healthy for the first time since early in the season, the defense is playing its best football, and will need to continue to improve against Mississippi State.
Focus
Bobby Petrino is a big believer in controlling what you can control and not worrying about the rest.  As those outside the program are endlessly discussing BCS scenarios, all the Razorbacks can do is to continue winning one game at a time.  If they get caught looking ahead to No. 1 LSU, Mississippi State is more than capable of the handing the Razorbacks a loss this weekend in Little Rock.
Prediction
Arkansas is playing its best football coming into this weeks game with Mississippi State.  With the Hog's clicking on offense, defense, and special teams it is hard to picture the Bulldogs putting up enough points to stay in this game.  Arkansas: 38, Mississippi State: 10.