Barry Alvarez Is a True Icon in the Big Ten and College Football
November 13, 2011
Last night the Big Ten Network unveiled their latest in a series called Big Ten Icons: The Coaches.  The series last night profiled Barry Alvarez.  Ironically, the show premiered on a day that was a surreal one for the Big Ten and college football in general.
Yesterday was the first time since 1949 that Joe Paterno wasn't on the coaching staff at Penn State and also the first time since 1965 that Paterno was not the head coach in Happy Valley.  Paterno was fired earlier this week due to the sexual abuse scandal that involved one of his former coaches, Jerry Sandusky.
Yesterday was also a big football day for the University of Wisconsin, the school where Alvarez is currently Athletic Director.  
Many thought that the Badgers had no chance to get to the Big Ten championship game from the Leaders division after losing two heartbreaking games back to back at Michigan State and Ohio State. 
But after losses yesterday by Penn State and Ohio State, along with the Wisconsin victory at Minnesota, the 8-2 Badgers now can advance to the championship game by winning out the rest of their remaining schedule. 
The Badgers will advance to the Big Ten championship game by winning at Illinois next Saturday and then defeating Penn State at home the following weekend.
Yes...Wisconsin has become a big time college football program.  Thanks to Barry Alvarez.
The Barry Alvarez era of football at the University of Wisconsin received the ultimate reward last year, as Alvarez was named to the College Football Hall of Fame.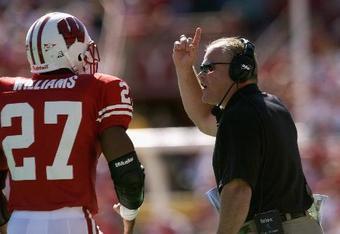 Alvarez was elated when he heard the news. "Obviously this is a tremendous honor for me. I'm thrilled. I'm humbled. When you're selected primarily by your peers to go into a hall of fame, one that means so much to me, naturally, it's very rewarding."
Alvarez gave some credit as well to guys he played and coached under. "I was fortunate to play for a Hall of Fame coach. The two head coaches that I worked for Lou Holtz and Hayden Fry were both Hall of Fame inductees. To walk in the same steps as they have to win this honor, I'm absolutely thrilled."
Alvarez also talked about the team effort needed to succeed. "Any time that you win an honor such as this, it's not one person. It's about the accumulated work of a number of people. From a staff, a very loyal staff that came to the University of Wisconsin and believed in the plan that I had and worked very hard to get it done, to a group of players that bought in and changed the culture, not only in our football program, but changed the culture of our athletic department while we were here. Then you take a look at the entire department. Anyone that touches the football department had to buy in and had to, in some way, contribute, regardless of whatever their job was. Whether it's tickets or training table or secretaries, everyone that touched our football program had something to do with this award. I'm very grateful to all of them for their loyalty over the years."
Alvarez has a right to be proud of the accomplishments of the Badgers over the time he was there. Here is a snapshot of the Alvarez resume at Wisconsin…
-Alvarez won 118 games at Wisconsin, which is 53 more than any other head coach
-Alvarez won three conference titles at Wisconsin (1993, 1998 and 1999)
-Alvarez won three Rose Bowls at Wisconsin (1994, 1999 and 2000)
-Alvarez is the only coach to lead a Big 10 team to back to back Rose Bowl wins
-Alvarez was 8-3 in Bowl games, which is the best in NCAA history (based on 11 games)
-Alvarez coached Ron Dayne, who won the Heisman trophy in 1999
-Alvarez coached 9 1st round draft picks who were selected in the NFL draft
-Alvarez coached 59 NFL draft choices overall
-Alvarez coached 34 All-Americans
-Alvarez coached 7 consensus first-team All-Americans
-Alvarez coached 62 first-team All-Big Ten selections
-Alvarez coached 119 Academic All-Big Ten selections
-Alvarez coached 4 Big Ten Defensive Players of the Year
-Alvarez coached 2 Big Ten MVPs
-Alvarez coached 2 Big Ten Offensive Players of the Year
-Alvarez coached 3 Big Ten Freshmen of the Year
-Alvarez coached 10 straight seasons with a 1,000-yard rusher (Big 10 record)
-Alvarez was named Big Ten Coach of the Year, 1993 and 1998
-Alvarez was named National Coach of the Year, 1993 and 1999
-Alvarez was elected to the Wisconsin Athletic Hall of Fame, Class of 2009
-Alvarez was elected to the Rose Bowl Hall of Fame, Class of 2009
-Alvarez was elected to the College Football Hall of Fame, Class of 2010
That is quite a resume. Also remember the shape of the Wisconsin football program before Alvarez arrived in Madison. The program had hit rock bottom under Don Morton. The program had only won one bowl game and had never won a Rose Bowl in it's history.
That all changed with the arrival of Alvarez. Alvarez put together a talented and hard working staff when he arrived at Wisconsin. Among that group was Kevin Cosgrove, who is now the co-defensive coordinator at the University of Akron. Cosgrove was with Alvarez longer than any other assistant coach that ever coached under Alvarez at Wisconsin.
Kevin Cosgrove was defensive coordinator under Alvarez from 1995-2003
Cosgrove started out as linebackers coach at Wisconsin. Cosgrove held the same position at Illinois before he became part of Alvarez's staff. Alvarez was also a LB coach at Iowa, as he was at Notre Dame, before he became defensive coordinator and helped the Irish win a national championship in 1988.
Cosgrove knew that Alvarez had a vision about the direction of the program. "As with everything Barry always did, he had a plan," said Cosgrove. "When he got that job, he pretty much knew who he was going to hire. Barry put together a strong staff, and then the first couple of years he fined tuned it, and turned it into a great staff."
Cosgrove coached under Alvarez from 1990 to 2003. How was it working under Alvarez? "It was awesome. Great guy. Very organized and very detailed. He knew exactly what he wanted. He knew how he wanted to build the program and everybody just followed his plan."
Cosgrove also added, "He was just a great guy to work for. He was demanding, but he let you coach. So many times head coaches try to get involved in certain areas a little too much. But when Barry hired you, he trusted you and he let you coach."
Alvarez was much more than just a coach as well according to Cosgrove. "Barry is a great guy. He took great care of our families, which is important in our profession, especially in the amount of time we put in, particularly in the season. Everything we did was always first class. His wife Cindy had a lot to do with that, with the treatment of the wives and families."
Cosgrove was elevated on Alvarez's staff to become the defensive coordinator in 1995. Cosgrove remembered the moment. "He brought me into his office and told me I was going to be the next coordinator, and you can imagine the excitement I had when he told me that," Cosgrove said. "I knew how much faith he had in me and how much trust he had in me, and it was a great opportunity for me."
Cosgrove repaid that faith by leading a couple of defenses that were both top ranked in 1998-1999 when the Badgers won back to back Big Ten titles and back to back Rose Bowls.
What does Cosgrove see as the biggest accomplishment of Alvarez and his staff overall? "Just seeing where the program was when he took over. Attendance was down. Interest in the Badgers was nil," Cosgrove said. "I think the Badgers averaged 30,000 fans a game the year before we got there. But we gradually pumped it up until it became sell out after sell out. But naturally that first Rose Bowl was something special. The thrill of getting there, when you consider all the things we had to do to build that program."
What about Barry's legacy at Wisconsin? "It's one of the top programs in the country right now. Barry built it. Like I said, he had a plan in everything he did," Cosgrove said. "He hired a great staff, a staff that worked well together. There was a lot of things that went into this process. But you have to have a tremendous leader, and Barry was a tremendous leader."
Getting first rate players helped. "We recruited the right kids," Cosgrove said. "We built a wall around the state of Wisconsin. When we got there, all the great players from Wisconsin were going to different schools, and that was the first thing he wanted to do…don't let the great players get away. So when we started doing that, we started winning championships."
What about Alvarez the man? "We had some great times. Barry took great care of his staff, his guys…and he always considered them his guys. We had a lot of great moments together. We were close and we did a lot of things together," Cosgrove said. "It was a special time in my life and I'm honored that I had the opportunity to work with him. It was a great experience."
It was also a great experience for all people that follow the University of Wisconsin overall, where Alvarez is now the Athletic Director, where he presides over great programs in football, basketball and hockey among others just in men's sports.
Alvarez has definitely established a legacy at Wisconsin with his abundance of accomplishments. Alvarez has also created a legacy among the people he worked with. Just ask Kevin Cosgrove.
Bob Fox is a Contributor for Bleacher Report. Unless otherwise noted, all quotes were obtained first-hand or from official interview materials from the University of Wisconsin.