Joe Paterno, Penn Staters and the Reprehensible Happy Valley Riot
November 14, 2011
Patrick Smith/Getty Images
What raced through the undeveloped minds of the Penn State University students and erstwhile Joe Paterno supporters in Happy Valley during last week's riot?
Did the rioters have compassion for the alleged victims? Is Paterno State College's God Incarnate?
Whatever the case is, what Joe's fans don't realize is that even though the alleged victims' representative said he believed Penn State got it wrong, Paterno had to go.
Keep in mind, though, Joe isn't in legal hot water. Still, to many observers, neither Paterno nor Penn State did enough to handle the situation the way men and entities of character should have.
The Board of Trustees, therefore, had to protect the university's best interests. Besides, the Board may have known more than the general public does.
There was virtually no other way to start salvaging Penn State's image than to fire Paterno. While PSU didn't have their beloved head coach for the first time since the Watts riots, I applaud the decision.
Meanwhile, several other analysts and erstwhile experts have voiced their opinions. Those experts include a few former Nittany Lions—like ESPN analyst Matt Millen—who have expressed scathing views.
In the clip, linked above, Millen said he wasn't surprised Paterno was fired. Matt added that the move by the Board was a business decision that went beyond football. Millen had also previously mentioned he'd had several arguments with Paterno in the past.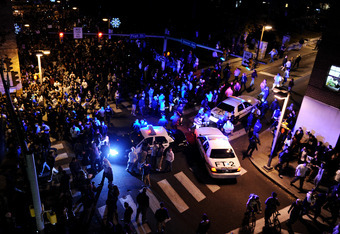 Patrick Smith/Getty Images
A different person's knowledgeable opinion, though, may surprise you—namely that of civil attorney Ben Andreozzi who was quoted by the Altoona Mirror (also linked above):
"The way the Board reached its decision raises more concerns than the decision itself. There is no indication the Board considered the impact of the decision on the abuse victims.
"The school let the victims down once, and I think they owed it to the victims to at least gauge how the immediate termination decision would impact them as opposed to Mr. Paterno's resignation at the end of the year. 
"These victims do not live in a bubble. They see the student's reaction to the termination, and to think this does not weigh on their minds would be naive."
It appears Mr. Andreozzi is alluding to the possibility that the alleged victims, wondering if their safety has been compromised, now fear for their lives.
Let me say that anyone who stoops so low to try hurting alleged victims in any sexual abuse case should be imprisoned without the possibility of parole—after due process, of course.
There is, of course, a deeply ingrained perception that Paterno didn't tell the police because he didn't want to tarnish his moral legacy. I don't know why Joe didn't do enough, as he's admitted. His legacy is now, however, quite tainted.
It's a heritage that includes him being the No. 1 coach in terms of Division I (FBS) wins.
A consequence of the perception is that Paterno was fired.  A repercussion of Paterno's termination was rioting at Penn State.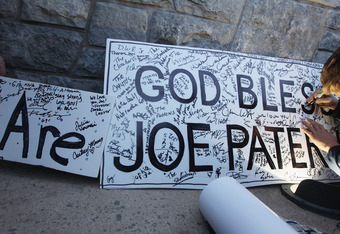 Mario Tama/Getty Images
But on the contrary, if rioters wanted to continue their peaceful protest, then they should have humbly rallied while showing compassion for the alleged victims. It didn't appear, that night, as if the rioters had any compassion for the alleged victims.
I don't know what could have possibly been racing through the rioters' minds. After all, even the rioters' hero, Paterno, had encouraged his supporters to pray for the alleged victims.
Instead, many Paterno supporters hunted down their prey and tossed a news truck. It made me wonder if some sort of elite rebellious body had brainwashed a few students to target the media for reporting the facts.
Remember also that several former Penn State players, such as Millen are with the media.
The acts of some students during the relatively brief rioting was almost as bad as any government, editor or entity that tries to inhibit the media's freedom of speech.
Martin Luther King, Jr., advocated peaceful protest in the wake of far more heinous acts than a football coach's firing. Yet, some students turned the legal process of peacefully petitioning for an ear to their grievances almost turned MLK's legacy on its ear.
The most shocking part is that some of those rioting students' parents and grandparents could have marched with MLK. I'm also amazed because some of those rioters and supporters could be leaders of tomorrow.
If so, then I pray that their morals are refined through trials by fire in these, for some, their most formative years. They should, I believe, be more interested in national world affairs and less with Paterno.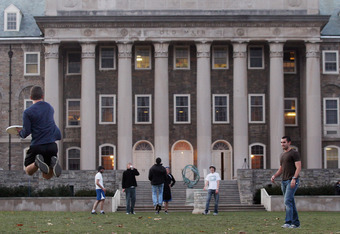 Mario Tama/Getty Images
Now, I'll leave you with an anecdote and a word of wisdom.
On June 28, 1978, while broadcasting a Yankees baseball game, Phil Rizzuto was informed that Pope Paul VI had died. Rizzuto commented on the air, "Well, that kind of puts the damper on even a Yankee win."
Likewise, there will now be several dampers, I believe, on Penn State wins for the foreseeable future.
While Penn State's former coach may not be a pope, Joe Paterno certainly isn't God Incarnate.
What we should all learn from this terrible turn of events is to put 100 percent trust and faith only in God and never in humanity. Parents, and friends of parents who don't have any kids, should learn to protect children at all costs.
Contact Lake Cruise: Lakecruise@att.net