Mike McQueary: Either Spineless or Just Incompetent
November 11, 2011
Justin K. Aller/Getty Images
*This article contains explicit information.
The worst kind of sick and demented human behavior has taken over the sports headlines this week.  The revelations coming out of Penn State have shocked many in the sporting world.
If the accusations are true, everyone who knew what happened in 2002 and sat idly by while this predator was allowed to prey on more young victims must be held accountable for their lack of action.
Nobody gets a pass here.  From the top of Penn State to the bottom.
If you were part of the program and let these crimes continue, you are accountable.
The Penn State football locker room had allegedly become a personal house of horrors for more than a few very young boys during the 1990s and early 2000s. 
The court documents show the abuse that former Penn State defensive coordinator, Jerry Sandusky, has been accused of, and it is some of the worst kind of predatory, deviant behavior one could engage in. 
If the accusations are true, Sandusky is one sick individual and should never see the light of day outside of a prison cell for the rest of his life. 
The grand jury indictment begs the question: How could this crime, the first time it was observed, have been reported even internally and yet the offender was still allowed to walk around freely at Penn State, in the company of young boys?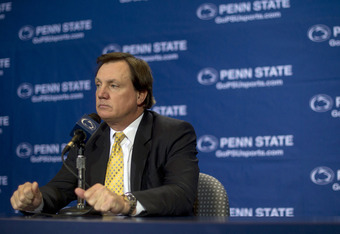 Jeff Swensen/Getty Images
This is beyond me, and this is also what has most people shocked and perplexed about the whole series of events.  
If the grand jury report is true, then what in the world was wrong with Mike McQueary? 
Most have heard the version that McQueary was a young graduate assistant who was simply trying to get his foot into the world of coaching big time college football.
Then one afternoon in 2002 McQueary supposedly saw a sexual assault take place, and he did the bare minimum by reporting what he saw to Paterno, who also took the easy route and just passed the information up the chain of command.
The problem I have with the whole thing is where is Mike McQueary, "the man," when he saw this act? 
Mike McQueary was a 28-year-old man, big in stature, in good physical shape, he was a former college quarterback and he could have handled some 55-year-old pedophile in short order had he seen a man molesting a little boy!
If the allegations are true, why did McQueary not sprint, in a bee-line, toward the shower and try to take Sandusky's head off?  It makes no sense at all why he did not act in a more decisive manner.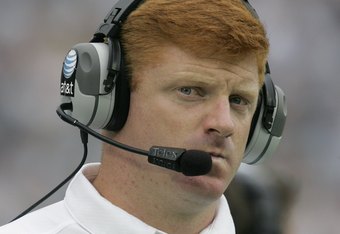 Chris Gardner/Getty Images
I do not want to hear the argument about keeping his job and not soiling his name for possible future jobs. 
The fact is, I do not think, if I tried, I could find a grown man or woman who would just stand idly by and let a child be sexually assaulted by a 55-year-old pedophile. 
I do not care if a person witnessing such an assault was sick and frail or a senior citizen, the fact remains, if you are a man or a woman with any kind of character and compassion (and this is especially true if you are a parent), then you are going to give it all you have got to stop the assault. 
Now, if you are one of those people who freezes under pressure, possibly like McQueary could have been, or if you are just terrified of confrontation, then remember, all you need to do is dial 911 on a telephone.
Had McQueary just called the police in 2002 it is very possible that the victims since then could have been spared the torture and anguish they had to face for years after the alleged shower incident.
Most people will automatically protect young kids when they are in trouble.
You've heard the story about the man who could barely swim immediately jumping into the water and drowning while saving a toddler from drowning. 
This willingness to help a child, at all costs, is something most adults possess.
It is the same reason you hear of neighbors fighting with firemen while trying to get into a burning home where they believe a neighborhood child could be being trapped.
Anytime you hear of a disaster, people always try to save the children first. 
In any emergency the plan is to always "get the children out first."
If these crimes are true, then you had better believe it was the emergency.
But this was an emergency where multiple people knew children were in danger and did nothing to protect them.
In the end it took one brave child coming forward to bring an institution to its knees.