Pat Tillman: The Man Who Traded an NFL Career for the Life of an Army Ranger
November 11, 2011
Christian Petersen/Getty Images
It was spring of 2004 when we heard the news. A former NFL player who had left the glamour, spotlight and money behind to join the U.S. Army had fallen in battle.  
Pat Tillman, proud patriot and a former Arizona State Sun Devil, left the Arizona Cardinals to become a United States Army Ranger.  
Everything you've seen and heard in the movies and media about the Rangers is true. The Ranger Indoctrination Program is called "RIP" for a reason. The physical challenges tear at your body, but your mental and emotional state is far and away battered the most, no matter how capable your body may be.  
Becoming a Ranger is one of the most grueling and terrible experiences a human being can undergo, but thousands of American men have undergone the process to serve America.  
"Why?" was the questioned asked by many. They were not asking, "Why did he die?" They were asking, "Why did he leave a life of luxury and fame for a life of pain, MREs, and peanuts for pay?" 
Shortly after September 11, 2001, I joined the U.S. Army Reserves while still a junior in high school under the Split-Op Enlistment program. By 2004, I had become a cadet in the U.S. Army Reserve Officers' Training Corps.  
There, my two best friends were prior-enlisted military as well. One was a 13B, the most common of artillerymen. His name was Arthur Jeffery Thompson.  
The other, Joshua Buesching, was an 11B, or eleven-bang-bang as some folks in the Army would say. They were the infantry, the boots-on-the-ground, rifle-in-hand kind of guys. You know, the Call of Duty sorts.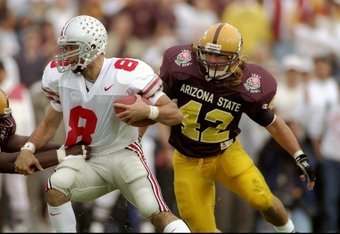 Mike Powell/Getty Images
He had served in Iraq during the initial invasion, where he saw plenty of combat, much of which he didn't speak of. He had been awarded the Bronze Star for his actions in service.  
Those two, along with myself, were proud members of the military. We found it to be an honorable profession, and to this day still do. But the three of us, along with so many of my classmates and other people I still knew in the military, could not fathom why Pat Tillman would leave his life to become a soldier.  
The general consensus is that Pat Tillman loved his country and wanted to serve. But you must ask yourself, would you do the same in his situation? For most people, civilian and military alike, the answer is "no." 
I have met and interacted with hundreds during my eight years in the military. Most everyone I've met, having lived the military life, said they wouldn't leave something like the NFL to serve. Pat Tillman was a popular topic among servicemen.  
It's not dishonorable to feel that way. Hundreds of millions of physically able people don't serve, and the vast majority of professional athletes don't either. Many folks in the military join out of lack of better options, or as an opportunity for a better civilian life. It's rare to find someone that does it for life. 
The military lifestyle is not a pretty one. From the battlefield to the homestead, it's not glorious. The strain it puts on individuals and families is scarcely worth the measly paycheck.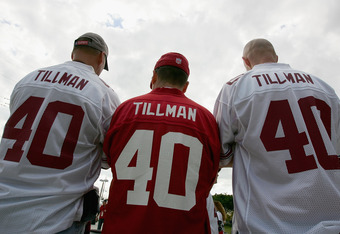 Al Bello/Getty Images
Pat Tillman's paycheck was among the worst. He was the rank of Specialist, or E-4, the fourth-lowest pay-grade in the military. The year of his death, Tillman's base pay was just over $1,600 a month, before taxes. 
Clearly, he didn't do it for the money. So, why then?
He served in one of the most demanding military jobs in the entire world, and ultimately gave his life for it. He did it so that we could live as free Americans, and he did it because someone had to. Who would have perished in his place were Pat Tillman not there?
Today is Veterans Day, and there have been millions upon millions of men and women who have served in our nation's military since its inception, and Pat Tillman was an inspiration to all of them.  
Today is not about supporting war; today is about supporting the men and women that picked up arms to defend us.  
It's a dirty job, but somebody's got to do it, and the late Pat Tillman knew his millionaire's hands were not too dainty to pick up a rifle.
When he left his life on the football field to give his life for his country, he did something so that the rest of us wouldn't have to.  
Today, let's remember our uniformed service members, and let's remember not only a great football player, but an American soldier as well.